It's Chinese Take Out Time
I Love Chinese
Name: WaiZai
Location: Singapore
An ordinary guy hoping to live life to the fullest. Awaiting the bigger things in life.
Bring on the Dim Sum
We Fumble With Chopsticks
We Like Chinese Too
Chinese Cuisine
Blogskins.com
Liverpool FC
SoccerNet
Aviation
Automotive


Adventures With Chopsticks

<

Fortunes Can Be Funny

Fortune Cookies

Take Out Boxes
Chelsea 2-1 Manchester United
I was glued on TV last night when Chelsea played Man Utd in the English Premier League. It has been SO LONG since the title run is so close between two teams. Before the match started, Chelsea was juz 3 points behind Man Utd on the table. A win would see the title chase go down the wire with juz TWO games remaining in the season. The match was to be played in London Stamford Bridge, the home fortress of Chelsea. It a remarkable record dat they haven't lost there for FOUR years.
I was anticipating this match with an early kick off of 7.45pm last night. N heck, it was action around the pitch for the full 90minutes. When Germany captain Michael Ballack headed in a goal for a 1-0 Chelsea lead in the 43rd minute, I was overjoyed!! Heck, I would rather Chelsea win the title than Man Utd, cos i'm a Liverpool fan. But sadly, Man Utd equalised not long after the 2nd half restarted, through Wayne Rooney, with a terrible mistake by Chelsea defender Ricardo Carvalho. 1-1 it stayed until late on in the game.
A Michael Essien cross in 84th minute was being met by Michael Carrick, not his legs or head, but by his hand inside the penalty box. PENALTY!! Chelsea has a lifeline to hold on to now. With the immense pressure, who's gonna take the kick from 6 yards out? The usual penalty taker from Chelsea is Frank Lampard, but he is on compassionate leave due to the death of his mum. So up steps Michael Ballack, the man who replaced him in the middle of the field.
Coolly, he finished it off with a well struck shot into the left bottom corner of the net. 2-1 to Chelsea, and Man Utd started getting desperate. The final 5 minutes normal time plus 4 minutes of injury time as full of drama. Man Utd TWICE almost equalised through Ronaldo & Nani but was foiled by goaline clearances by Ashley Cole & Andriy Shevchenko respectively. Kinda ironic don't u think?? Shevchenko was bought for 30million pounds to score goals, but he actually helped Chelsea prevent a goal last night n saved their title challenge.
2-1 it stays till the full time whistle was blown. The two teams are now level on points, but Man Utd stays top due to their better goal difference. With juz 2 games left in the season, this is one of the closest title race ever in recent times. No prizes for guess who I'll be supporting to win the title.
After watching Chelsea win Man Utd, I was happy, but at the same time, worried. Liverpool will play the 2nd leg of the Champions League semi-final on the same ground this coming Wednesday with the first leg finishing at 1-1. Liverpool will really have to play the best match of the season in order to draw or win at Stamford Bridge. I'm aiming for a 1-1 draw n extra time penalty.
Good match Chelsea last night, however, I hope u have a bad match this coming Wednesday against my Liverpool.
Video of last night's match highlights
BTW, this was wad happened when Liverpool played Chelsea in the 1st leg.. Poor own goal by Riise on the final SECONDS of the match
LIAM: THANK YOU SO MUCH
A Kopite dying of cancer has said an emotional thank-you to fans who held aloft a banner telling him 'You'll Never Walk Alone'. The message to 17-year-old Liam Harker was displayed at Anfield during the Champions League semi-final against Chelsea.
The brave teenager, who has been given just weeks to live, said: "I would like to thank the fans for everything they have done for me. They have been fantastic, they really have."
News of Liam's battle against stomach cancer has struck a chord with Liverpool supporters all over the world.
Fans on the independent website Red and White Kop pulled together to organise the banner and flag tribute in the Kop end in front of millions of TV viewers.
One read: "Liam Harker, millions of Reds are with you every step of the way, hold your head up high my friend as you'll never walk alone. God Bless."
The Darlington youngster's mum, Tracey, said: "Thankfully he managed to stay awake to watch the game with us and seeing the banner on the Kop was quite a moment. It is something we will never forget.
"Liverpool as a club and the fans have been absolutely fantastic. Liam has been in absolute awe. He couldn't believe that people who don't know him are doing this.
"The gifts, the banners, everything, it just shows there are some good people left in the world.
"I'd just like to say that Liam and his family appreciate everything that they have done.
"They have given us some precious messages over the last few weeks and it has been so good for us. Thanks to absolutely everyone involved."
While Chelsea grabbed a valuable away goal in the game on Tuesday, Liam for one is still sure Liverpool will progress.
Tracey added: "He is still convinced they are going through."
Red and White Kop member John Doherty first wrote on the internet forum two weeks ago after hearing of Liam's story through a family friend.
"It's heart-breaking for such a young lad," he said.
"What touched me about it was the fact that all he wanted was to sit in a Liverpool shirt.
"I was tearful, and felt proud of the response from the fans, but it's not about us, it's about Liam."
John's post sparked a surge of messages from fans across the world, including from Australia, Sweden, Thailand and Canada.
"Liverpool FC is a just a big family and this just goes to prove that," he added.
Amy Jenkins, from Anglesey, North Wales, was one of those who made a banner after seeing the story on the internet.
She said: "It was his wish to have his name up at Anfield. It is such a sad, heart-breaking story, I felt I had to do something."
Fans have arranged for some of the banners to be sent to Liam. The others will travel to Stamford Bridge for the return leg next Wednesday.
Liverpool FC PR manager Brian Hall said: "We were very sad Liam could not make the trip (to meet the players earlier this week). We sent him a shirt with all the players' names on and a team photo, and we hope that will give him the little bit of happiness he so richly deserves."
==================================================
I'm glad dat Liam is there with us during the match against Chelsea. Although it was a match which Liverpool failed to win, it has very much kept the youngster happy and believe Liverpool still has a chance to proceed to the finals in Msocow. Another sad news came when Chelsea midfielder Frank Lampard's mother passed away shortly after the match after fighting with pneumonia for weeks. One match, 2 lives involved..
The great Bill Shankly once said these famous words...
"Some people believe football is a matter of life and death, I am very disappointed with that attitude. I can assure you it is much, much more important than that."
Well, in times like that, I don't agree with him eventhough he's the greatest manager Liverpool ever had.
WHY LIAM HARKER WON'T WALK ALONE



Paul Rogers 18 April 2008
A passionate young Liverpool supporter dying of cancer was today presented with a shirt signed by his Anfield heroes on the day doctors admitted that there is nothing more they can do to save his life.
Seventeen-year-old Liam Harker from Darlington only found out he was suffering from stomach cancer six weeks ago after he was admitted to the Royal Victoria Infirmary Hospital in Newcastle. After being treated with an intensive course of radiotherapy, Liam was told on April 3 that he had beaten the cancer as the tumour had started to shrink.

Things took a serious turn for the worse the following day when Liam became very ill however. X-Rays revealed that the cancer had not only returned, it had spread throughout his body. It was at this moment that his parents were told that more radiotherapy would only help prolong his life by a matter of weeks.

Last Friday, Liam was told he had just two weeks left to live and was allowed home to die. Macmillan nurses are on hand round the clock to help him and his family at this incredibly difficult time. Upon arriving home, Liam's wish to his dad was to spend his final days in a shirt signed by the players he idolises. He also asked his dad to bury him in a Liverpool shirt when he dies as he's lived and breathed Liverpool Football Club all his life.

When news reached the club of Liam's plight, the youngster's dad was contacted and Liam was invited down to Melwood on Monday to not only pick up a signed shirt but also be taken on a tour of Melwood and meet not just the players but also Rafael Benitez.

Unfortunately, Liam was advised by doctors that he wouldn't be able to make the trip to Liverpool due to his worsening condition as even short trips between his home and the hospital in Newcastle for radiotherapy sessions take too much out of the youngster.

However, while Liam couldn't make the trip to Melwood to pick up the shirt, today one arrived special delivery at his home in the North East from Liverpool complete with the autographs of all his heroes.


The shirt and other gifts from the club arrived on the day that doctors took the decision to stop Liam's treatment as they believe his brave fight against cancer is drawing to a close.

Now Liverpool fans on the independent website Red and White Kop are desperately trying to organise a banner to display on the Kop in Liam's name in time for the Champions League semi-final against Chelsea on Tuesday night. The hope is that Liam can hang on until at least Tuesday to see the flag at home on television.

=========================================================

I'm utterly heart broken to hear this news. As a fellow Liverpool fan, I can understand how he feels; to want to be buried in a Liverpool shirt after living n breathing Liverpool FC all his life. Life is so unpredictable, n SIX WEEKS is simply too short a notice to take away such a young life. It totally wrenched my heart seeing his young body take such a torture from the cancer monster. I truthfully wish this brave young man will at least live till Tuesday night to watch the match against Chelsea n look at the banner that's being done up for him.

From myself a Liverpool fan to Liam: Stay brave n fight on kid, cos you know all of us Liverpool fans will be with you till the last second, cos..

YOU'LL NEVER WALK ALONE

I'll like to dedicate the song on my blog to Liam Harker.



http://www.youtube.com/watch?v=BCn-8MB-v5U
This is the video of last season when Liverpool played Chelsea @ Anfield during the Champions League semi-finals, the same stage at which the match is to be played on Tuesday.
Any NUS FEMALE student need packet money S$200/- per month

Ad ID: 45214220
Views: 122
Location: Singapore
Date Listed: 09/04/2008

I'm doing Master's in NUS on part-time basis. Any NUS FEMALE student who is in short of packet money, in the age group of 18-30 who is doing full-time or part-time program, interested in "no-string-attached" discreet and confidential relationship for monthly once can contact me. I'm ready to pay SGD$200/- per month till you complete your graduation. I'm doing this for the first time hence cleanliness is assured and expecting the same.

As prostitutes can fake as students, I'll be checking for NUS IDs to verify in the NUS library.

Please don't reply me with one line adv. This is a genuine adv.

=======================================================
LINK

"Packet money" huh? I wonder whether this is a real Masters student in NUS. Anyway, isn't $200 too low?? Singaporean girls are a high maintenance lot. He thinks juz by giving them $200/month is enough? One thing for certain, NUS girls ain't cheap No girl would be desperate enough to do this for S$200
Astons Express
Tuesday was me & MQ's 22nd month together. In the midst of my busy schedule, we met up for dinner that night. Not somewhere posh or what, juz a coffeeshop at Bedok Central. Having heard that Astons opened an outlet in one of the coffeeshops there, I suggested we go have a try. The other Astons restaurant is at Katong, n the queue is as long as a MRT train sometimes. It totally puts me off eating over there.
This one at Bedok is much better with the waiting time just around 10minutes. The only thing that's lacking is the nice environment that the Katong outlet has. No air-con, no waiter/waitress to serve u, no music etc etc. The lack of these things also meant cheaper prices! I don't mind though.
Bedok is having more good food eh? The famous western food outlet Botak Jones juz opened a new branch in Bedok too back in December. Guess what?? The Astons coffeeshop & the Botak Jones coffeeshop is juz ONE street apart, separated by a main road. Woooo, I can sense a great competition boiling up...
Astons Express
No service charge == good
Soup of the day
My Hickory BBQ chicken
MQ's medium rare Prime Ribeye.. This one is bloody good....

Wednesday, April 09, 2008
LIVERPOOL 4-2 ARSENAL

Video below is showing Liverpool hot form striker Fernando Torres speaking in English in Arsenal pre-match press conference!! Gosh, he's been in England for less than a year n he managed to get his English fairly correct! N how sexy he looks. The big eyes n golden hair, this 23 year old is fast turning lots of male Liverpool fans into gays.
http://www.youtube.com/watch?v=SRNs0F3QdNg
What a great match with 6 goals scored! The scoreline also means that Liverpool will go to the semi-finals of the Champions League for the 3rd time in 4 years. Certainly, The UEFA Champions League has become Liverpool's favourite playground, n all credit has to go to manager Rafael Bentitez. He has this knack of winning games in CL no matter how tough the opponents are.
In 2004/2005 season, they had beaten Italian champion Juventus n English champion Chelsea en-route to the epic final against AC Milan. In 2006/2007, they had beaten Spanish champion Barcelona n again English Champion Chelsea en-route to the final against AC Milan, yet again. Now this year (2007/2008), they've beaten Italian champion Inter Milan and last night Arsenal, to set up another semi-finals with Chelsea AGAIN.
It's nice to see my team progress so far in this competition, but I'm kinda getting sick of playing Chelsea in ALL the semi-finals that Liverpool had reached in the past 3 years. This is getting boring, I guess Chelsea fans think likewise too. Hopefully, the might Reds will go all the way to the finals again this season.
This video below are the goals scored. Torres' goal is world class.... YOU'LL NEVER WALK ALONE
Windows Vista Source Code
Haha, for the first time I'm glad that I learnt programming in NUS SoC. It makes me understand what this picture is talking about n it's such a good laugh at Windows Vista. A source code is basically a set of instructions in a program that the computer has to carry out. Can you interpret what it's trying to say?
There's news that a new Windows Operating System called
WINDOWS 7
will be released next year summer. Well, it simply shows that Vista is such a failure that Microsoft has to act quick to release another improved version. Anybody remembers the flop
Windows Millennium Edition
that was released in year 2000 to succeed Windows 98? Nvm if you don't remember, cos its lifespan was only one short year before Windows XP arrived in late 2001.
Seriously, after taking a long 5years, the longest in between the release of 2 Operating Systems, all Microsoft could conjure is a flop like Windows Vista. Disappointing isn't it? N the worse thing of all, they're trying to force consumers into buying Vista by stop selling XP licenses to PC vendors as well as pulling the plug on software security updates/fixes associated with XP.
If there's another Operating System producer in the market as "good" as Microsoft, I would definitely dump Windows. But sadly, there isn't. Mac OS is nice, but it's not compatible with lots of softwares. Linus Ubuntu is acceptable, but it's still not as user friendly. This is what happen when monopoly occurs. At least I'm glad that in the processor chip market, Intel has a good competitor in AMD, or you can bet your ass computers will be HELL lot more expensive than it is today.
[Memorium]Wisma Atria Aquarium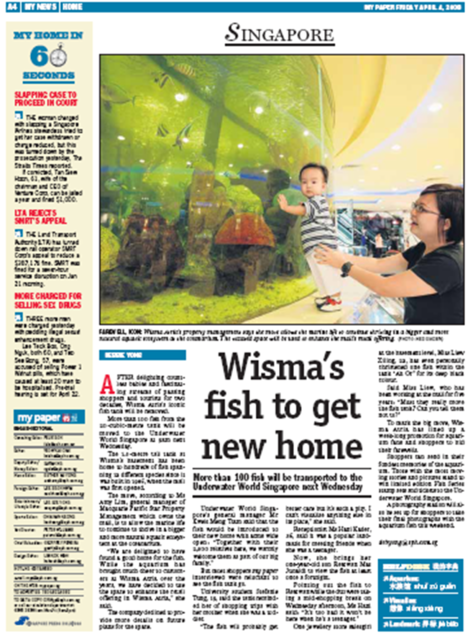 AFTER delighting countless babies and
fascinating streams of passing shoppers and tourists for two decades,
Wisma Atria's iconic fish tank will be removed.
More than 100 fish from the 20-cubic-metre tank will be moved to the
Underwater World Singapore at 9am next Wednesday.

The 1.5-metre tall tank at Wisma's basement has been home to hundreds of fish spanning
12 different species since it was built in 1986, when the mall was first opened.
The move, according to Ms Amy Lim, general manager of Macquarie Pacific Star Property
Management which owns the mall, is to allow the marine life to continue to thrive in a bigger
and more natural aquatic ecosystem at the oceanarium.

"We are delighted to have found a good home for the fish.
While the aquarium has brought much cheer to customers at Wisma Atria over the years,
we have decided to use the space to enhance the retail offering in Wisma Atria," she said.

The company declined to provide more details on future plans for the space.

Underwater World Singapore's general manager Mr Kwek Meng Tiam said that the
fish would be introduced to their new home with arms wideopen:
"Together with their 2,500 relatives here, we warmly welcome them as part of our big family."


But most shoppers my paper interviewed were reluctant to see the fish tank go.
University student Stefanie Tung, 19, said the tank reminded
her of shopping trips with her mother when she was a toddler.
"The fish will probably get, better care but it's such a pity.
I can't visualise anything else in its place," she said.

Receptionist Ms Hani Kader,36, said it was a popular landmark
for meeting friends when she was a teenager.
Now, she brings her one-year-old son Reezwan Mas
Junaidi to view the fish at least once a fortnight.
Pointing out the fish to Reezwan while the duo were taking
a mid-shopping break on Wednesday afternoon, Ms Hani
said: "It's too bad it won't be here when he's a teenager."

One jewellery store salesgirl Ziling, 22, has even personally
christened one fish within the tank "Ah Or" for its deep black
colour.
Said Miss Liew, who has been working at the mall for five
years: "Must they really move the fish tank? Can you tell them not to?"

To mark the big move, Wisma Atria has lined up a
week-long promotion for aquarium fans and shoppers to bid
their farewells.

Shoppers can send in their fondest memories of the aquarium.
Those with the most moving stories and pictures stand to
win limited edition Fish Series stamp sets and tickets to the Underwater
World Singapore.

A photography station will also be set up for shoppers to take their final photographs with the
aquarium fish this weekend.

===============================================

One of my favourite childhood memories. Everytime i go to Orchard Road with my parents at very young age, this will be the only thing i remember, cos it never changes. I remember fascinating over the sharks and will be naive enough to follow it around the cylindrical fish tank hoping it'll gobble up another fish, but I owas left disappointed. I can stand there and look at those fishes for quite a long time too, which kid doesn't? It's the only place you can see a shark & other huge marine fishes for free in Singapore. Sentosa's Underwater World is way too far & expensive during the early years.

It's really sad that it has to go after more than 20yrs. All I have to say is it fell victim to the mall's profit policy. Why use the space for something dat's not profitable and money has to be spent to maintain it? Why not convert it to retail space n earn rental money since space is a premium in Orchard Road? It all boils down to MONEY again.

Nowadays, people do things with MONEY being the first thing in view. Nothing else. I hope I'll be free enough to pop by Orchard Road by next Wednesday to take a picture with it. At least I'll be able to show my own kids next time dat this thing ever existed in Wisma Atria Shopping Centre. Wisma will have no sense of identity after it removes the fish tank. Can you imagine Ngee Ann City removing their huge water fountain at the basement to build more retail outlets?

Seriously ill
I'm sick, all thanks to a bowl of fishball noodles. Argh.. It all happened on a nice Monday, which was ystd. Went to school as per normal, and had lunch with MQ at NUH since she was there to see the dentist. I was pretty hungry then, n since I know the fishball noodles there is quite nice, I ordered a bowl of it. Bad choice.
The noodles was so spicy dat my lips turned burning red. But I was too hungry to care and kept on eating. After lunch, I could feel the bloated stomach inside me immediately. I brushed it off as the effect of the soup dat came with the noodles.
Went to Bugis next to get some stuffs n had our hair cut. The rest of the day was juz crappy with the bloated stomach. Then when i reached home at 9pm, all hell broke lose. Diarrheoa plus vomiting dominated my night n I almost died. I threw up all the fishball noodles content, quite remarkable considering I had it at 3.30pm n it's still in my stomach when i vomited at 12.30am. Slowly, fever sets in n I was shivering like a drug addict suffering from cold turkey.
I couldn't get to sleep for the whole night thanks to the super uncomfortable stomach. N right now, even the diarrhoea n vomiting had stopped, I'm still a little feverish n feeling cold despite the hot weather. I think I'll stay off fishball noodles for a while now. Lesson learnt, avoid eating hot spicy balacan chilli with lots of chilli oil if I'm eating with an empty stomach
In school b4 lunch. This is my Game Design module lecturer
This is my team producer
Producer busy working...
Enjoying my game?
Seems to be
@ Bugis after lunch
3 months after cutting botak, I finally cut my hair again... This is the last pic i took for the day when I was in my first cycle of diarrhoea.