Day One, Friday
Fetched MQ from her house early in the morning at 6.30am. Her mum tagged along for a ride to Bedok. On our way to Bedok, MQ's mum commented "Weili, how come u're the same as uncle? He likes to play with the gear knob too when the car is not moving" Haha!! MQ was at the front seat with me, n we turned to each other looking somewhat awkward. Her mum meant I'm very similar to her dad. Sheesh, for a moment, me n MQ felt like father n daughter instead of a couple.
Dropped her mum off n we chiong to Tampines to meet her friends at the MRT station. Took the train down to Lavendar n walked to Golden Mile Complex for the coach down to KL. Kaoz, the coach was really lousy compared to others. Ok fine, the seat n air-con is good enough. However, other coaches were hell lot faster n they have individual LCD screens at the seats for entertainment!
So yeah, we travelled on the North-South highway towards KL on the slow coach. Saw a few Ferraris, Aston Martins n Merseratis on the highway, all of them Singapore registered vehicles. The whole group of them are friends n imagine the sight of the super cars zooming past my coach at speeds double that of ours. Damn, they were so fast that I was too slow at whipping out my camera for a shot.
After 2hrs+ of travelling, we went for a toilet break at a stop over station. N oh my, the place changed so much the last time i went there. I haven't been to KL for 10yrs now. The last time was a school trip when i was just 11. After 30mins of rest, we continued our journey up north. Slowly, we started to see more cars on the highway n another 2hrs later, we hit KL. I peered out of the window n took numerous shots of the city. At last, i get to see the Petronas Twin Tower, n also new additions to the city such as the KL Monorail. The traffic jam was still as bad n Proton cars rule the road, but I see a healthy mix of foriegn cars as well, a sign showing the national car manufacturer is losing market share.
Checked into our hotel, The Federal, at Buikit Bintang. We were somewhat tired after the long journey. Guess what, 2 of the 3 rooms we were checking into were not ready yet. Heck, we had no choice but rest in the one n only room we had n freshen up ourselves. Not wasting anymore time, we ventured into the streets, checking out what's there to buy. Me n MQ split up with her friends n we shopped around two big malls in BB Plaza n Lot10.
Didn't buy much though cos the prices in the malls were around the same as Singapore's. Had dinner next n we found our way back to the hotel. We were exhausted to the bits n thank god the room was ready by then. Had planned to go to ChinaTown initially, but the sight of the big bed changed everything. Unpacked our stuff n collapsed on the bed for a good night's sleep. It was a short day, most of it spent on travelling on the stupid slow coach.
On the train to Golden Mile. Our packs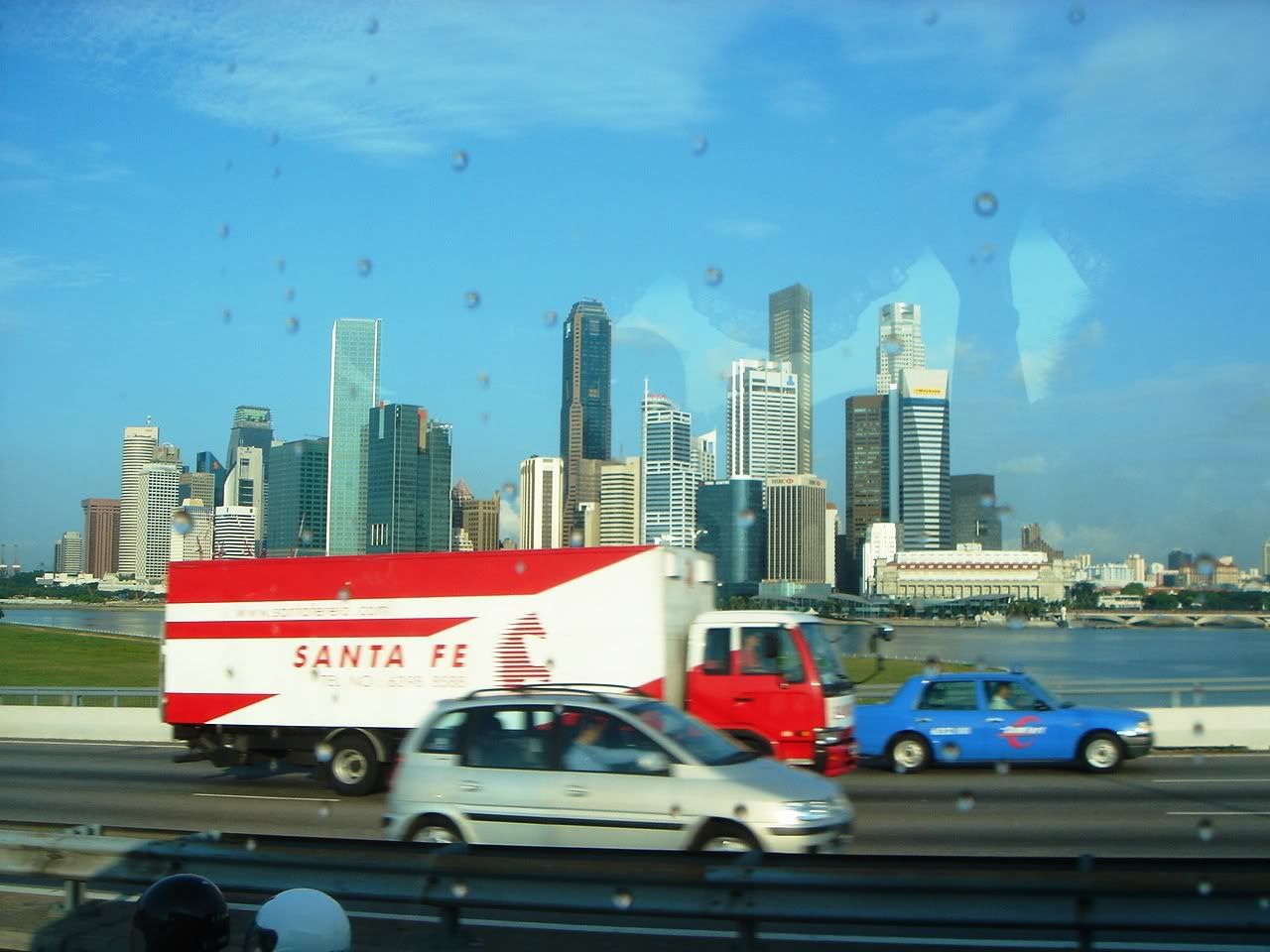 Last pic of Singapore along AYE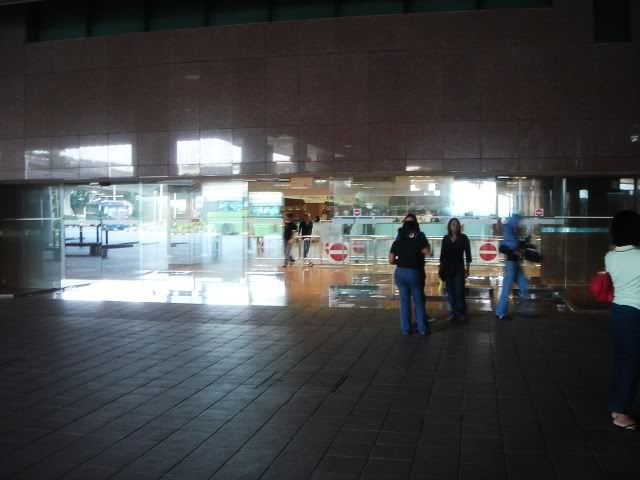 Singapore Immigration Checkpoint at Tuas 2nd Link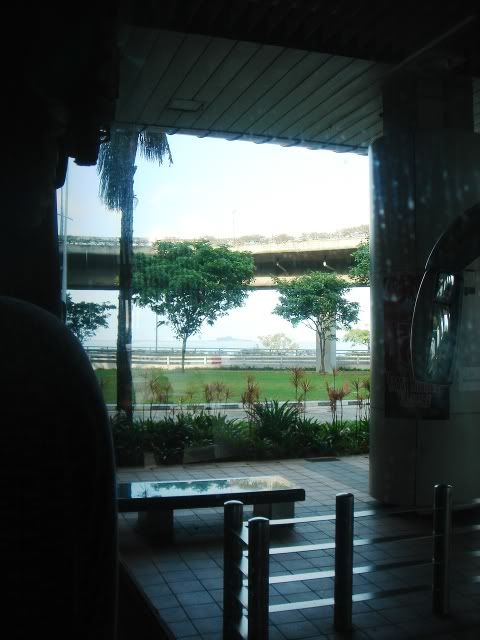 The sea ahead
Towards Johor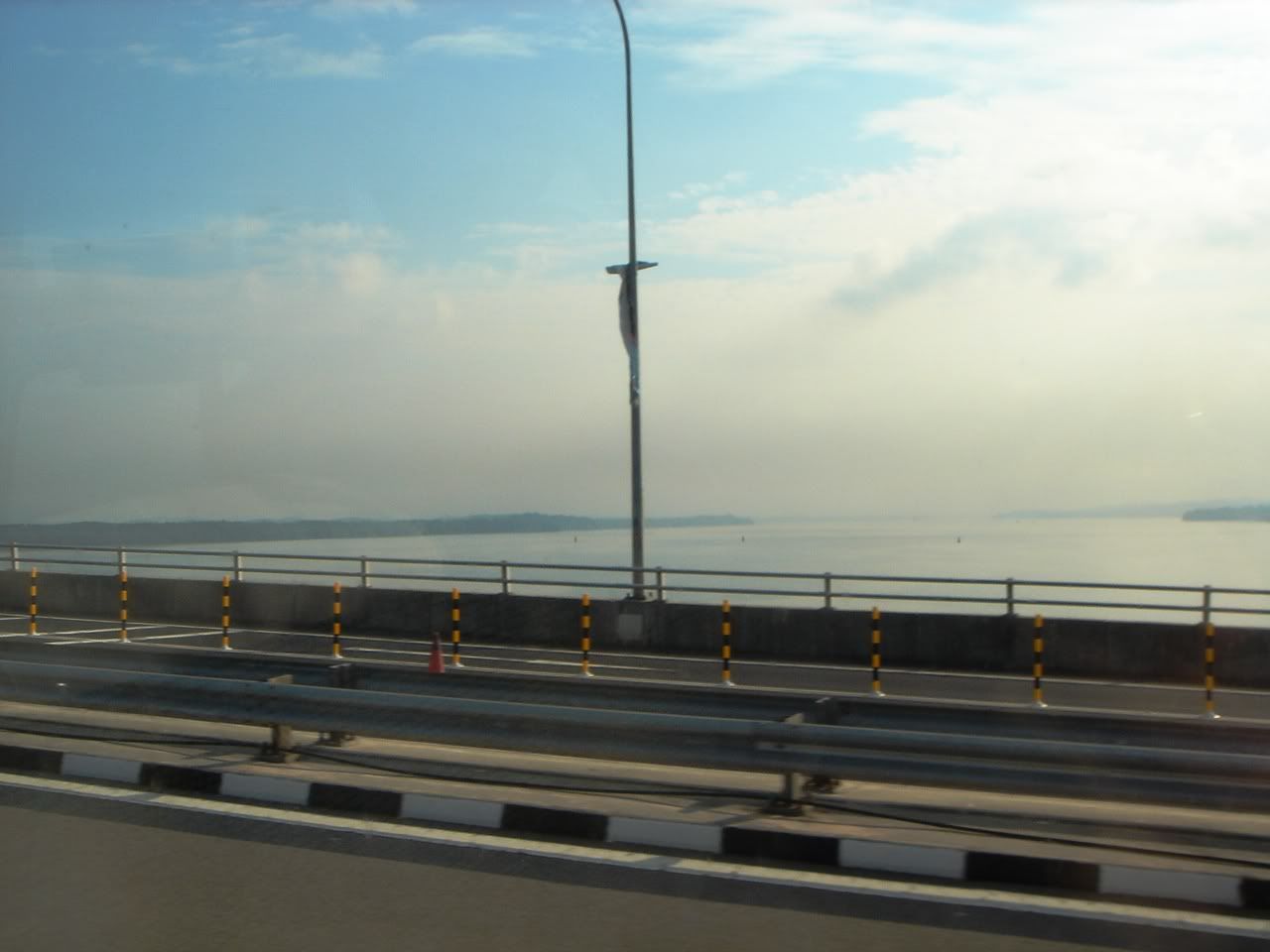 On the 2nd Link Bridge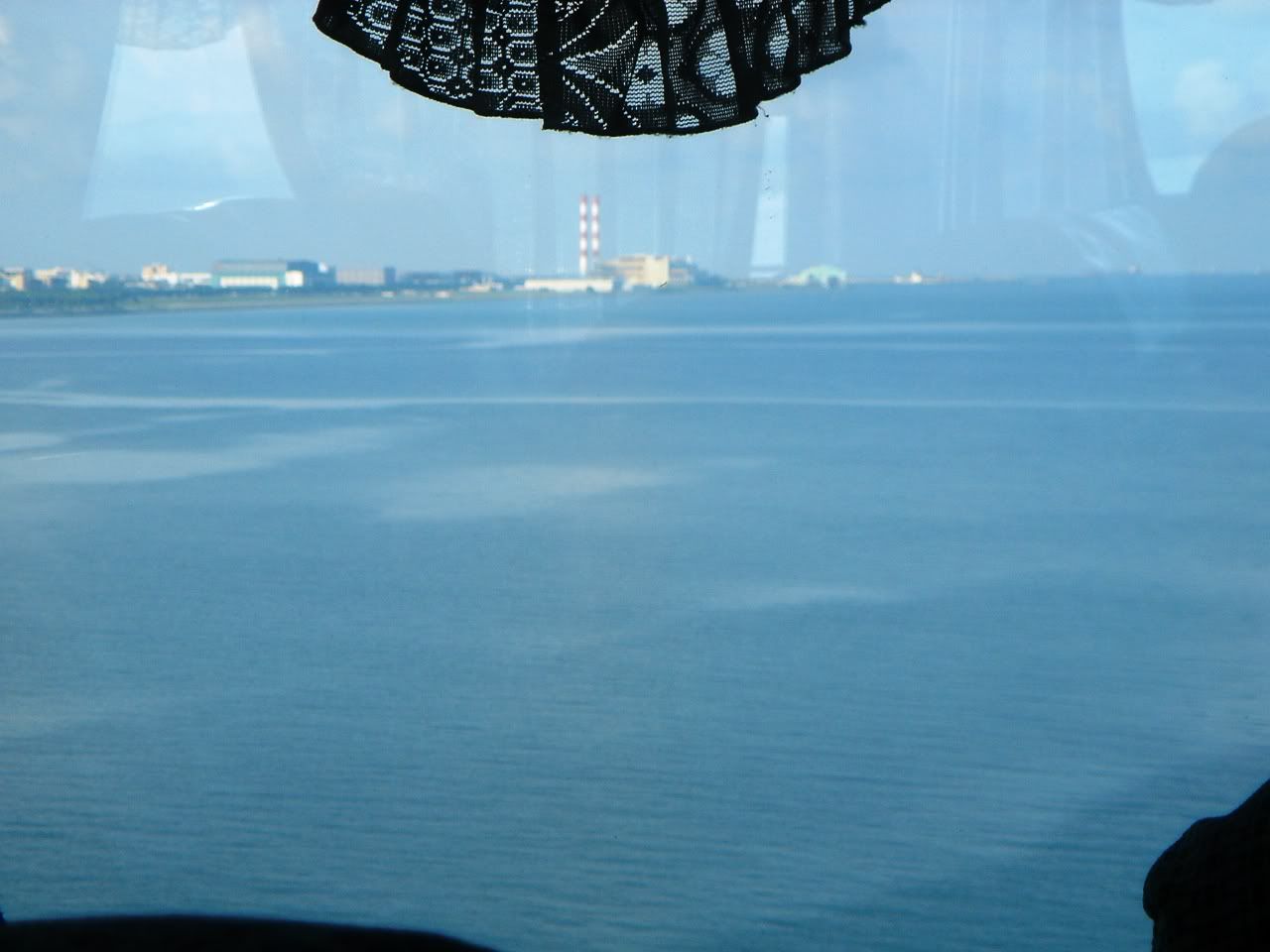 The sea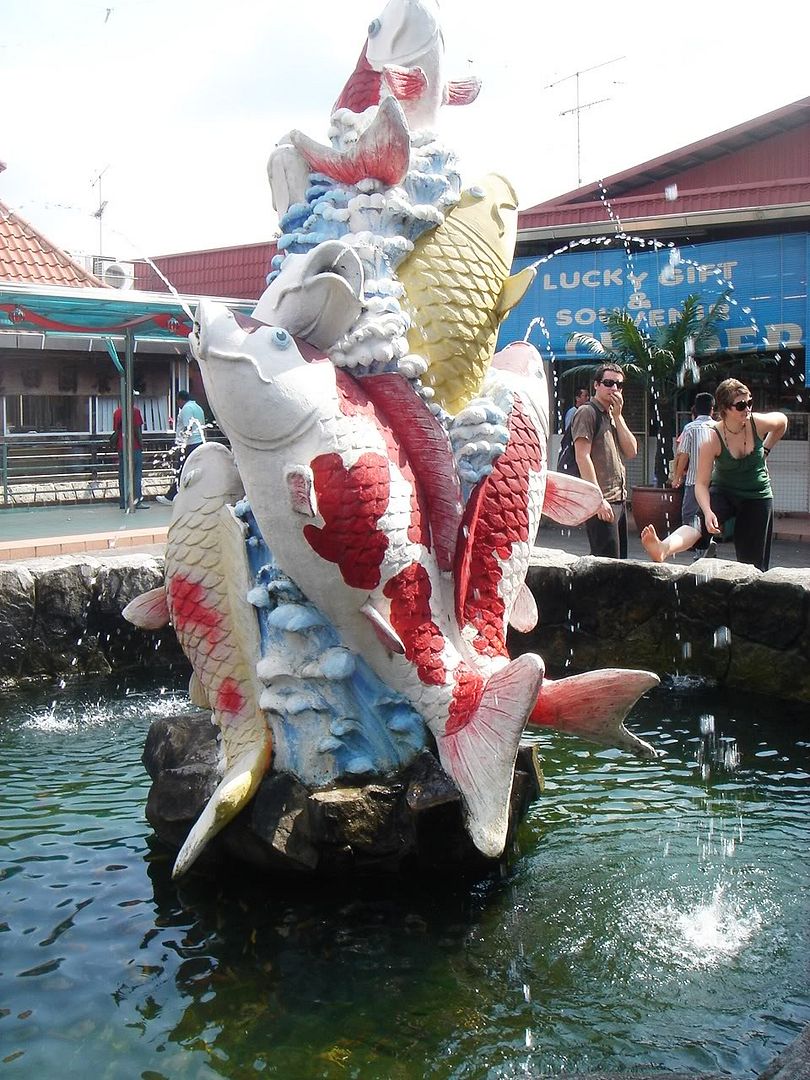 After 2hrs+ of travelling on the coach, we stopped for a short rest
It has been 10yrs since I came to this stopover. It changed so much..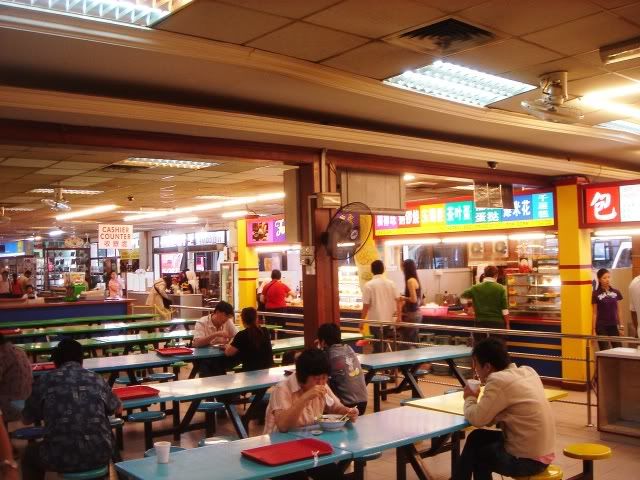 It's so nice n much cleaner now n it's even air-conditioned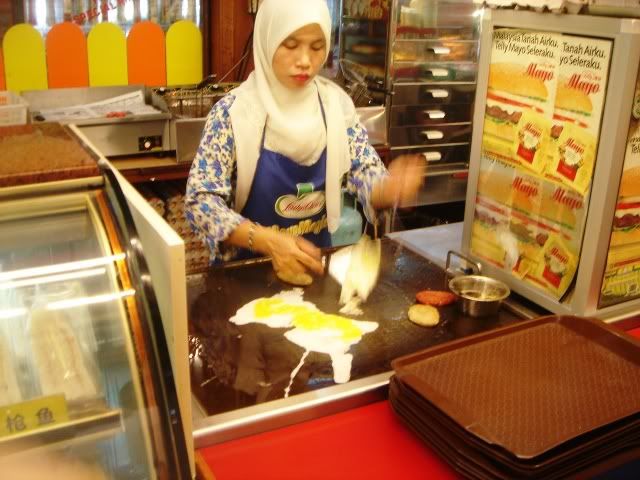 The lady making the Malaysia's very own Ramly Burger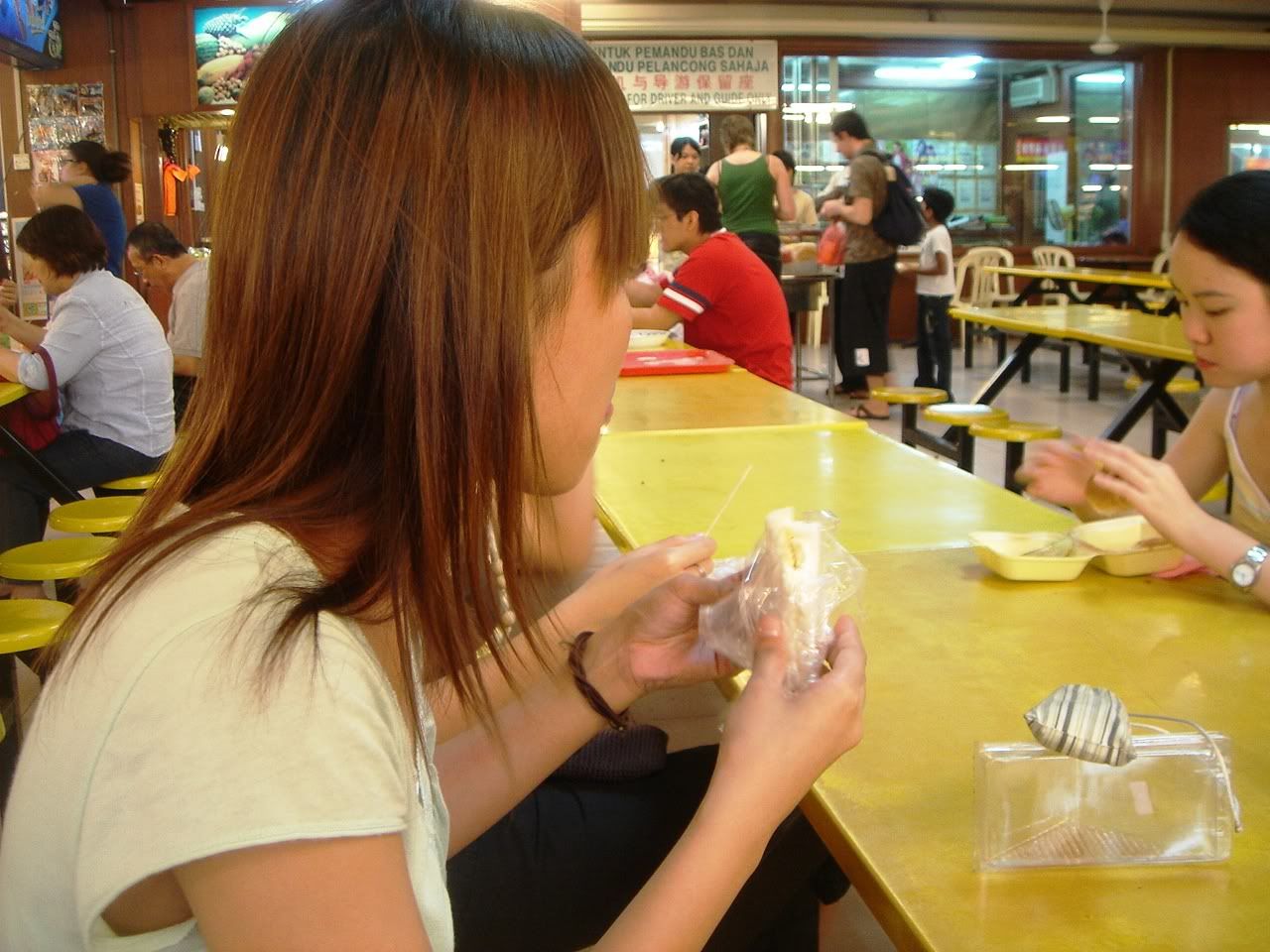 MQ eating her sandwich
I had choc in pancake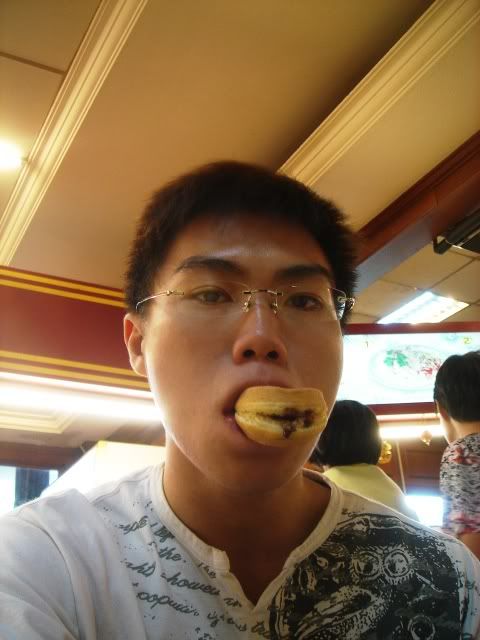 Eh..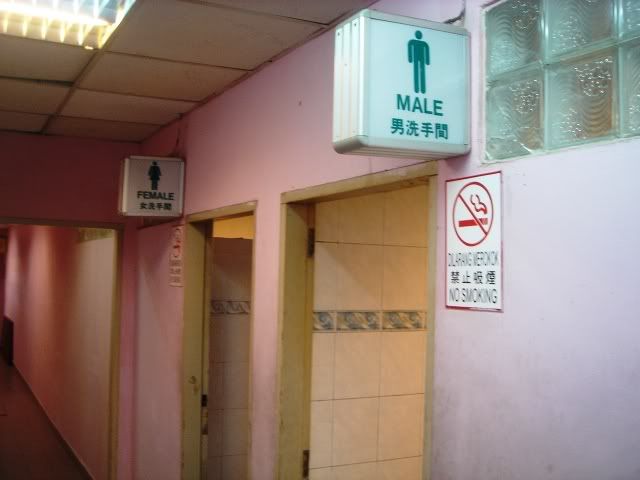 To the toilet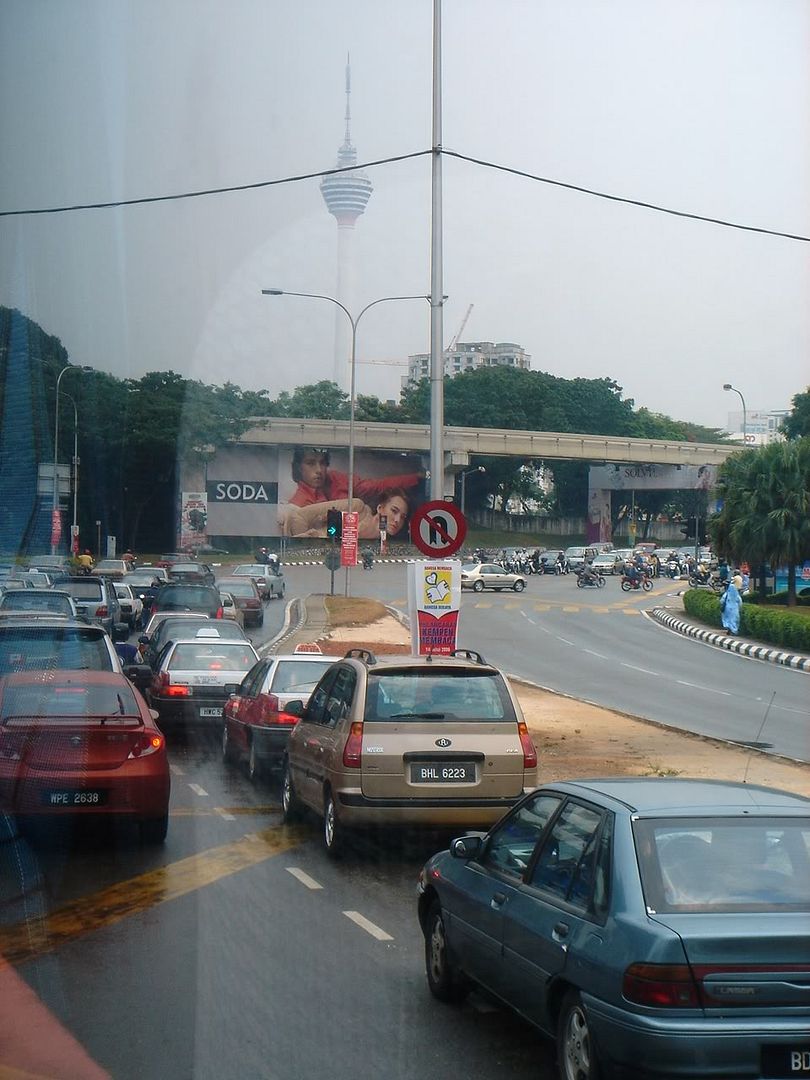 5hrs+ later on the coach, i finally saw Kuala Lumpur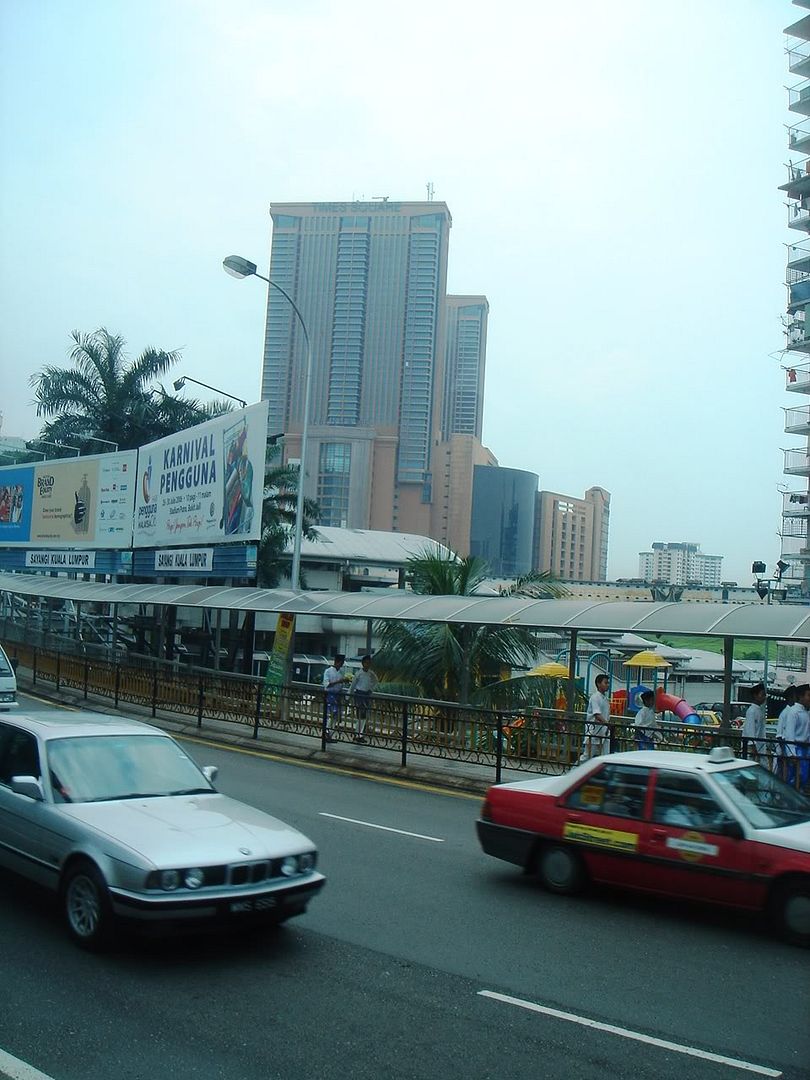 Berjaya Time Square ahead of me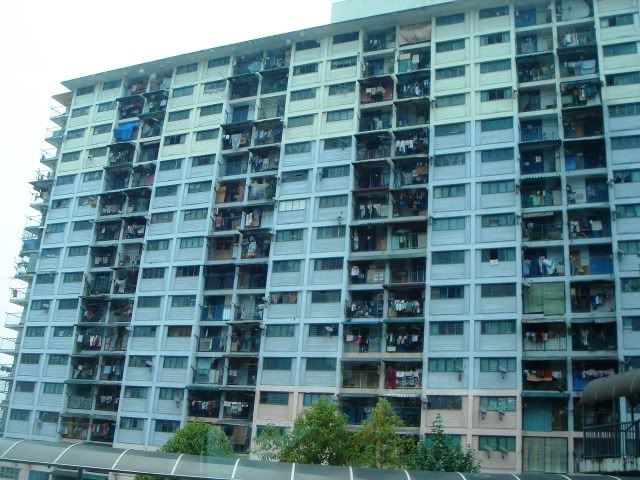 Check out M'sia own "HDB" flat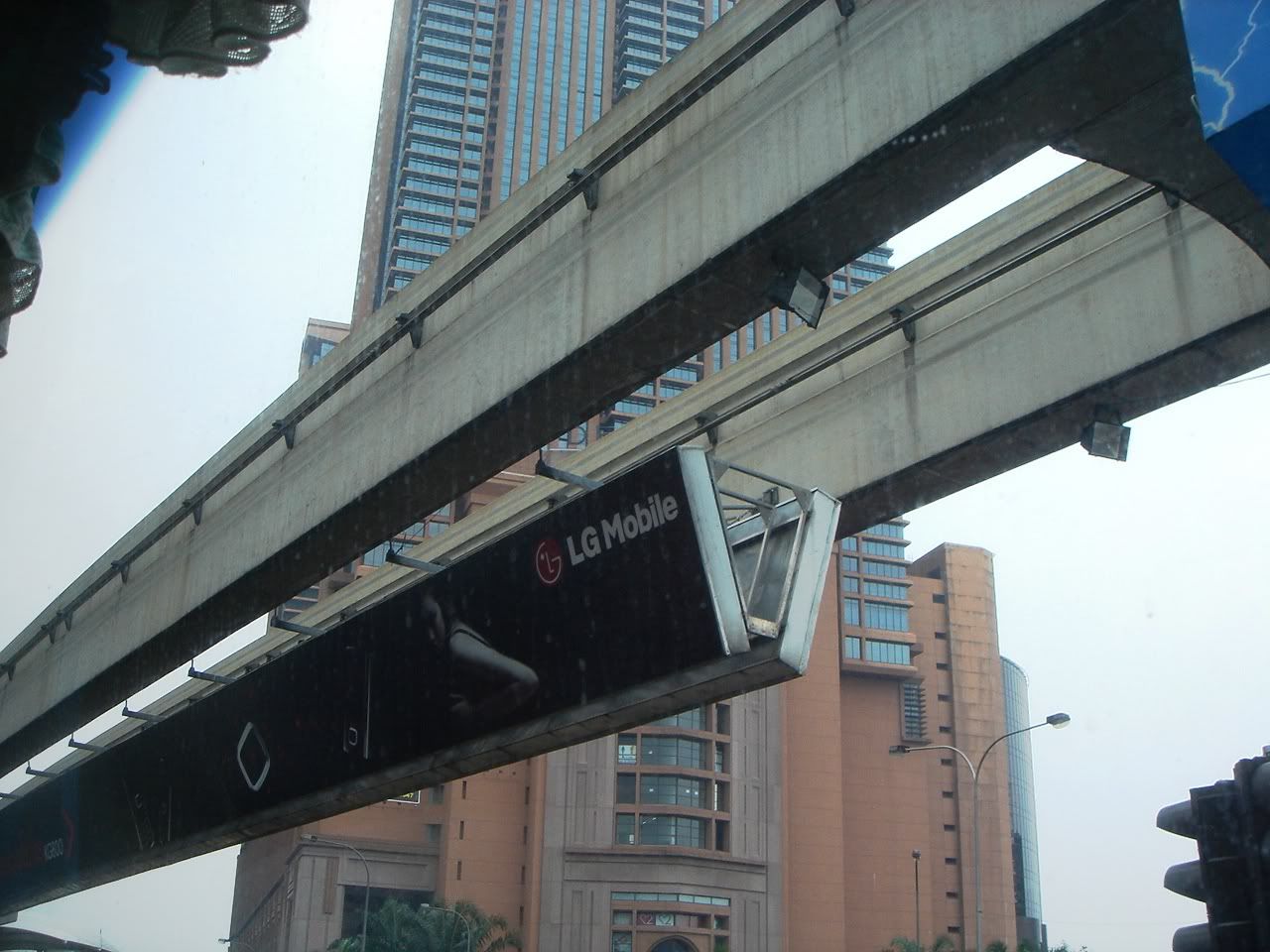 The last time i came, there wasn't any monorail
At The Federal Hotel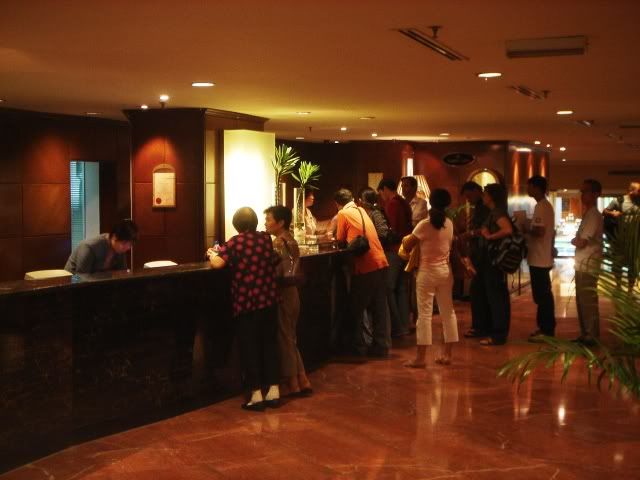 Lobby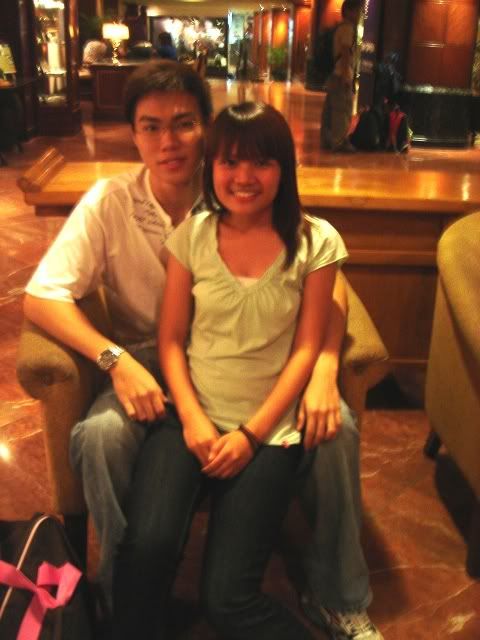 Taking a rest
We broke a little flower vase.. Haha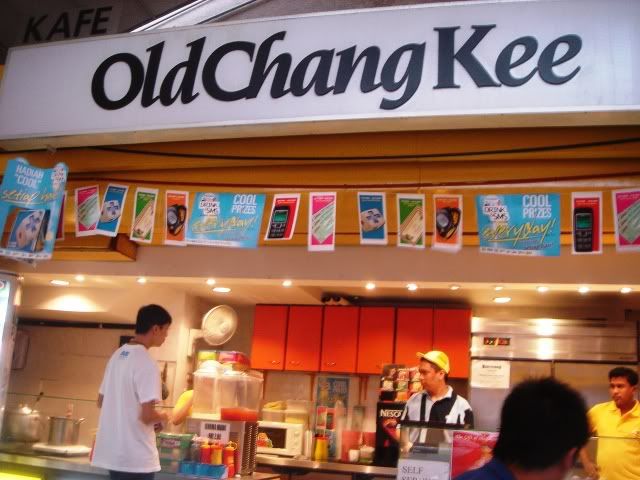 Walked around Bukit Bintang after throwing our luggage at our hotel rooms. This is what we saw
Famished were we. Sat down n had curry puffs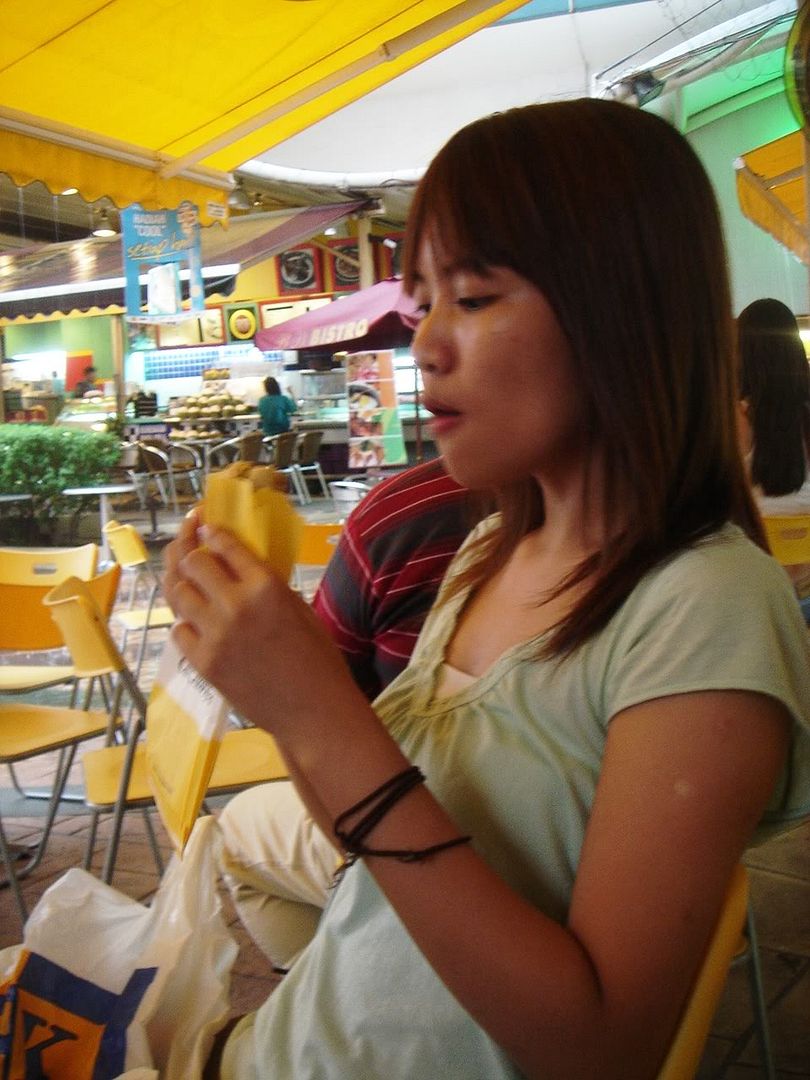 My dear MQ enjoying her puff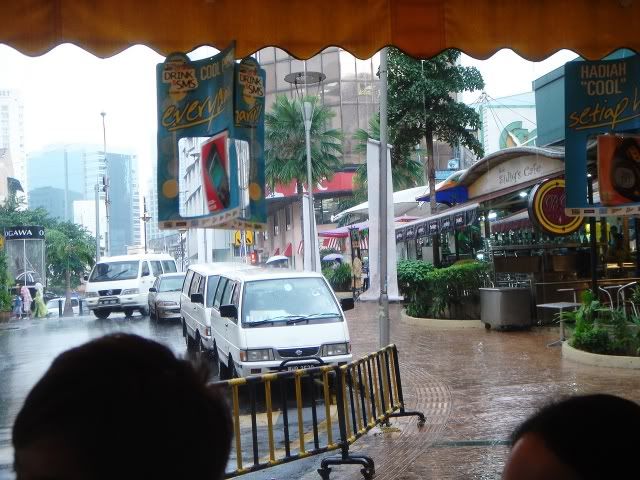 Just barely an hour on reaching KL, it started to rain heavily
We walked around Bukit Bintang Plaza n Lot10 shopping malls. MQ trying out a shoe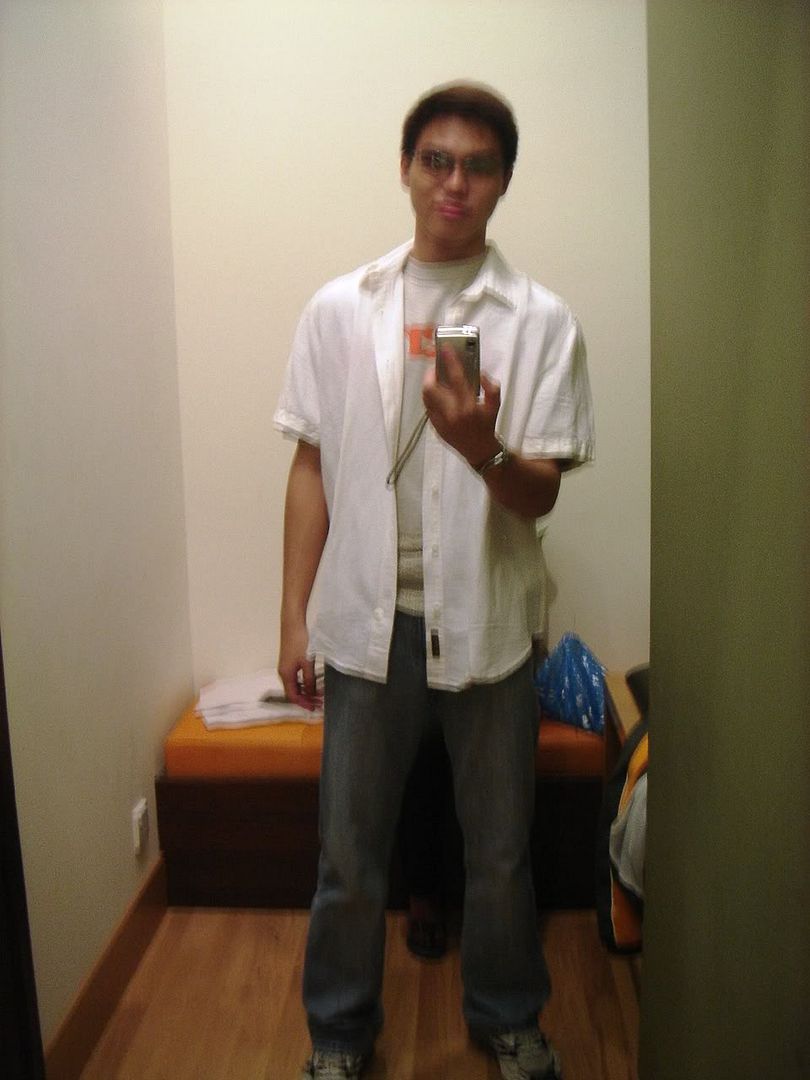 Saw this top @ a Timberland outlet. Tried it out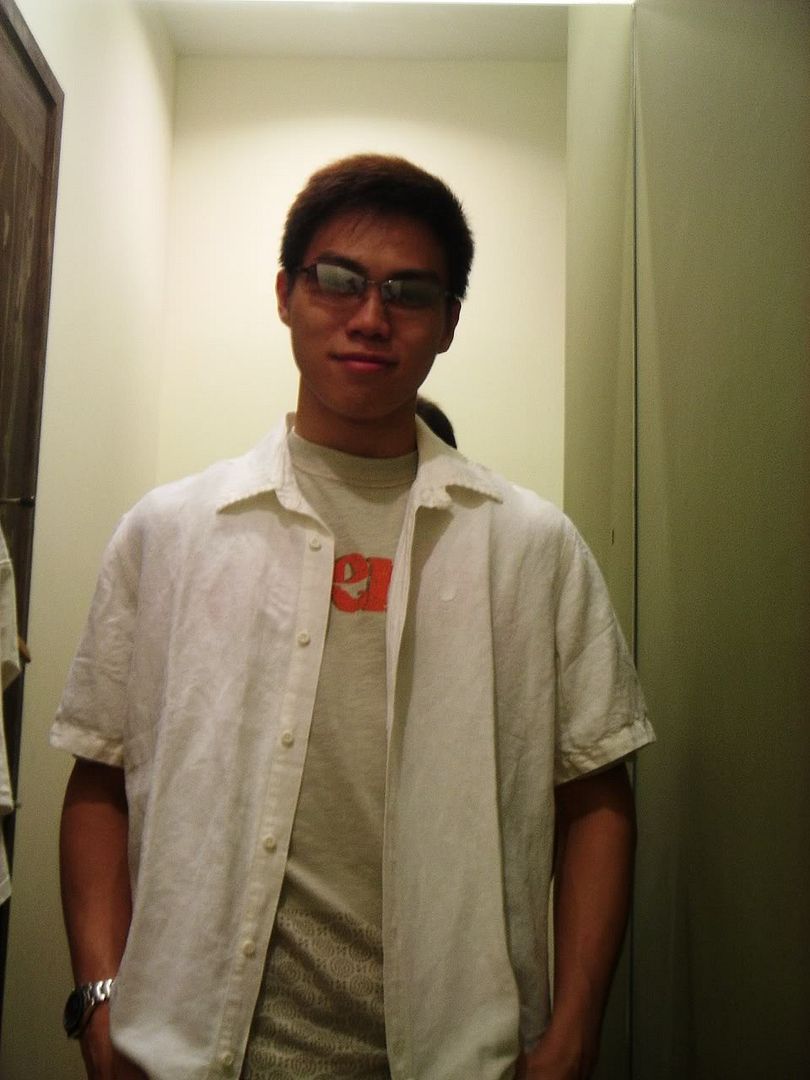 Bought the shades for RM19.90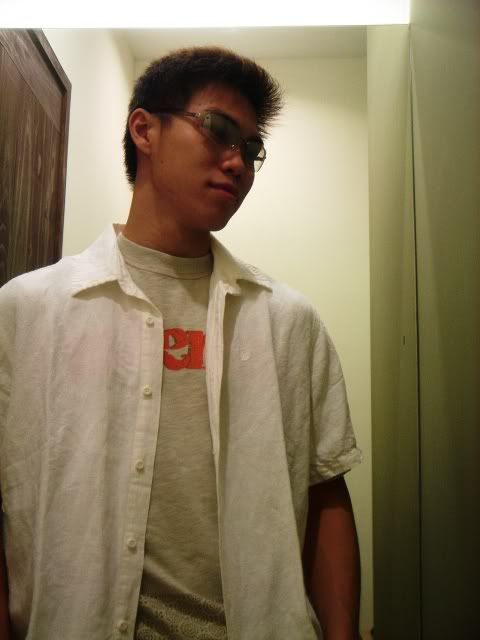 However, the t-shirt n shirt are too ex. Such a pity, i like them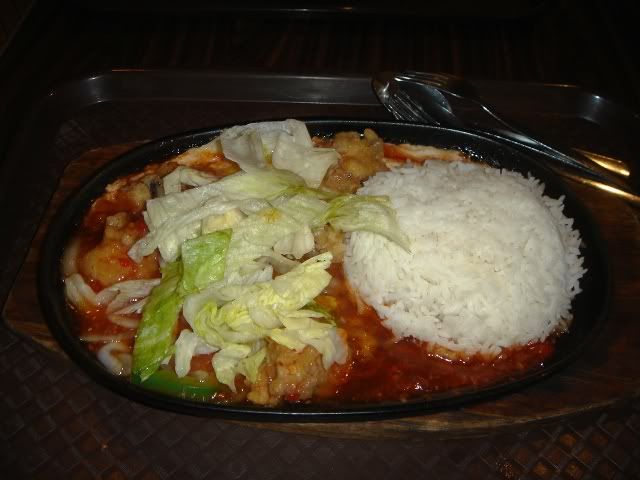 Dinner with MQ. I had hot plate sweet&spicy chicken rice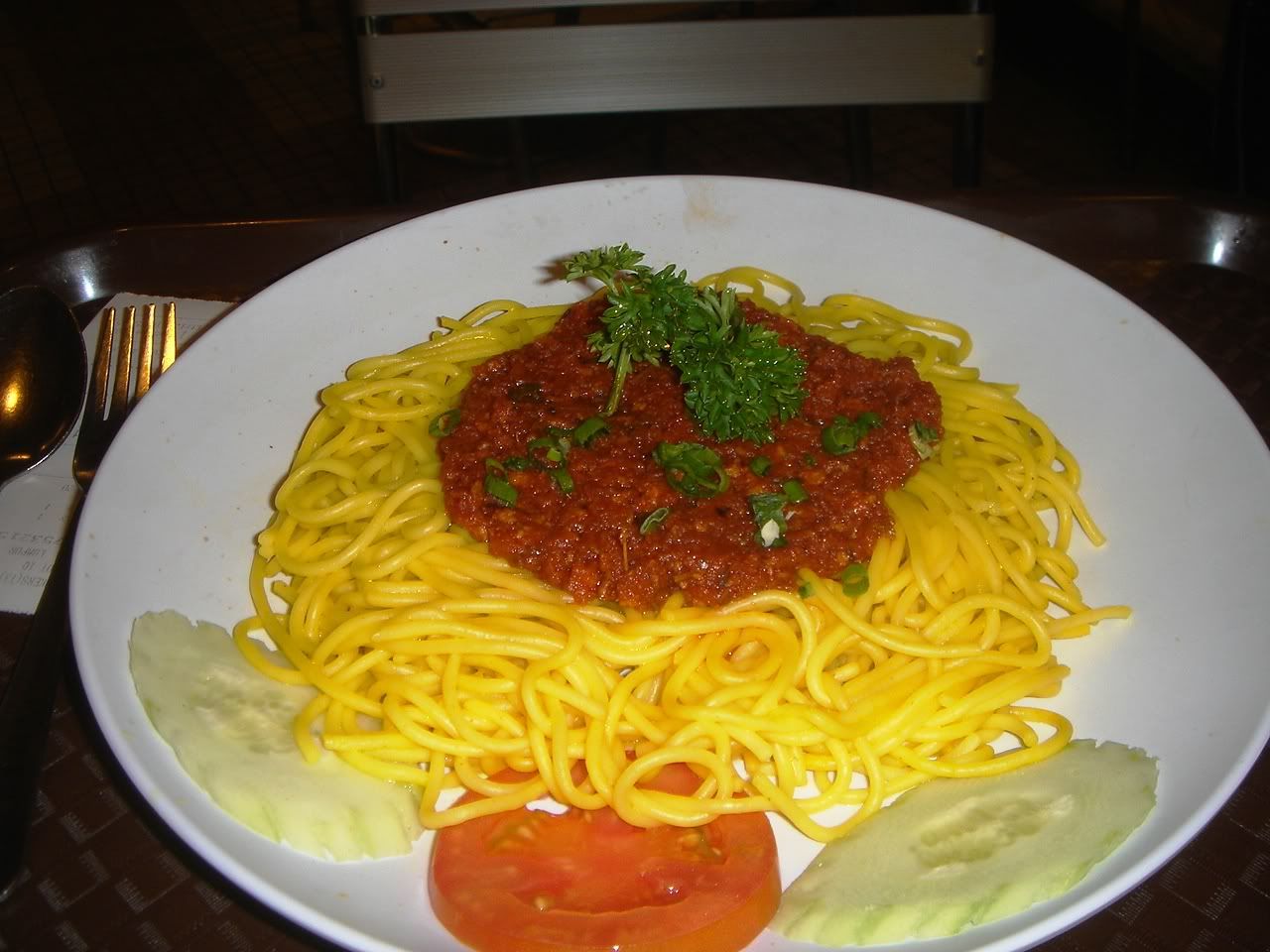 She had pasta
Walked on the street after dinner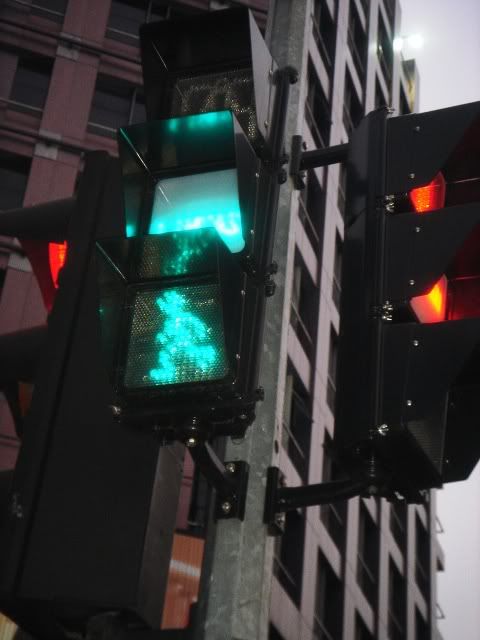 Haha, they have a very unique green walking man at the traffic lights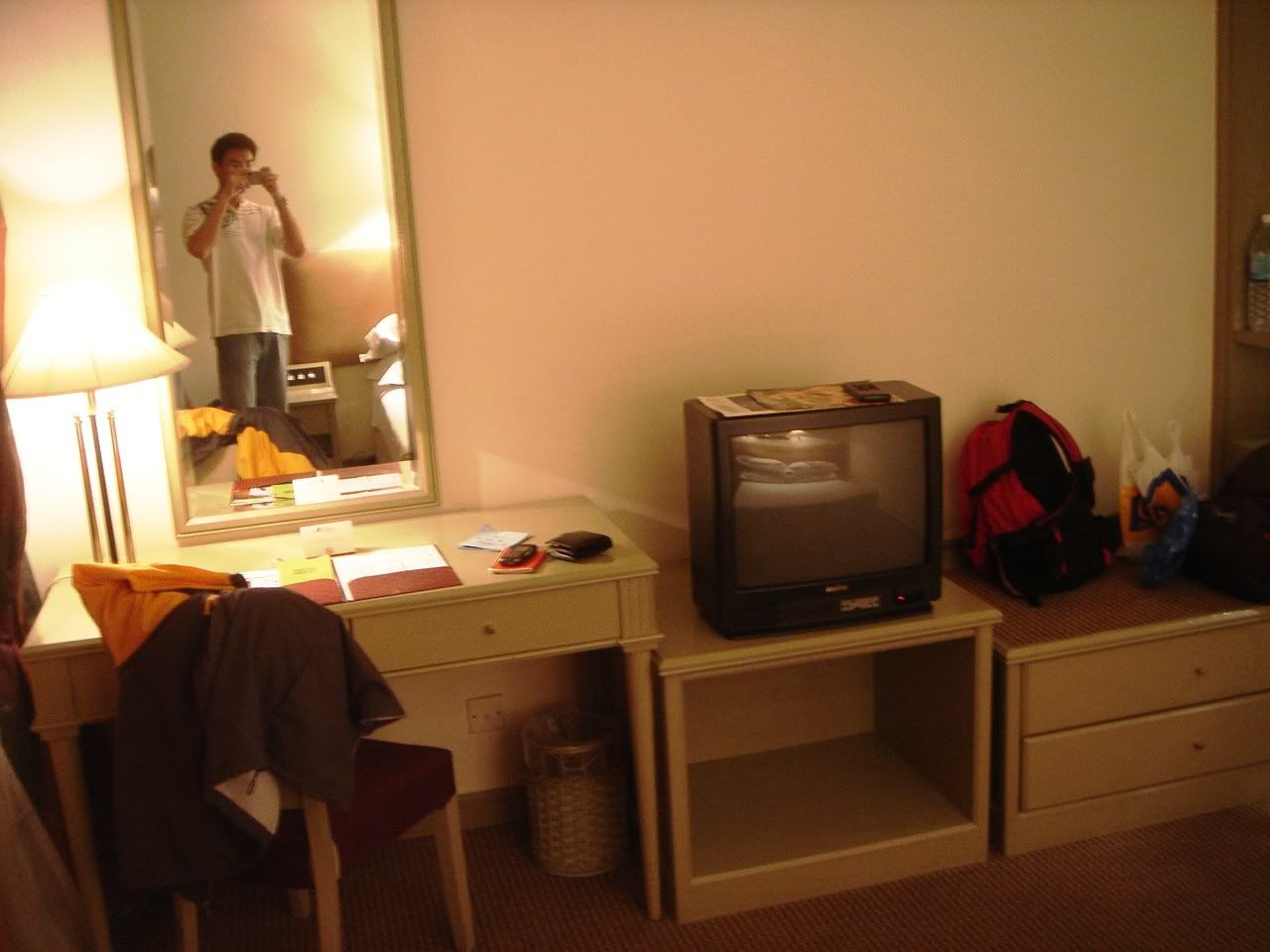 Exhausted, we headed back to the hotel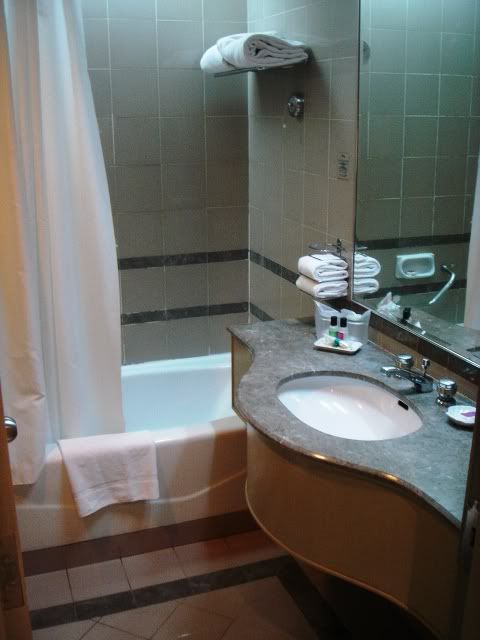 Toilet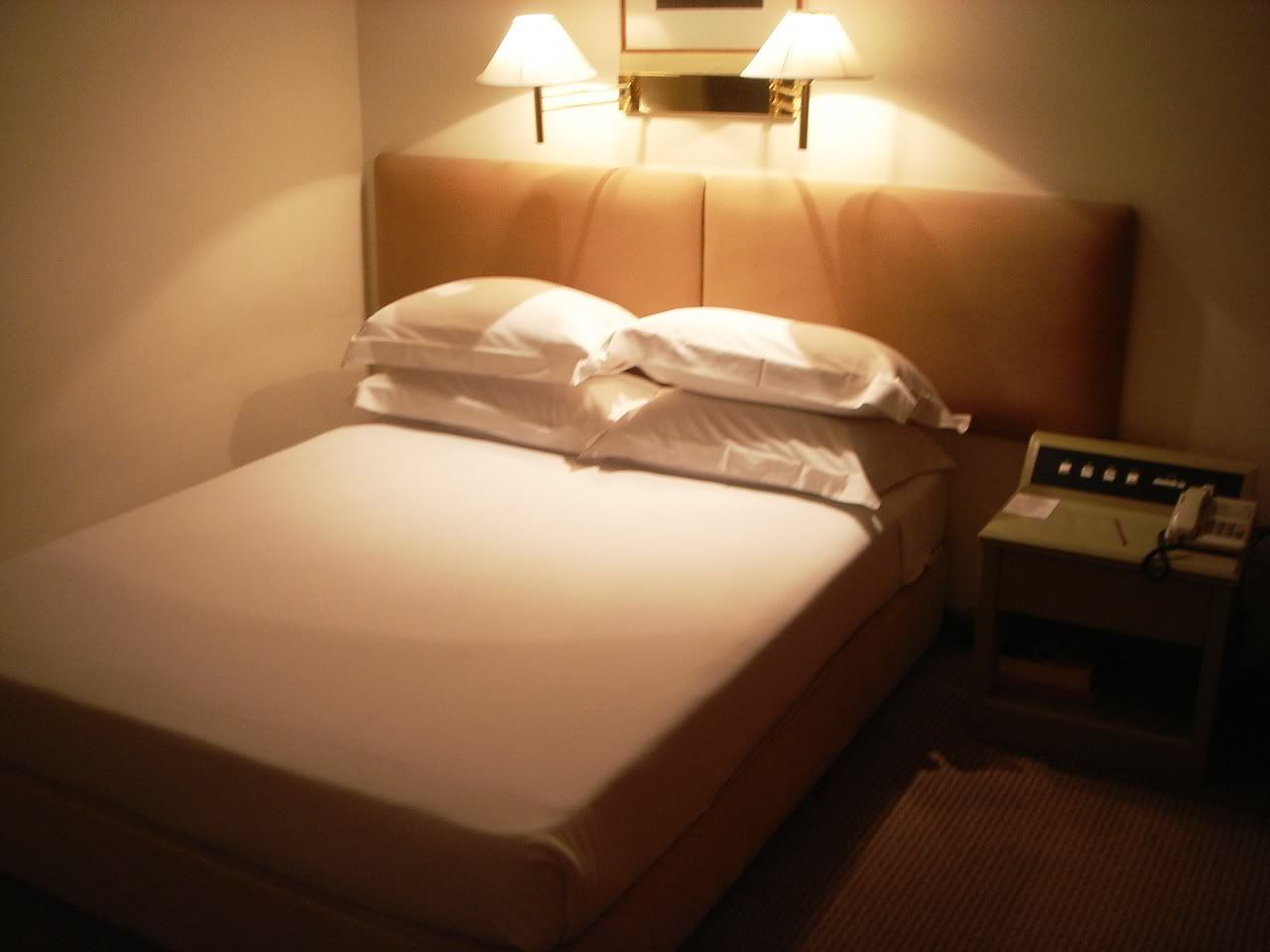 End of Day One, a short half day walk around Bukit Bintang. Good night~
Day Two, Saturday
Woke up early at 10am. Ok, not exactly very early, but the bed was irresistable. Took a bath n went for breakfast. With no time to waste, we took a cab down to KLCC to have a look at the Petronas Twin Towers. Had intended to get the free tickets for the tour up the world's tallest twin towers but we were too late. Disappointed, we shopped around the shopping mall of the towers instead.
It was huge, n they sell top brands like Georgio Armani, Tiffany&Co, Rolex etc etc. Of cos, things in the mall weren't cheap n I only bought a few tops from there while MQ shopped around for shoes but got nothing! Haha, she's so cute.. After 2hrs of walking around the mall, we sat down n had the famous nasi lemak at Mdm Kwan's restaurant. I can see it's really famous cos the queue outside the restaurant was pretty long..
Took a cab down to Mid-Valley after lunch to shop at the Megamall. Kaoz, it was so crowded eventhough it's such a GIGANTIC mall. Walk n walk n walk n more walking. Our legs almost died there. At the end of the shopping trip, Min Hui even said straight in my face "I walk until I'm falling sick le" Hahaha!! This is the first time i hear a girl grumble about walking too much during shopping. I guess the walking was really too much.
Took a cab back to the hotel, dropped our stuff, n they headed for a foot massage while i went for a haircut myself. Walking by myself in a foreign land was pretty scary, especially in a place like Malaysia where the locals don't really like Singaporeans. I walked the streets by myself late at night at Phuket(Thailand) a few months back, but I didn't feel threatened at all. Perhaps it's all the robbery cases in Johor that freaked me out.
Had my hair cut at EC House, a common haircutting outlet u see in Singapore. Hoho, guess how much is the cut. It will cost S$10 here, but it only cost me RM12(S$5.50) over there. See, that's the difference in standard of living between S'pore n M'sia. Things are hell lot cheaper over there. I roamed the streets after my hair cut n found the "food street" Selena was telling me. Gosh, the WHOLE stretch of road, probably 200metres, was lined with food stalls; fried oyster eggs, fried prawn mee, bak kut teh, etc etc. Damn, i wanted to try out everything, but I'm leaving KL in less than 24hrs' time.
Suddenly, my stomach felt weird n I started having diarrhoea. WTF right. I was just looking at food n the stomachache had to come n destroy my appetite. Chiong back to the hotel for the toilet. Boo!@ MQ came back from her massage n was pretty worried about my condition. Heh, but I didn't really give a heck about it n went on for seafood dinner with the rest of them. Had crabs, lala(shellfish), fried hokkien mee n fried chicken wings.
Unable to take it anymore, I headed back to the hotel for another round of lao sai after dinner. I'm so lucky to have MQ taking care of me when i wasn't feeling well. Felt really bad to make her torn between me n her friends. She didn't want to neglect her friends, but was worried to leave me in the room alone. So my 2nd day in KL ended in a pile of shit, literally. Pissed
Day 2, good morning KL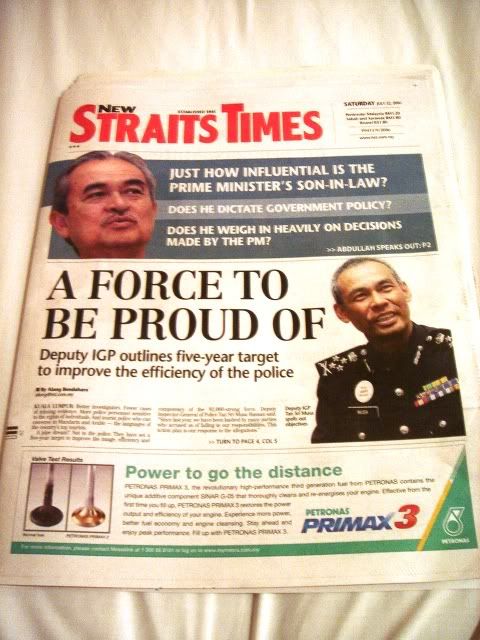 M'sia newspaper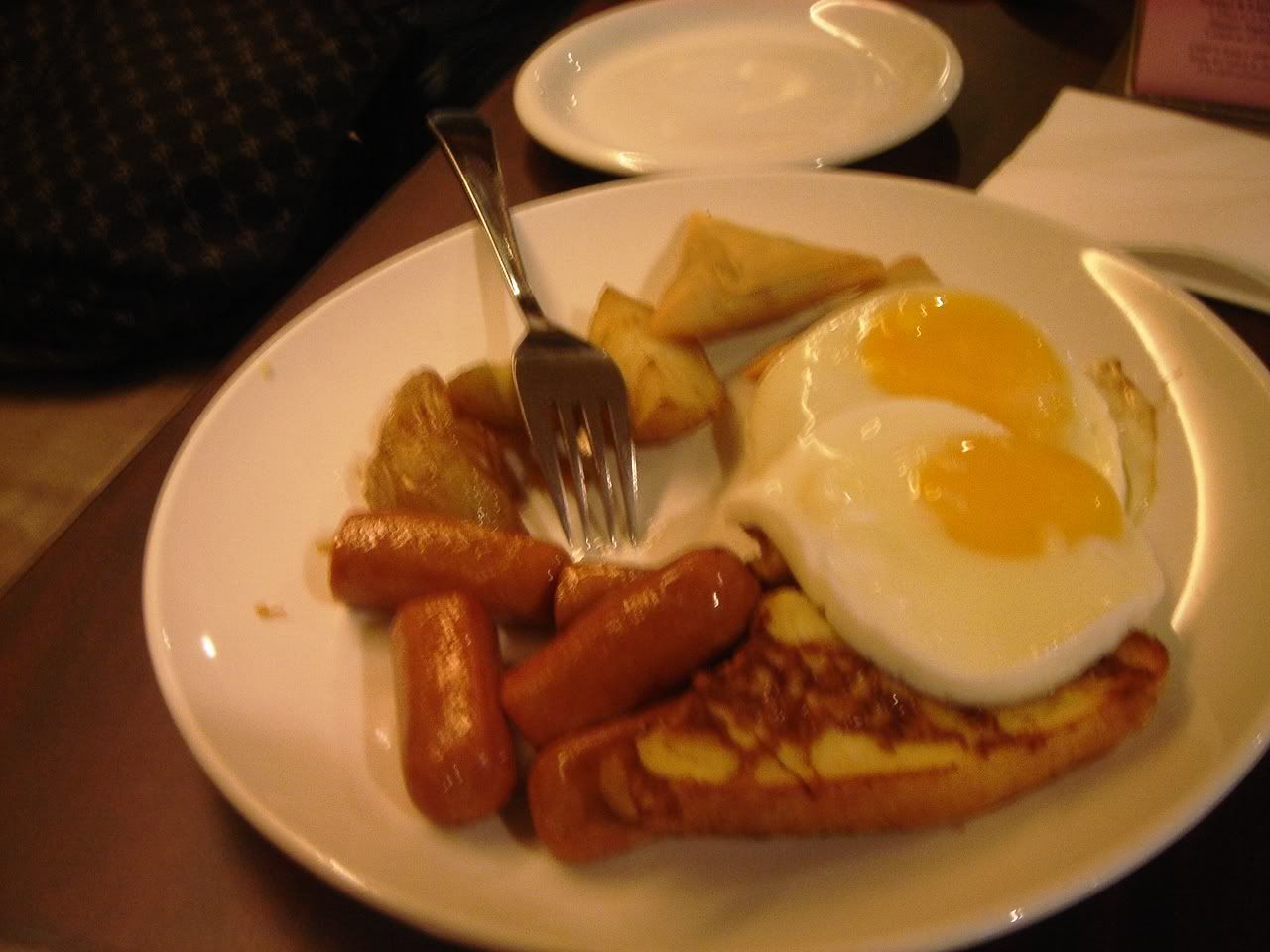 breakfast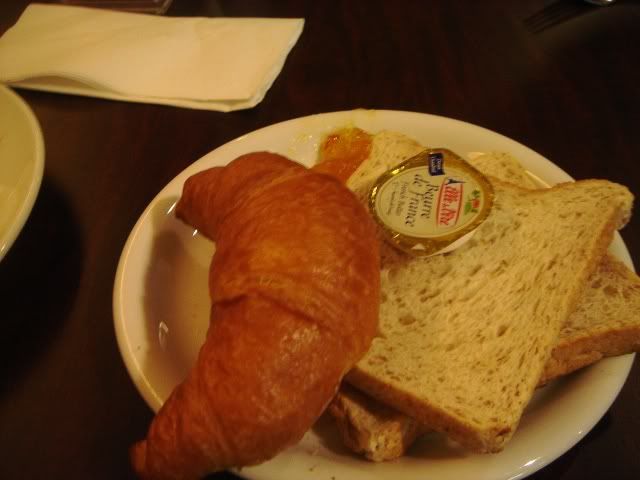 Burp~
Took a cab down to KLCC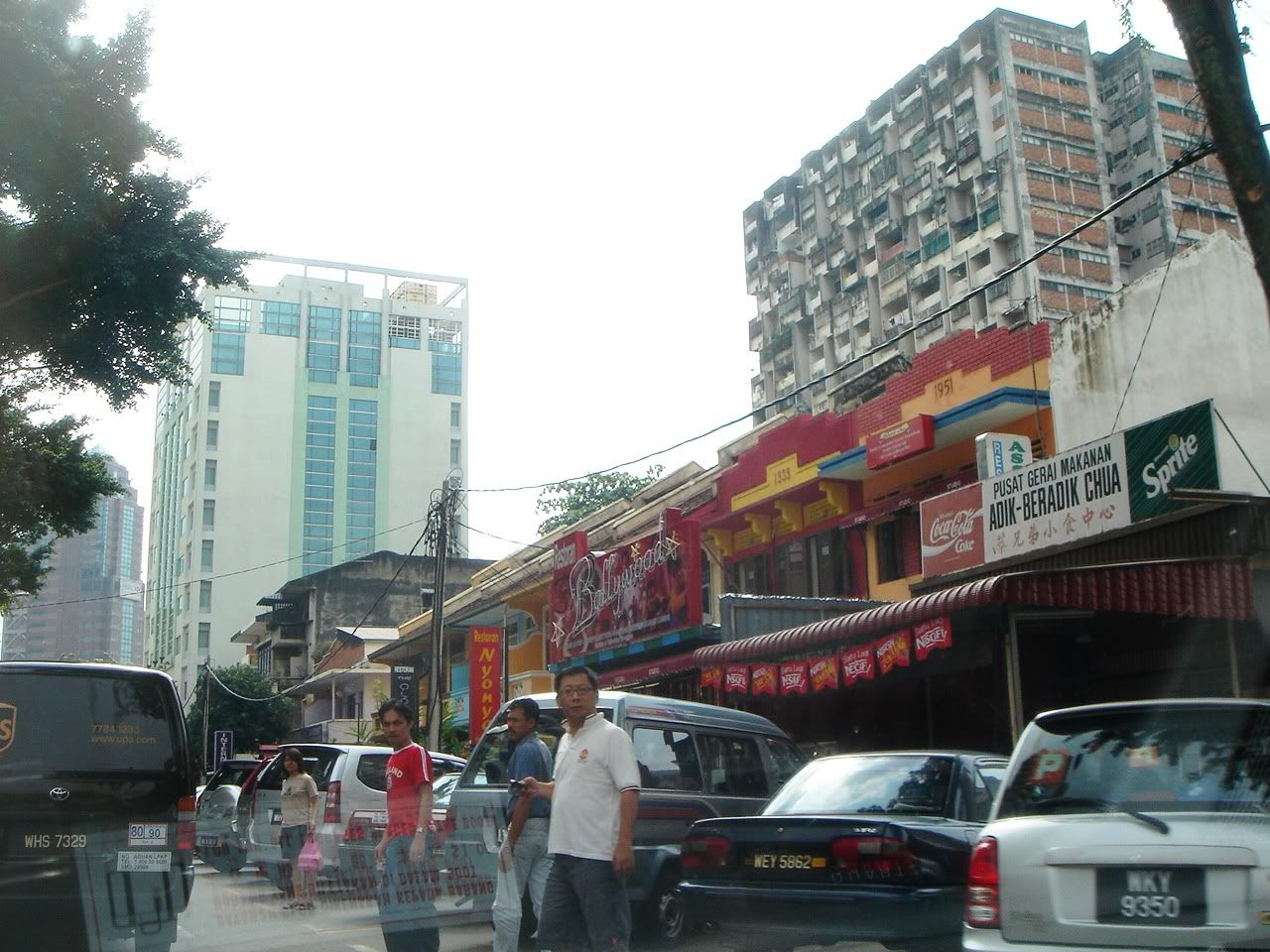 On the road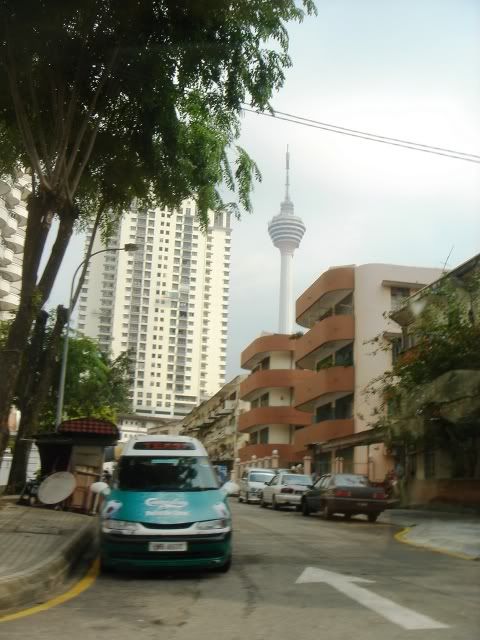 The KL tower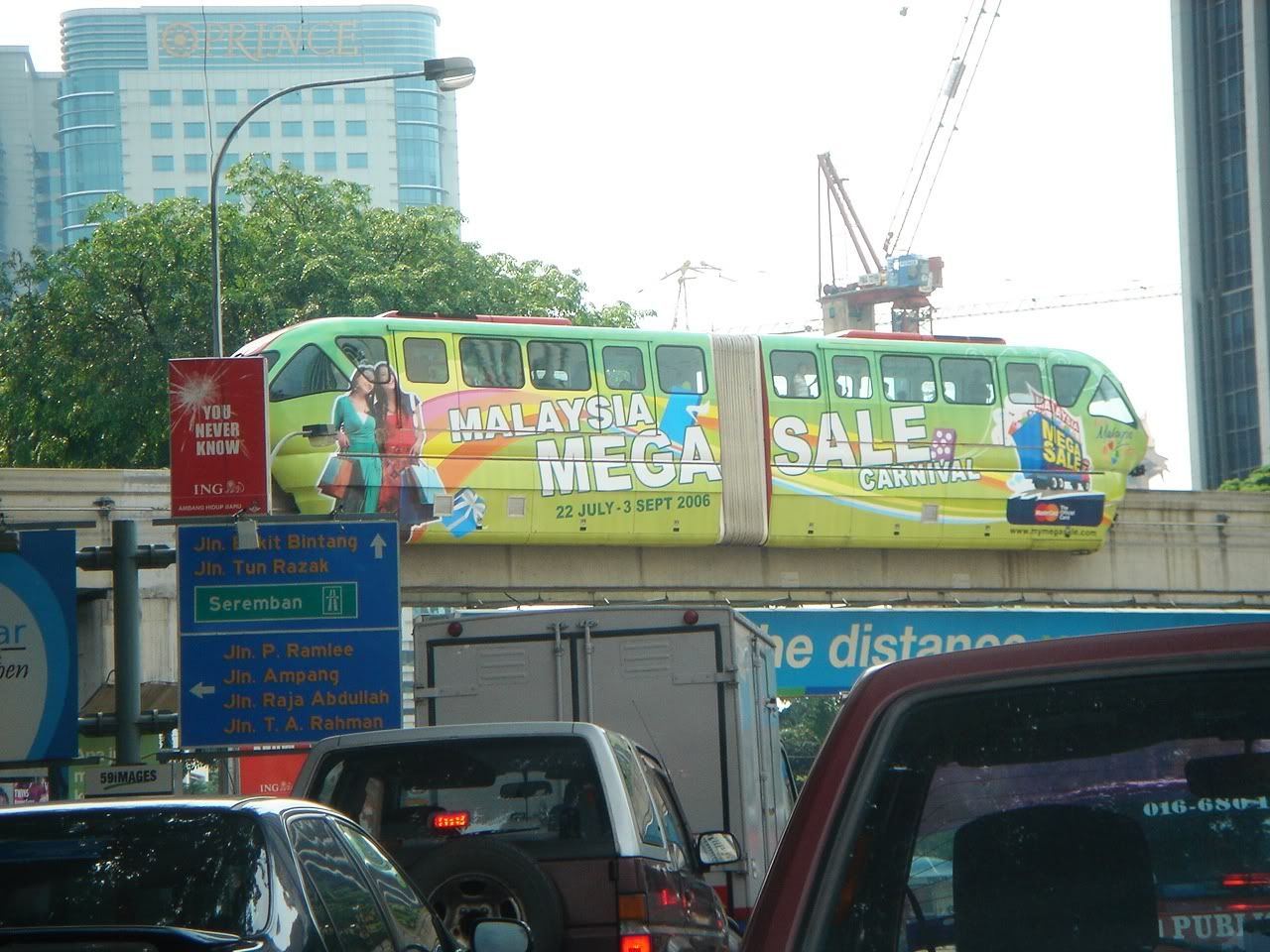 The monorail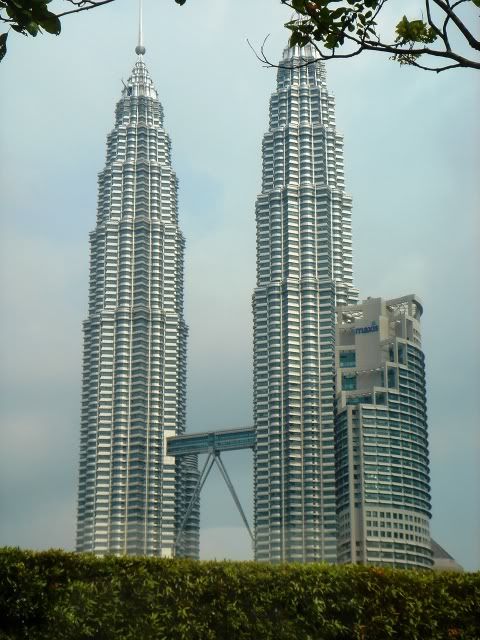 Petronas Twin Towers upclose. Really MAJESTIC!!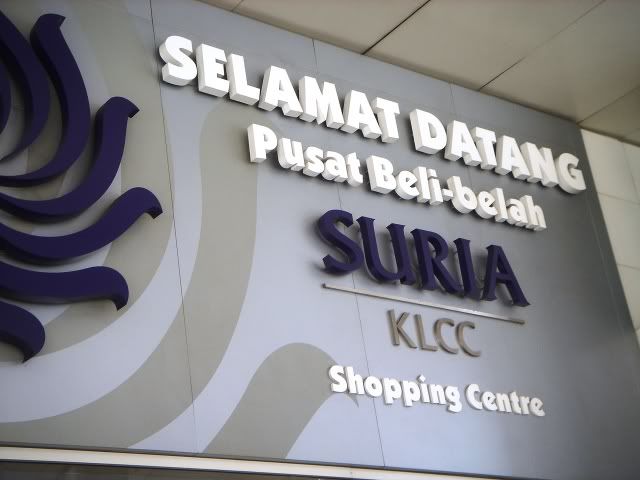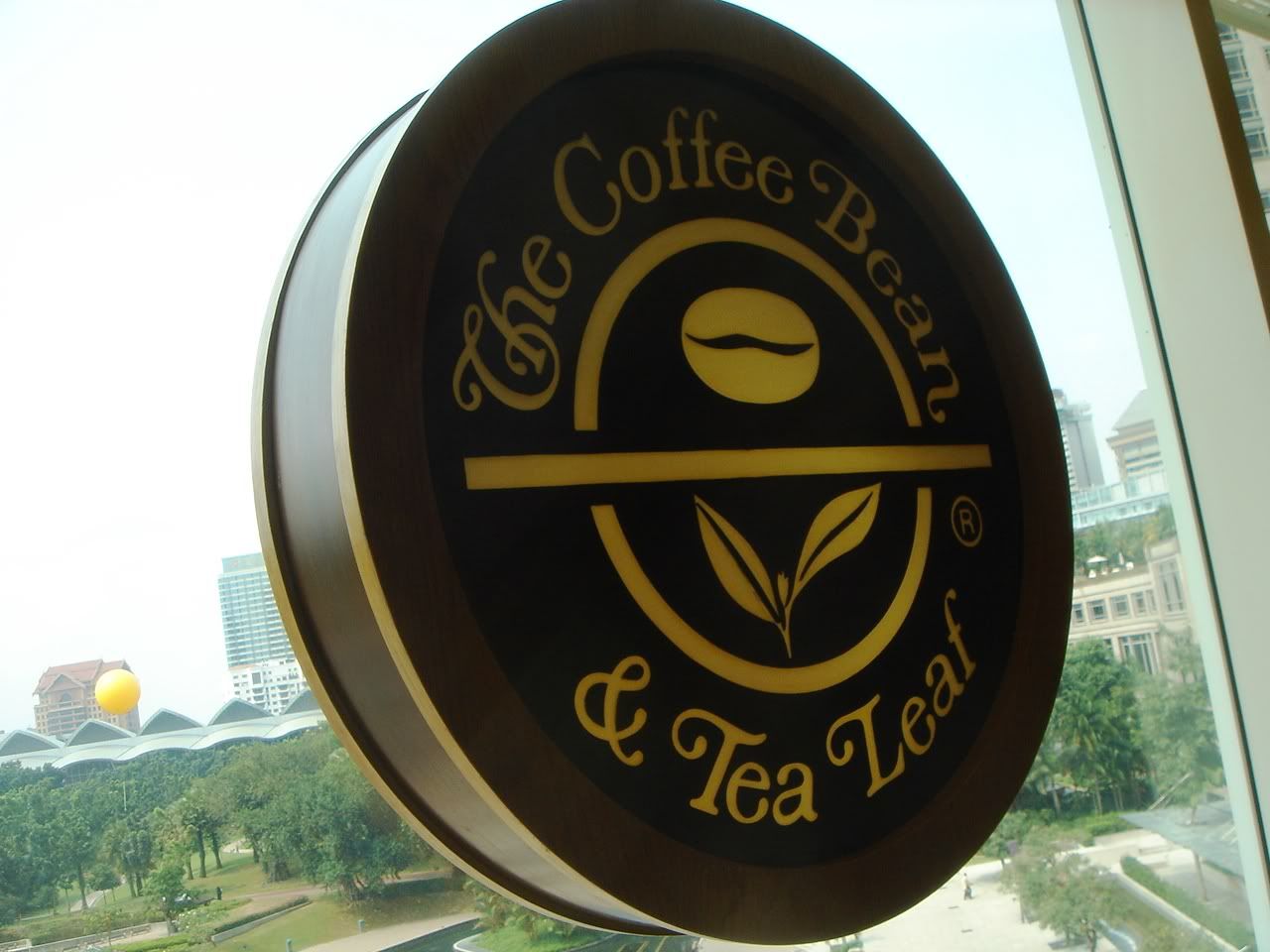 Slacked around at Coffee Bean
Dunno what is this
White chocolate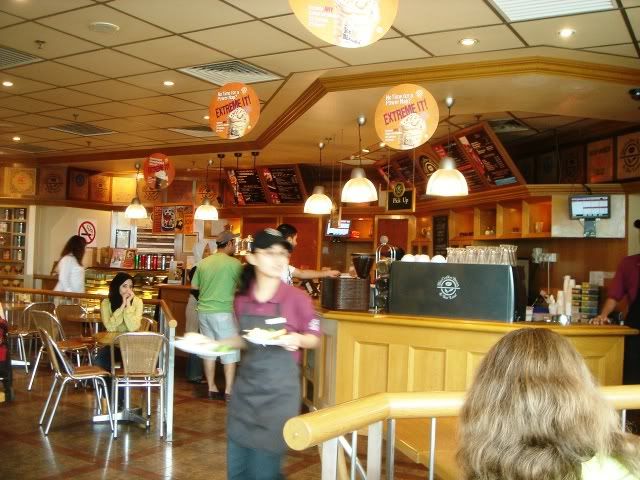 Coffee Bean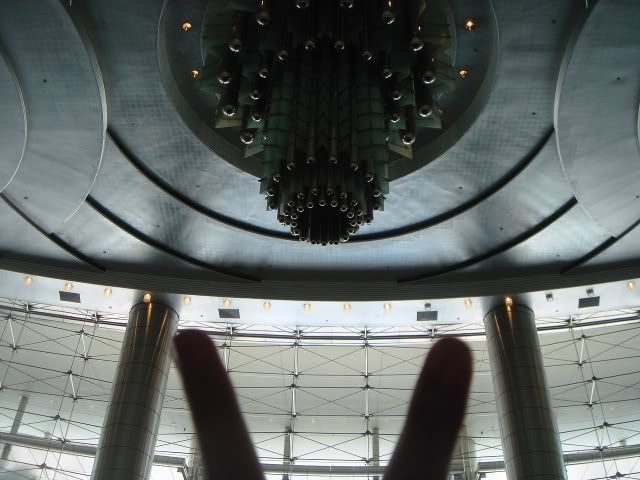 her fingers
Hehe, this is damn cute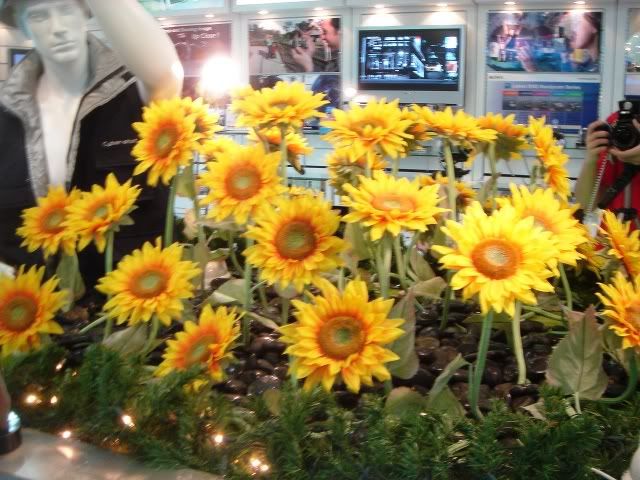 Fake sunflowers at Sony gallery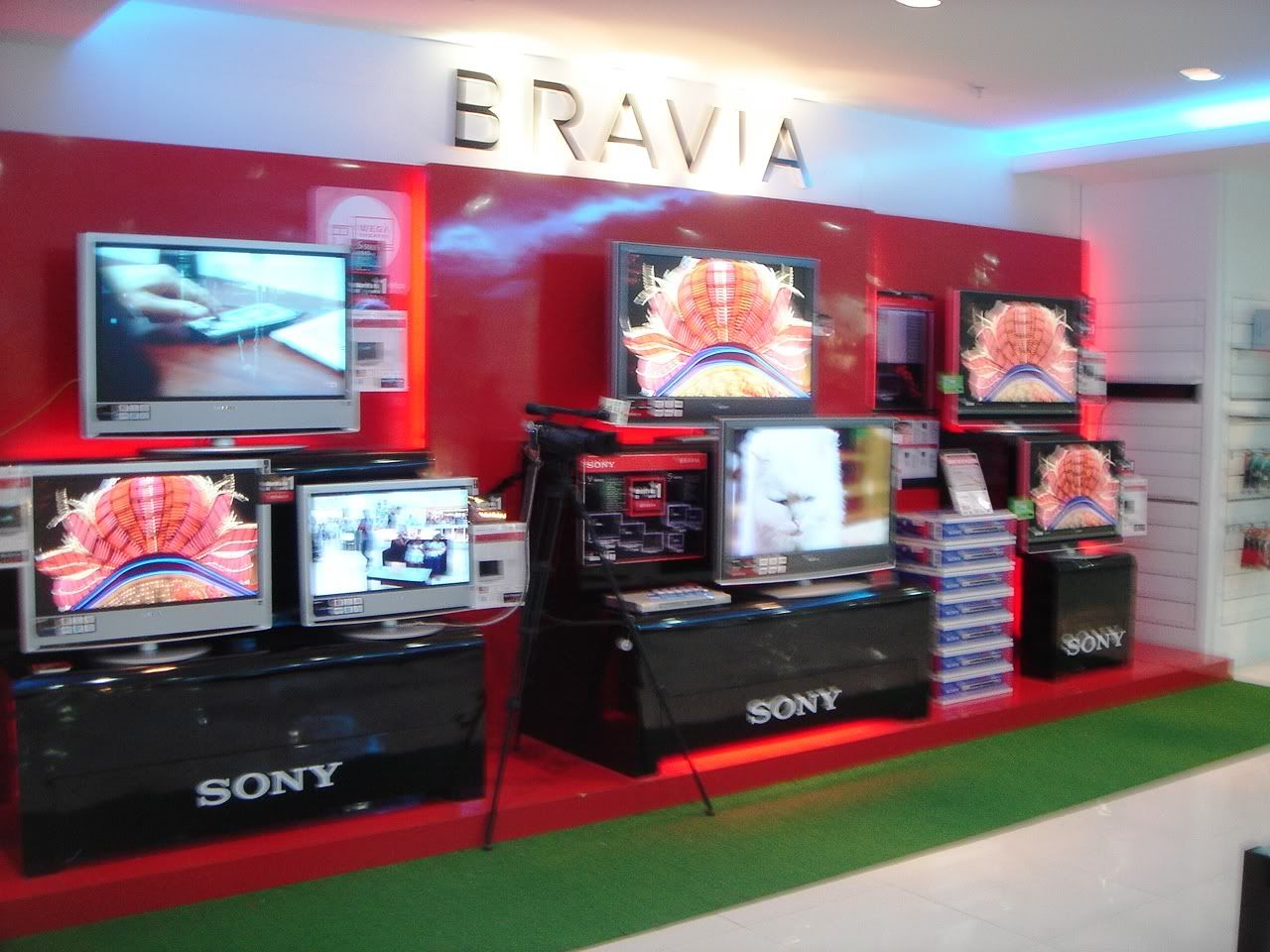 LCDs
Lunch time.
The rose is as big as my head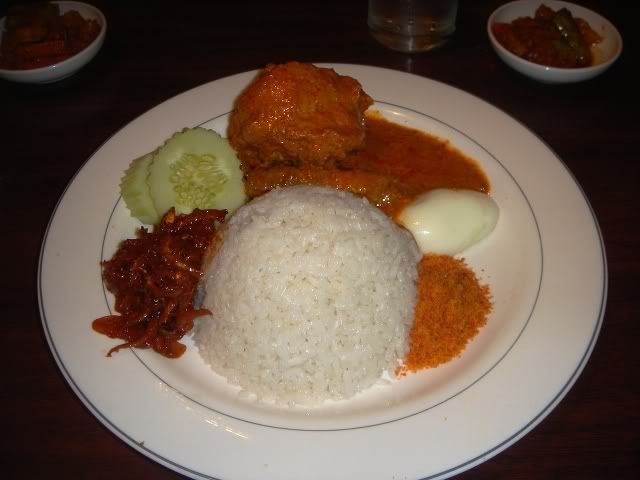 The yummy nasi lemak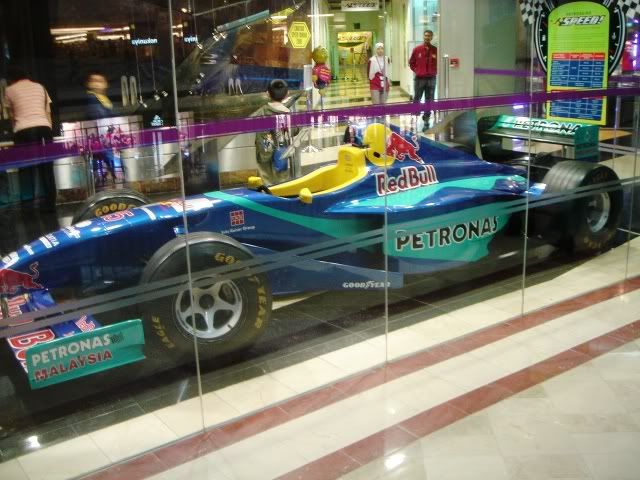 The F1 racing car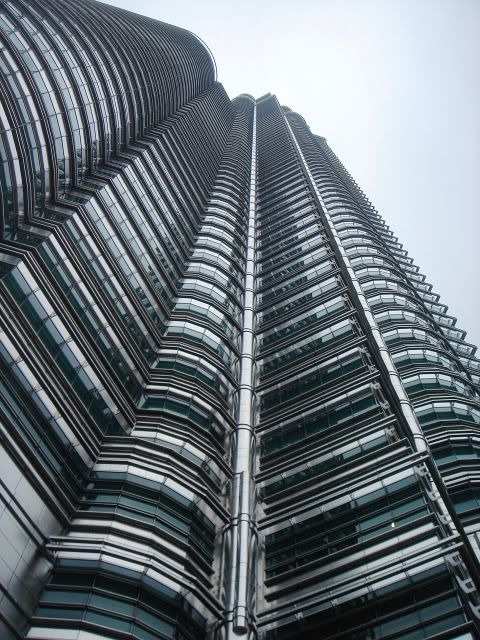 beautiful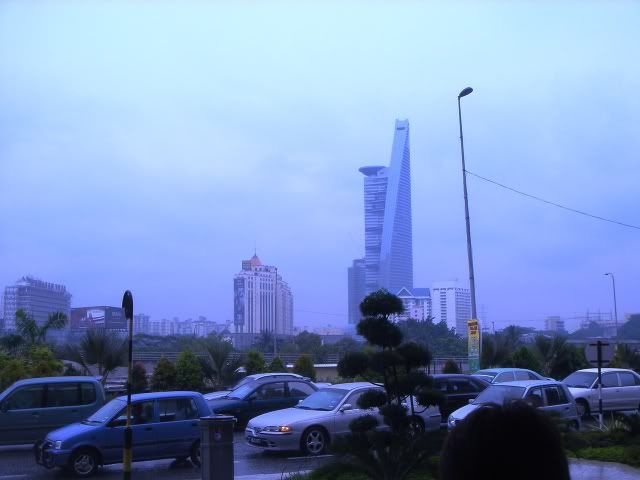 Went to Mid-Valley
This is the Megamall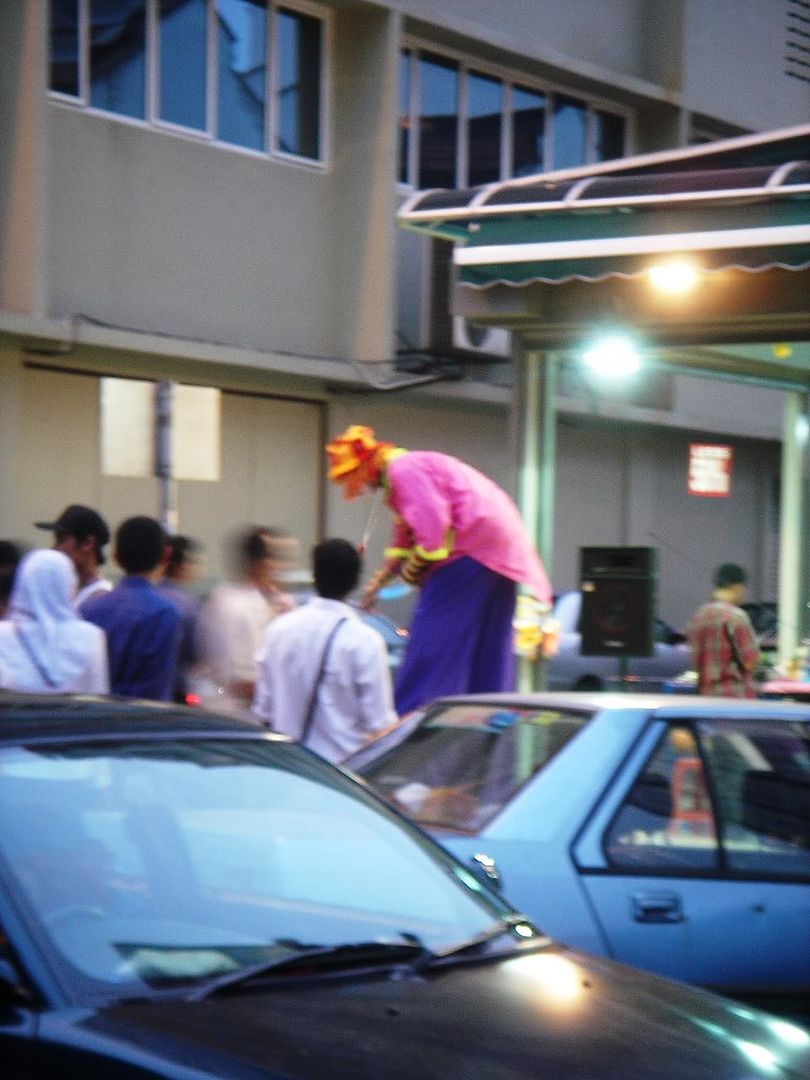 After my haircut @ EC house, i roamed the streets. Saw a clown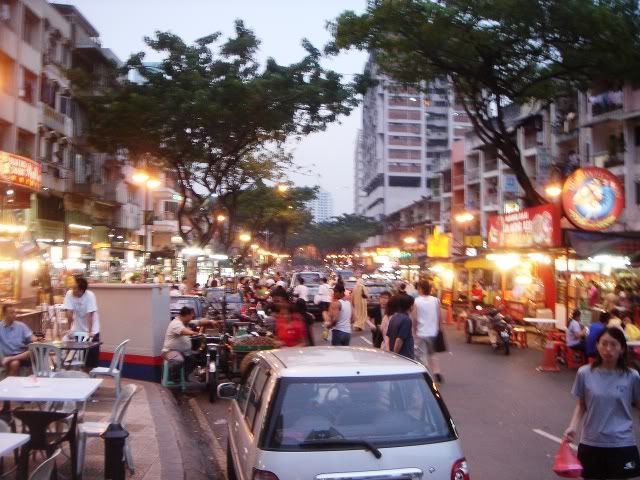 This is the whole street full of foodstalls
The RM12 haircut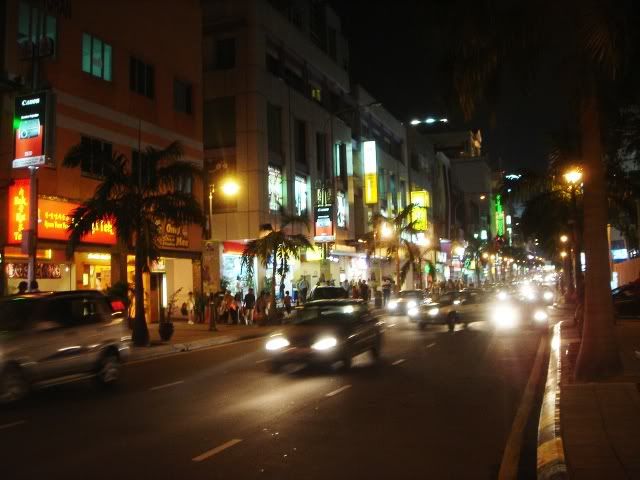 Night fell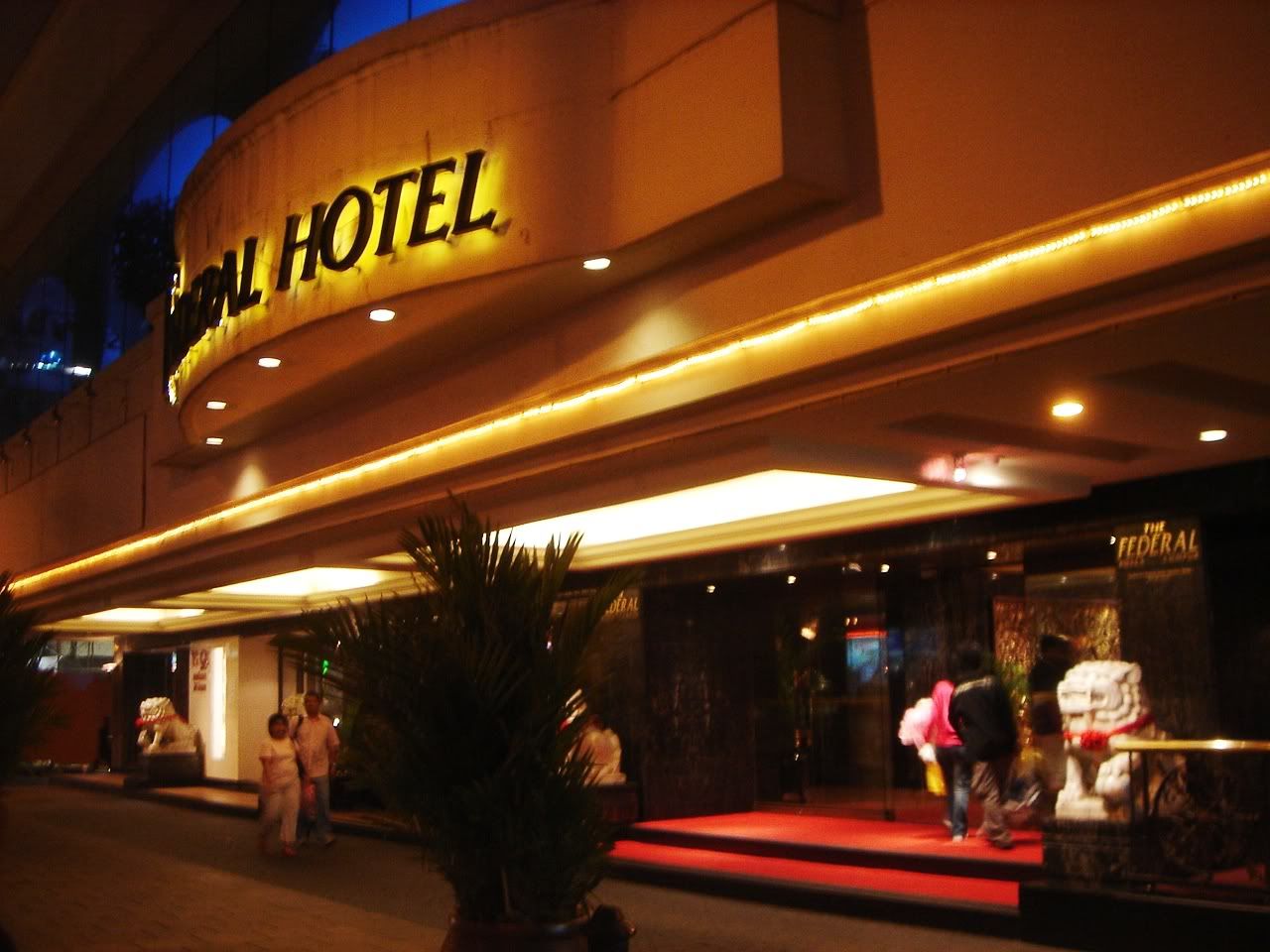 Our hotel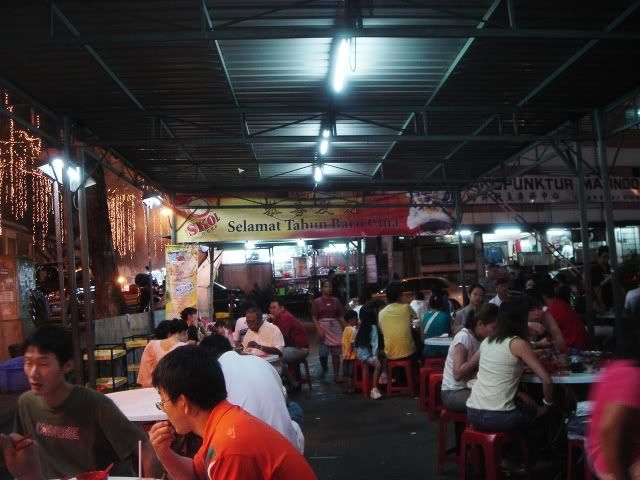 Seafood dinner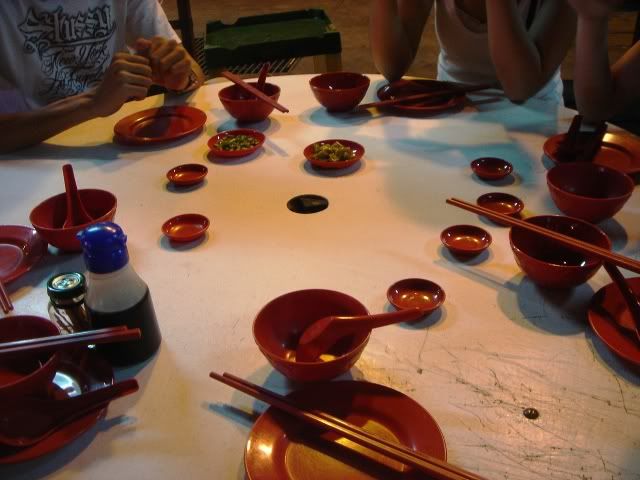 Waiting.....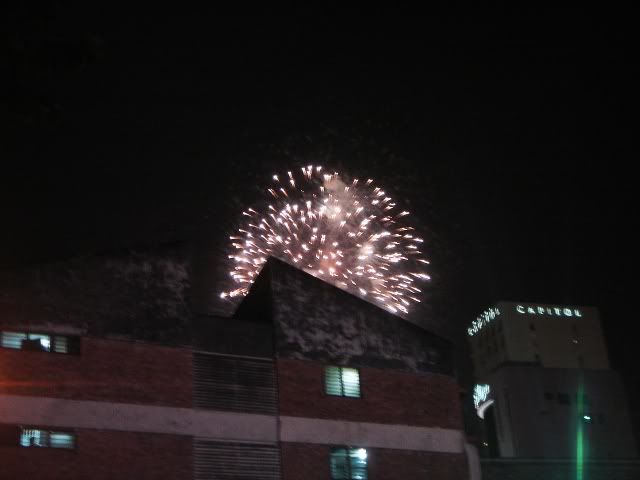 There were fireworks that night. They symbolise the start of the Great Malaysian Sale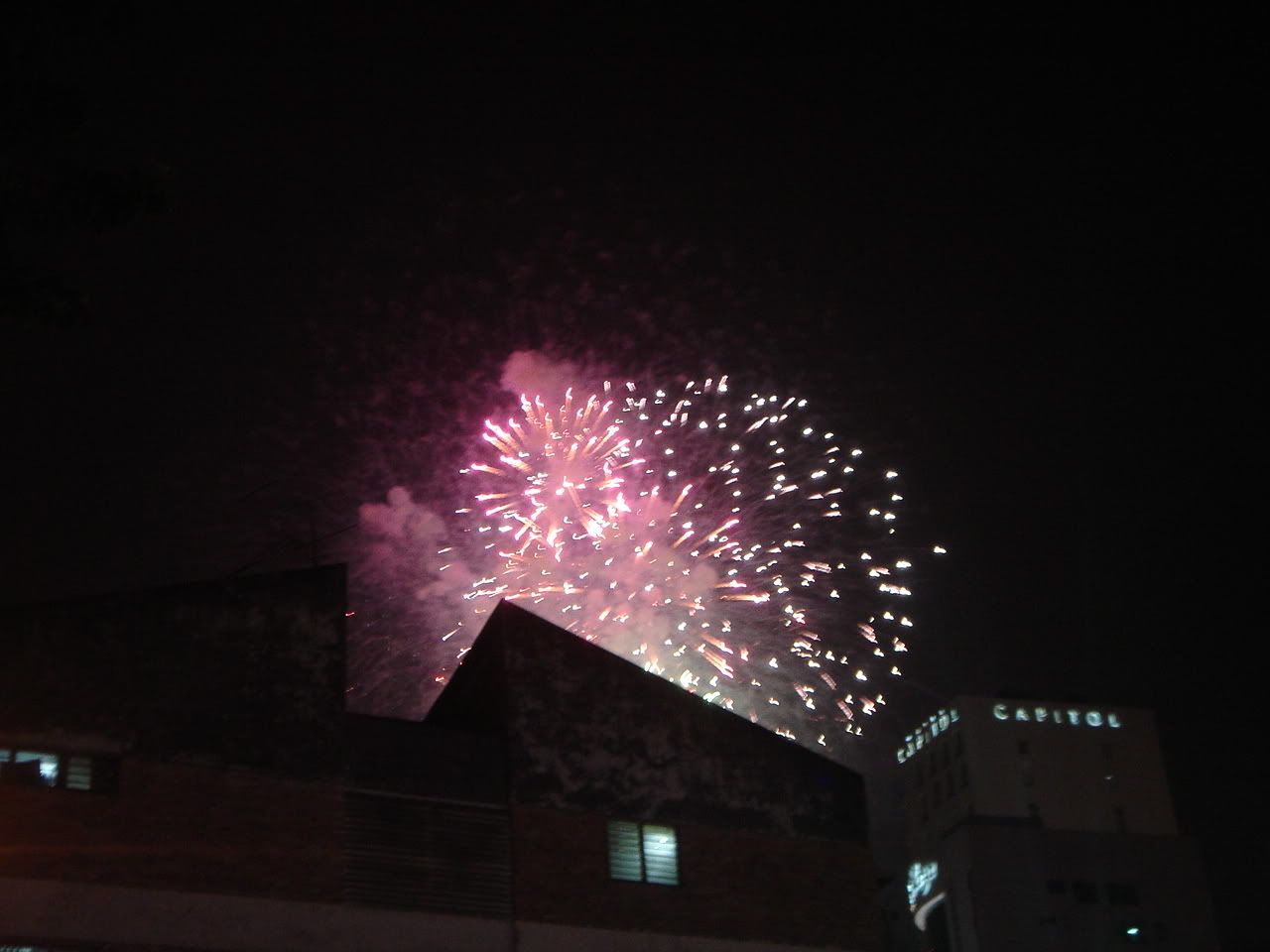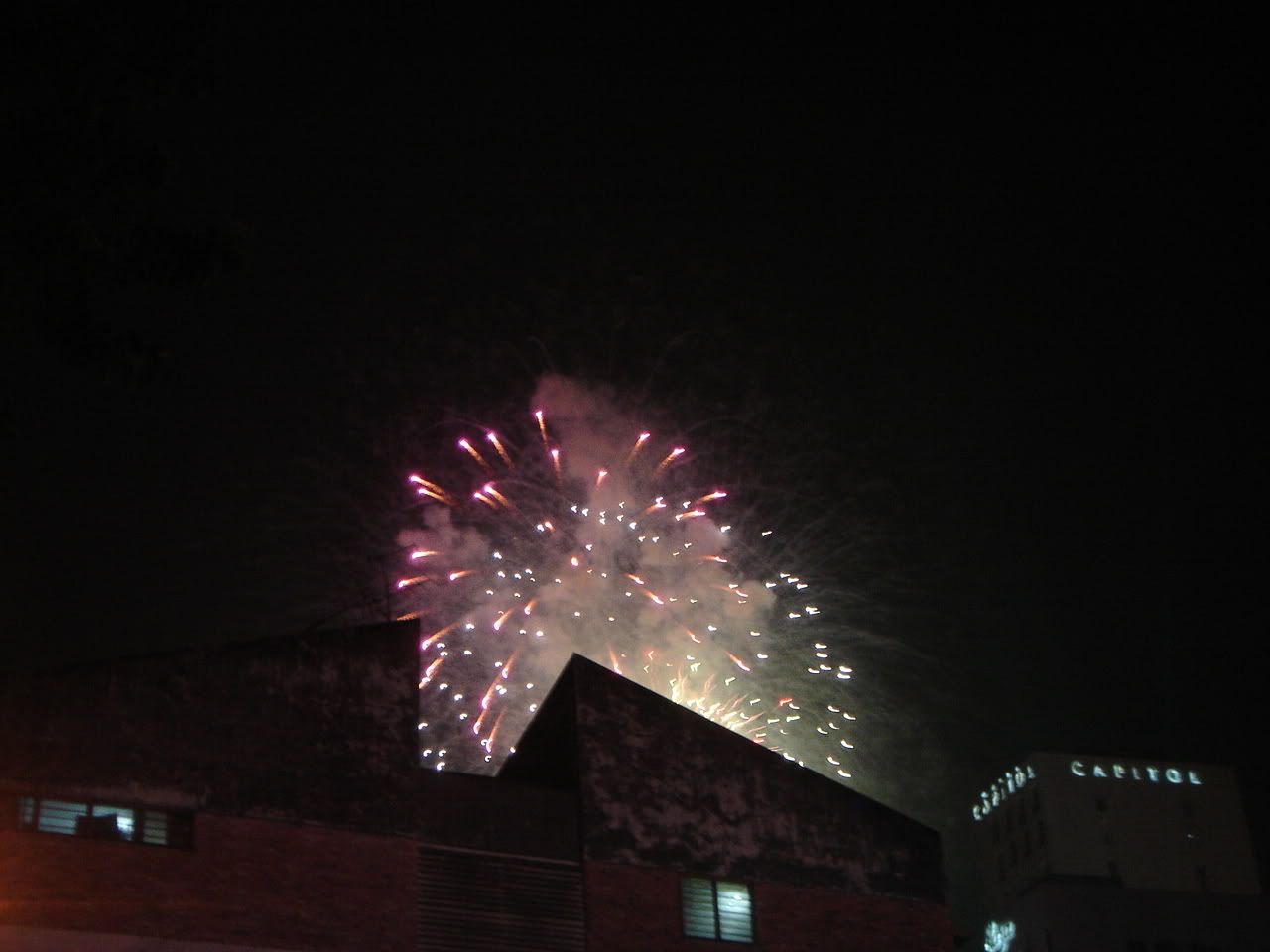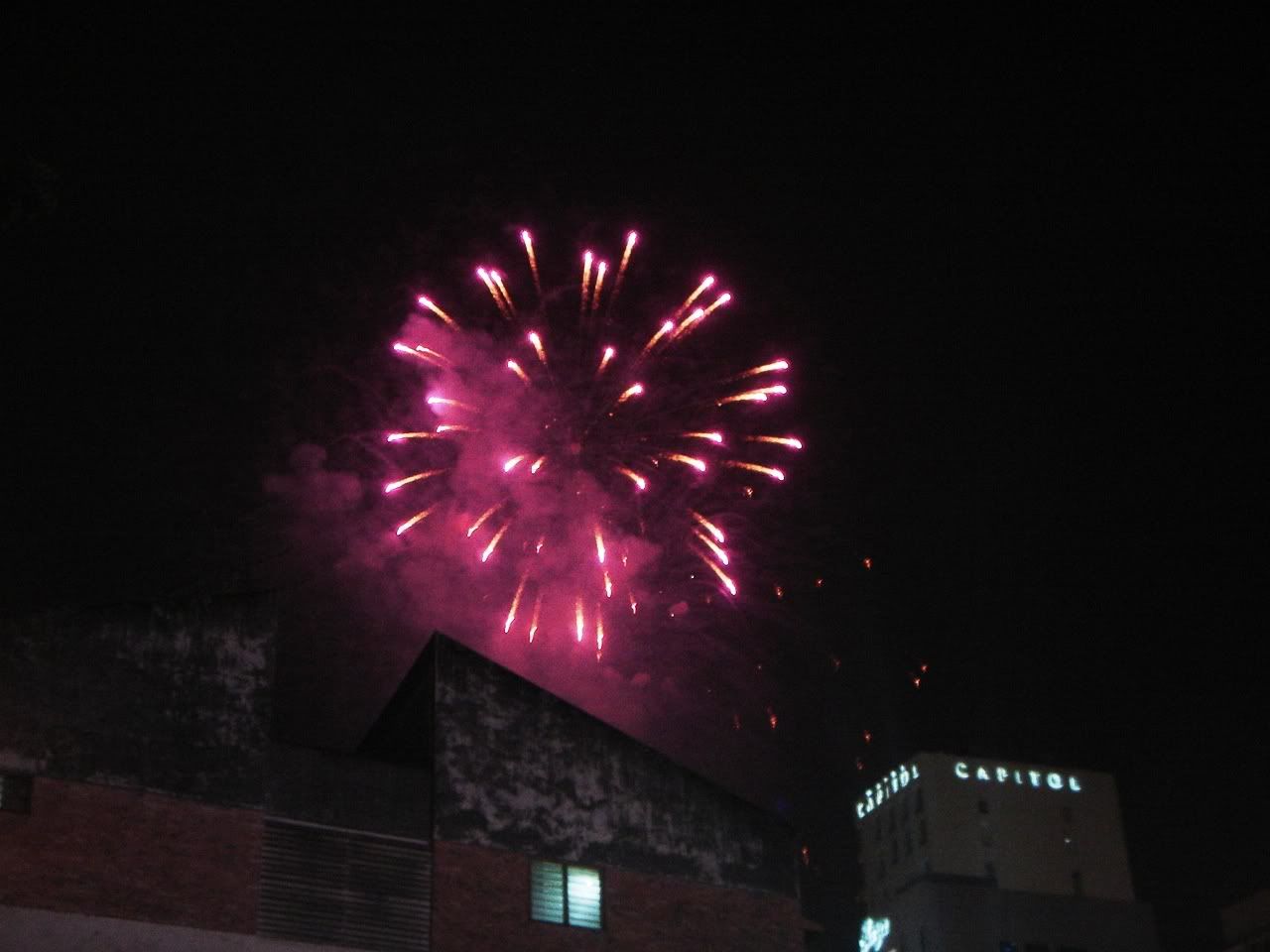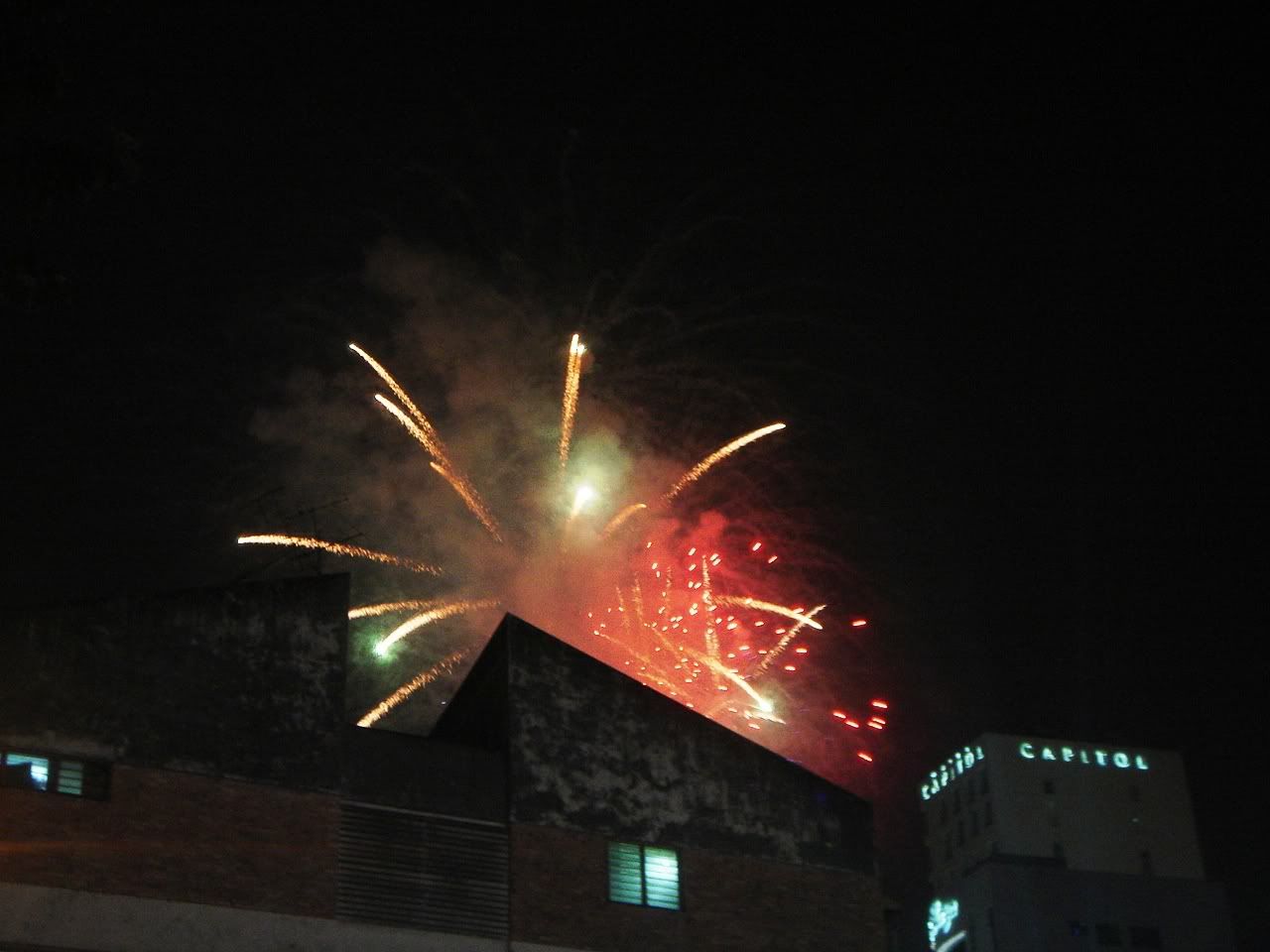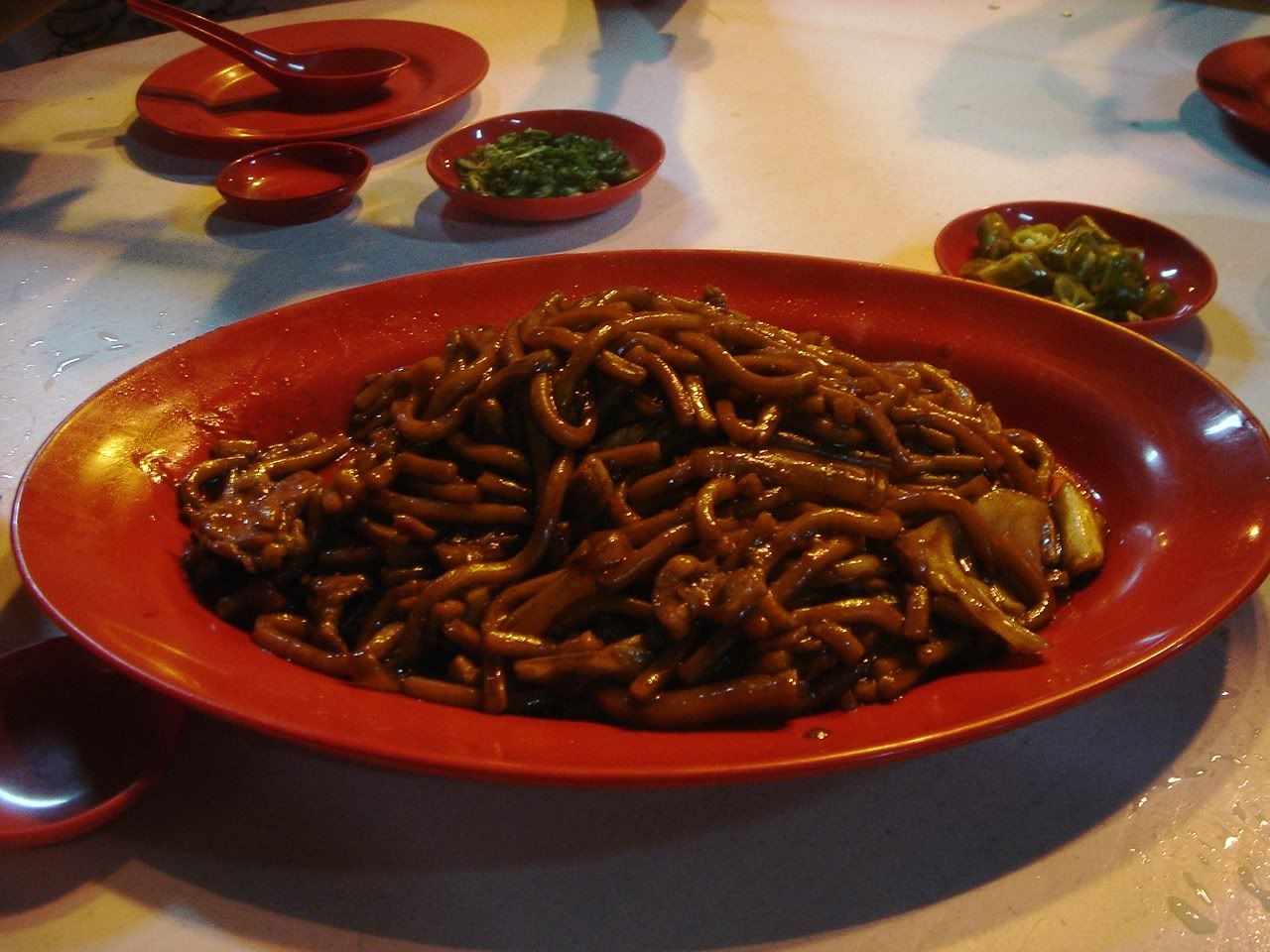 Fried hokkien mee
Crabs. Hands dirtied by food after this shot. No more pics of other dishes. haha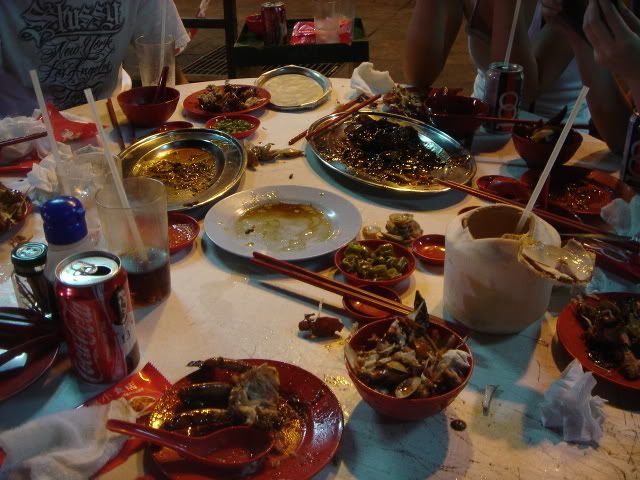 End of dinner. Back to the hotel's toilet. WTF
Day Three, Sunday
My last day in KL. I woke up feeling better but my stomach still felt weird. I stayed in bed till late morning. WTF, destroyed my plan of waking up early to get the free tickets to the top of the Petronas Twin Towers. Had a light breakfast n we headed to Berjaya Time Square for some last minute shopping. It was another huge shopping mall n i'm getting kinda sick of walking in malls. So me n MQ went to check out ChinaTown.
We took the monorail, our first time on it. It was nice n comfortable, but a bit too small. Well, monorails are meant to be small anyway. The ride took 10minutes to reach our destination. Alighted n walked a short distance. Saw a few temples along the way, so typical of ChinaTown. Where there's Chinese, there will confirm be temples around. Heh..
We shopped through the whole Petaling Street n bought some stuff. Such a hot day n we both sweated like no tomorrow. Phew~!! Stayed there for about an hour plus n then headed back to the hotel to pack up. Boarded the bus at 3pm back to Singapore. The trip back was much faster n more comfortable cos the coach was a better one than the one we took to KL.
Reached Singapore at 8pm. We were dead beat, but had fun. The stupid diarrhoea spoilt my plan. ARGH!! Maybe I'll drive up to KL next time instead.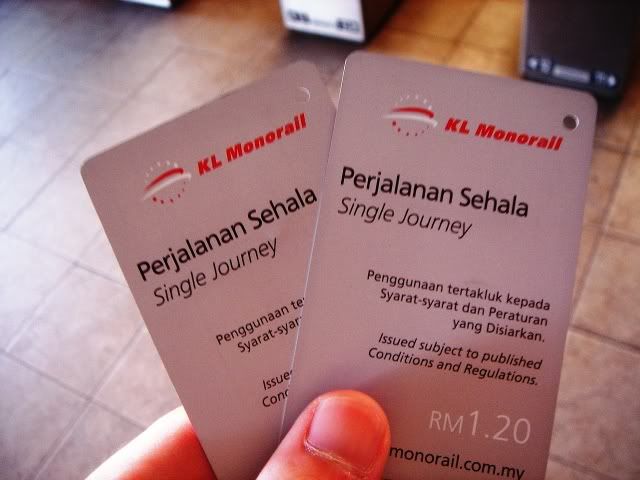 Monorail tickets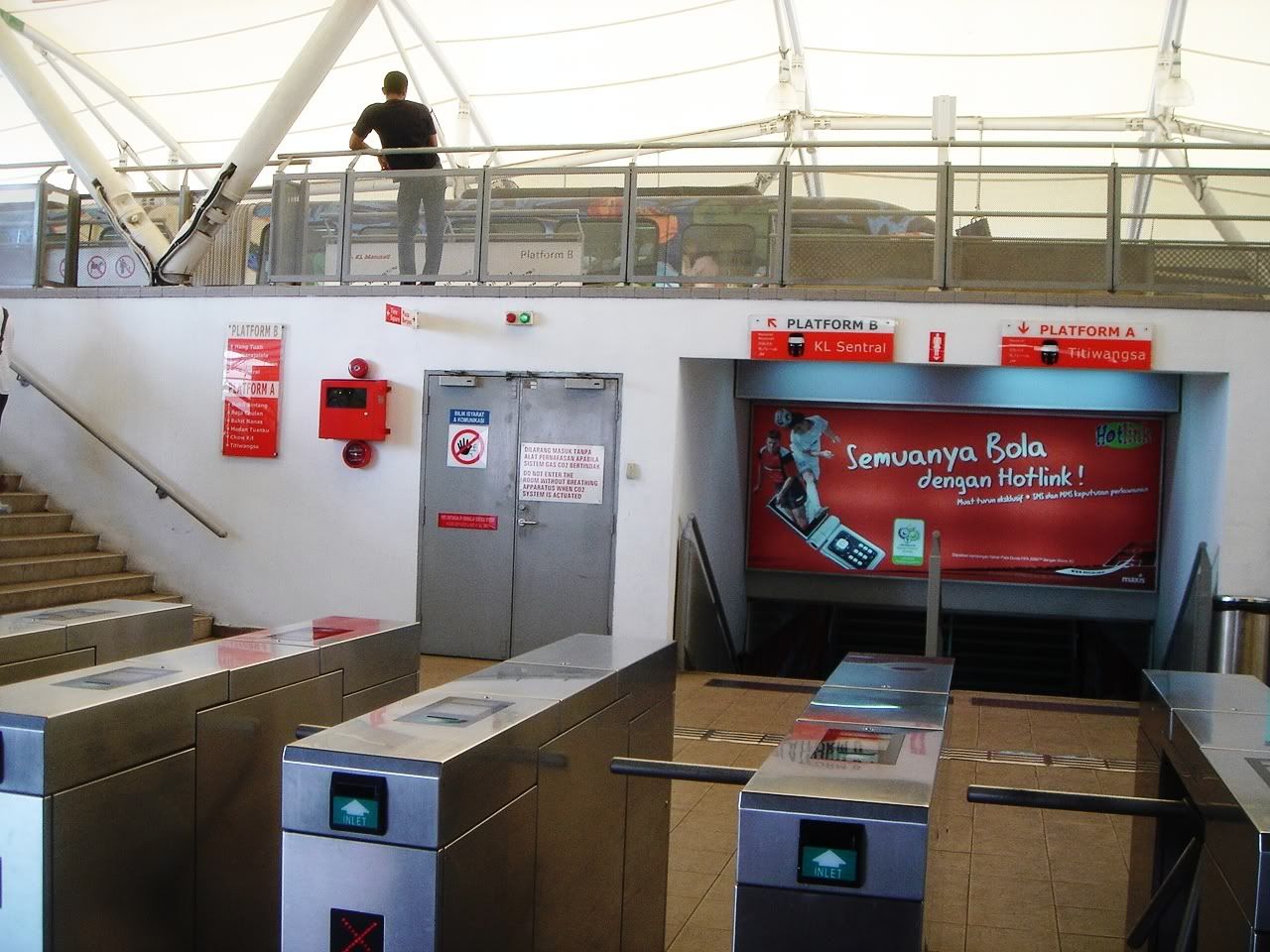 The station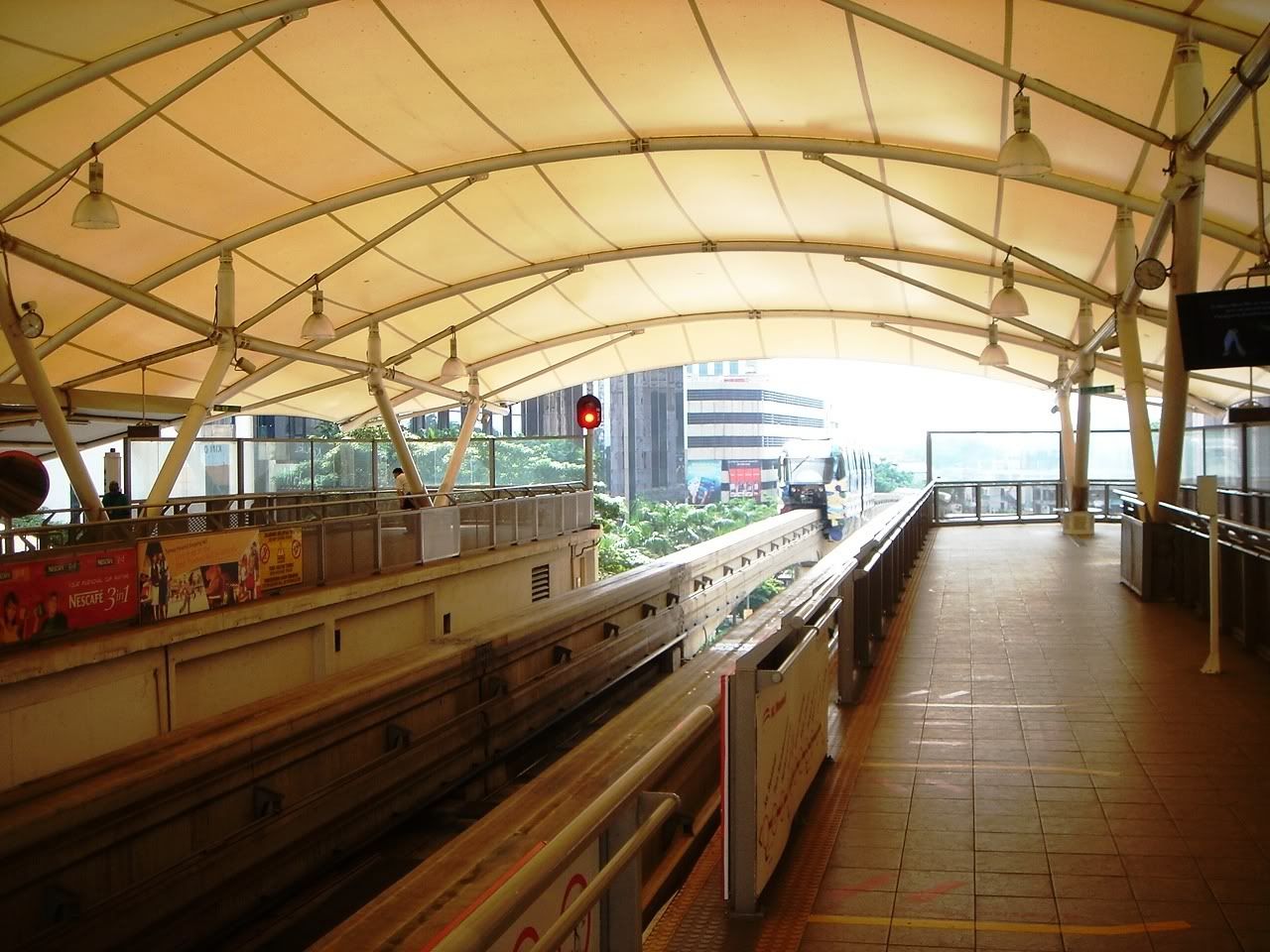 More of it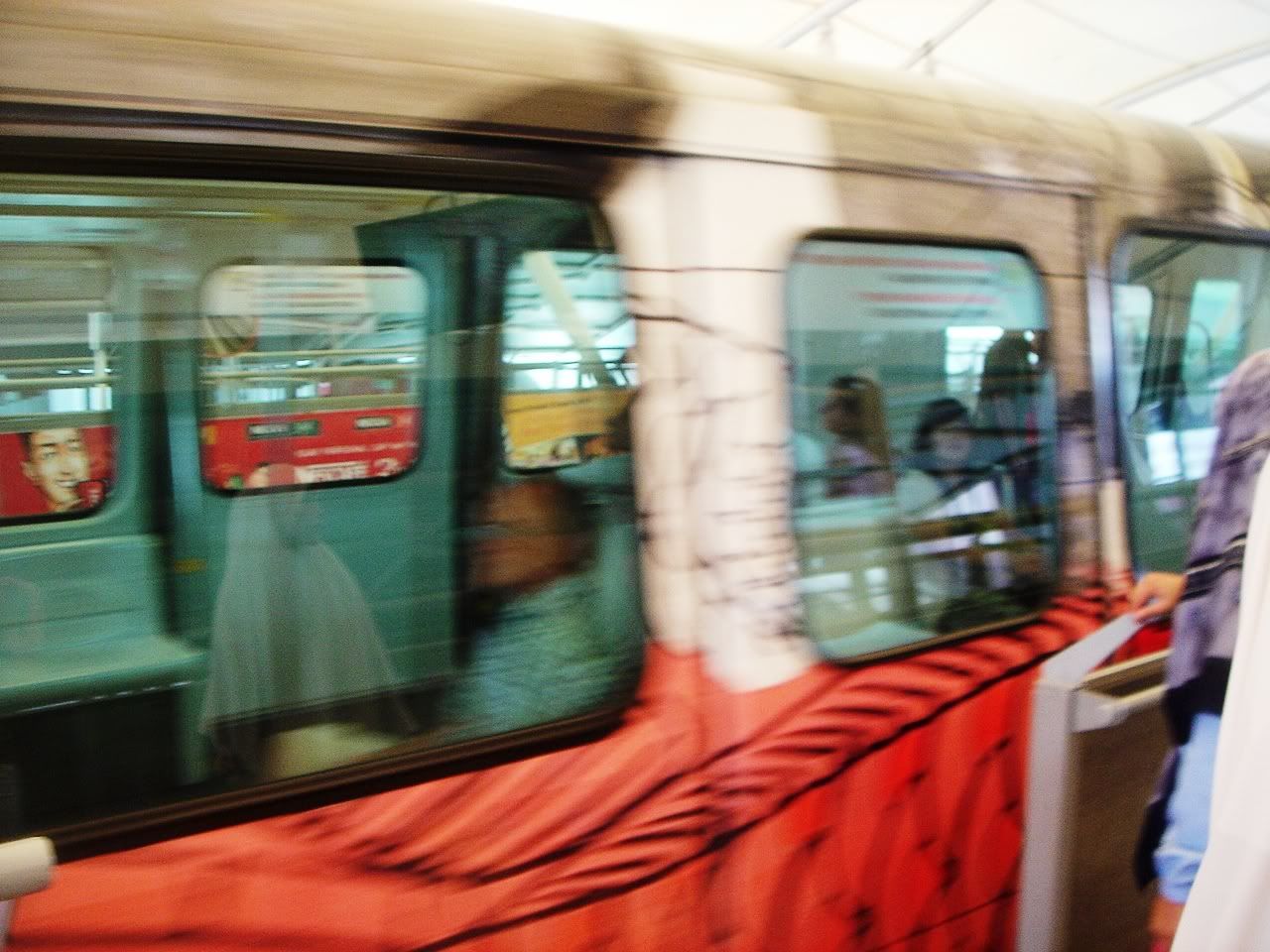 here comes the monorail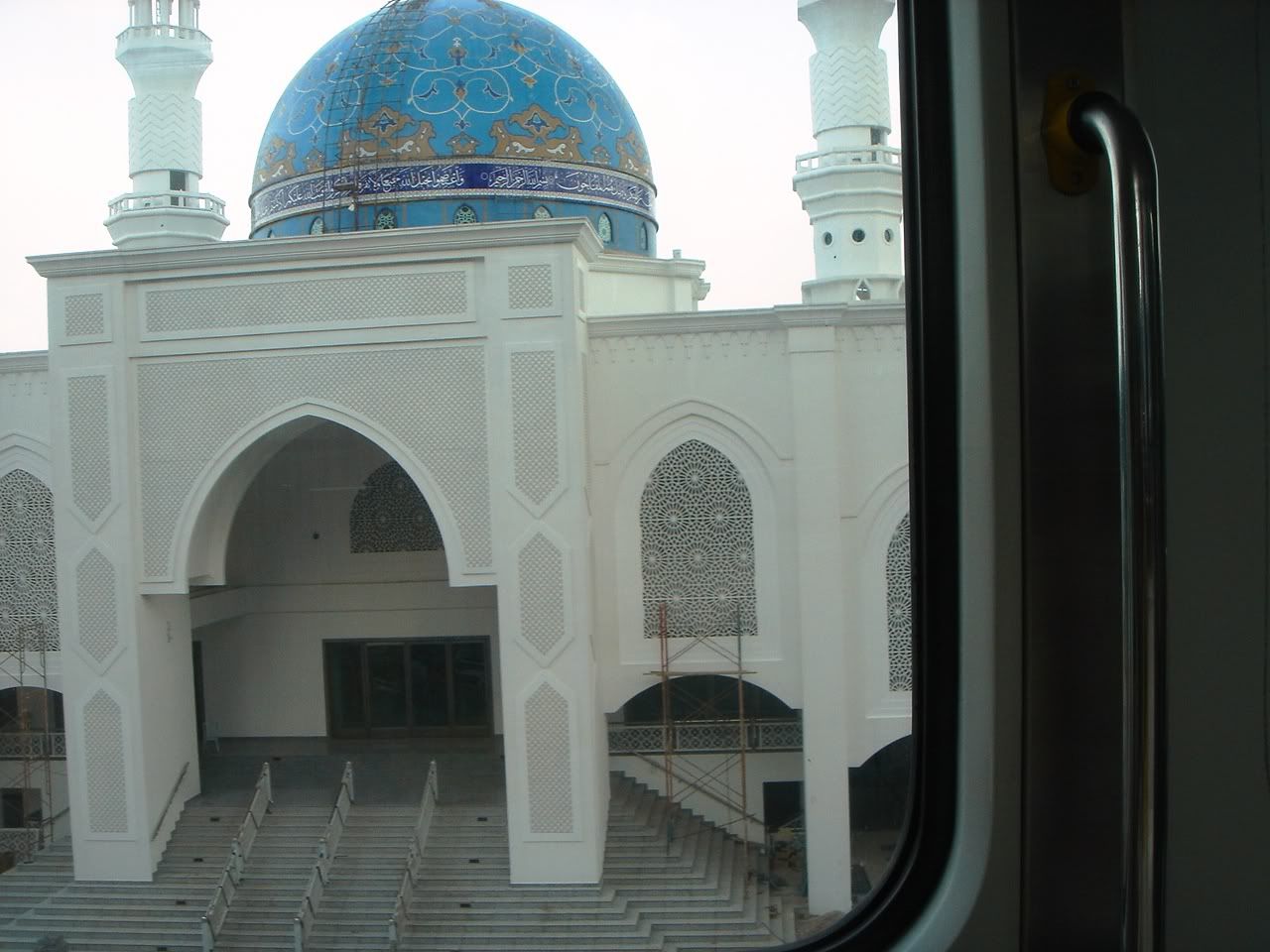 The mosque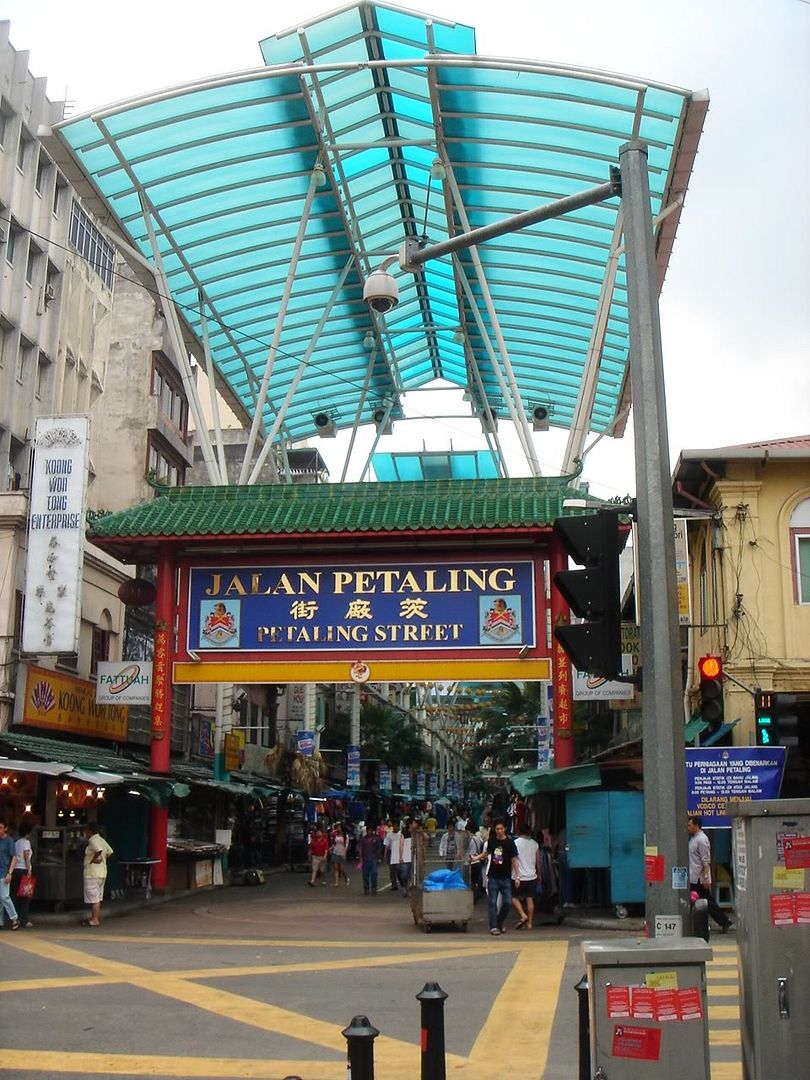 Petaling Street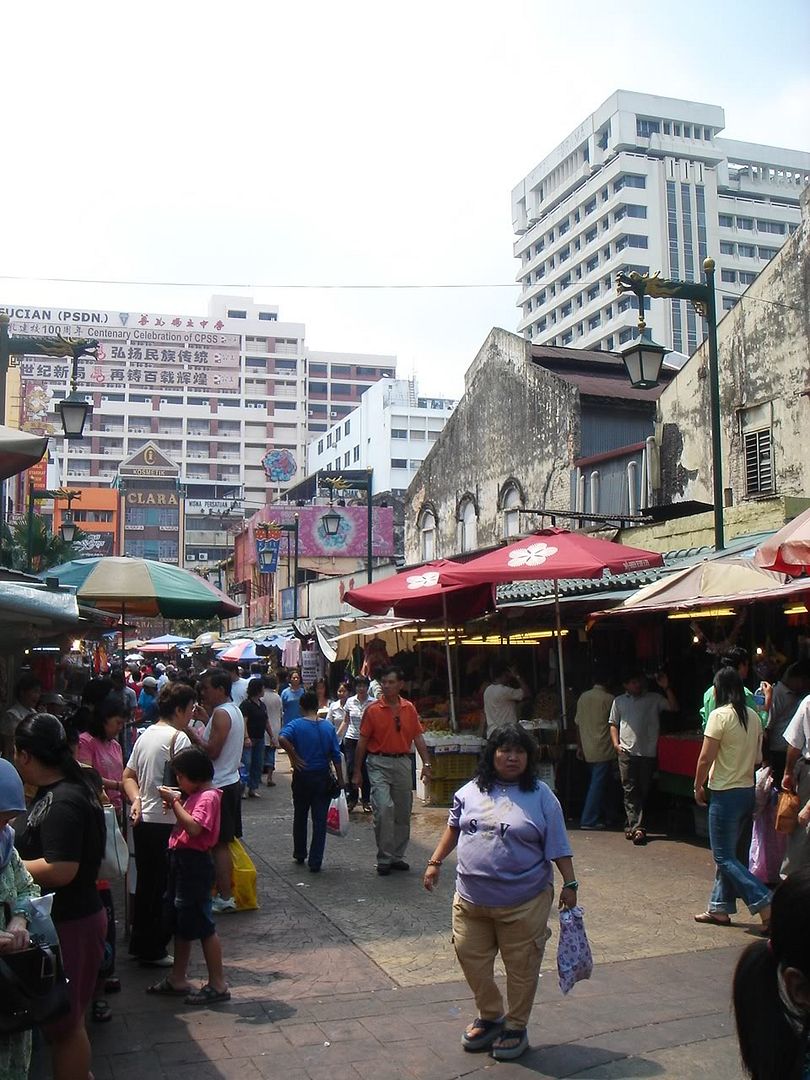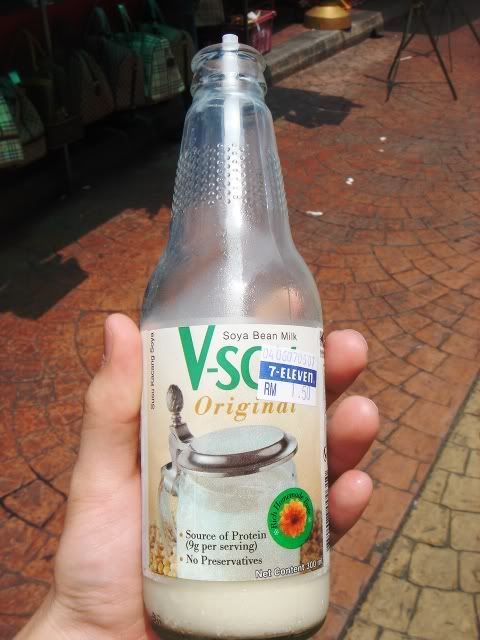 Hot n thirsty, we had our fav soya milk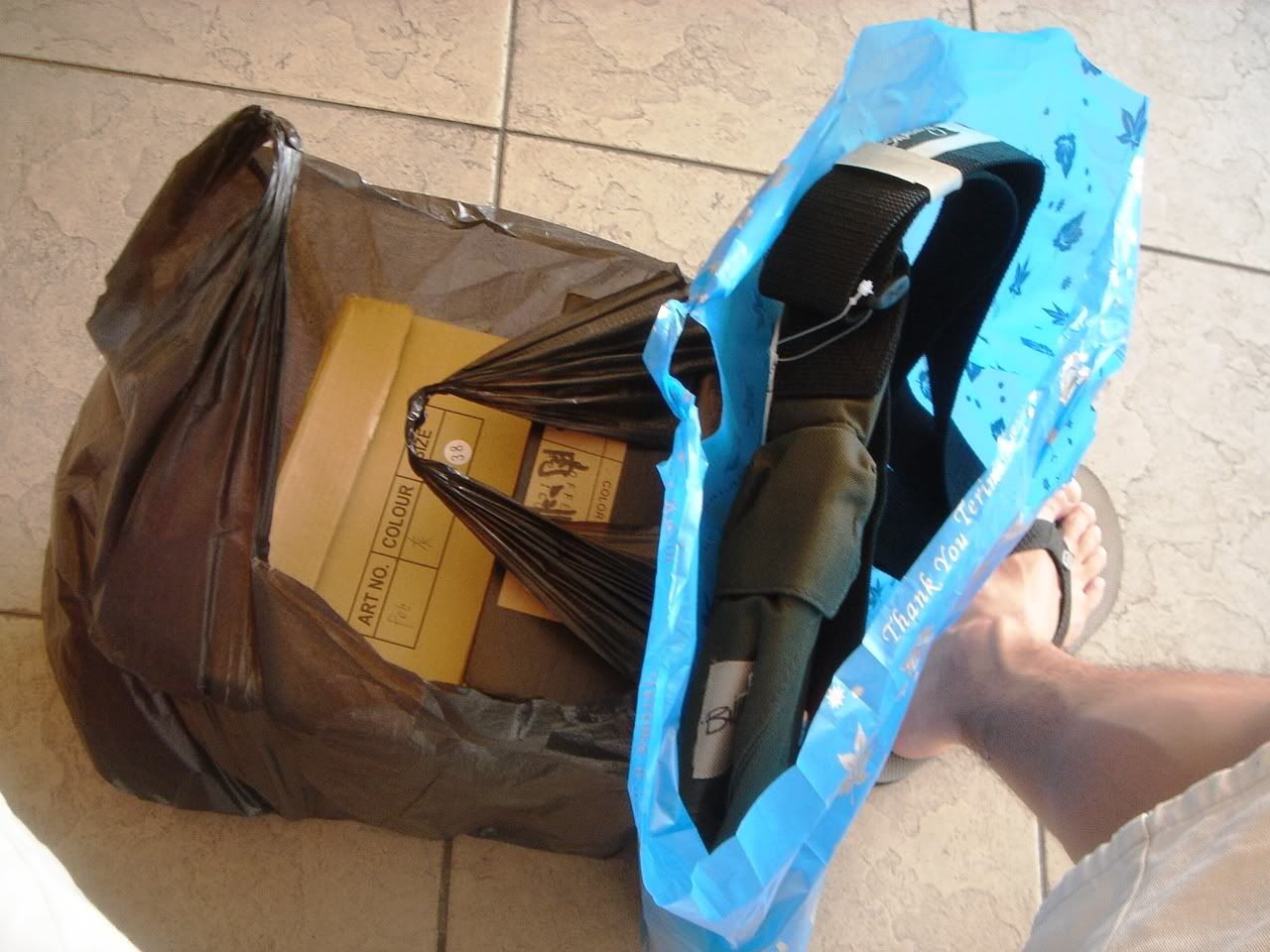 Our loot from Petaling Street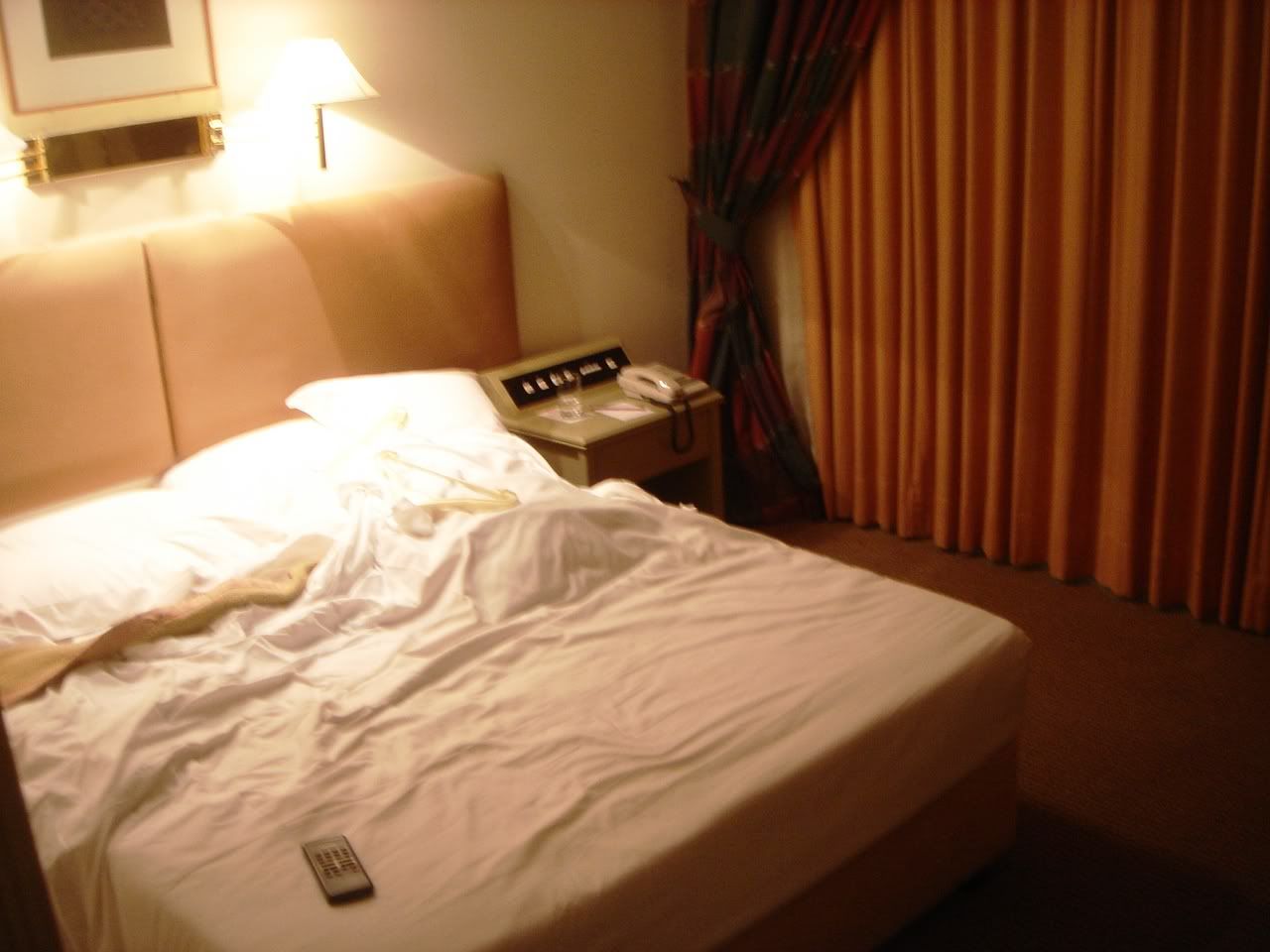 Packed our stuff, last pic b4 leaving the room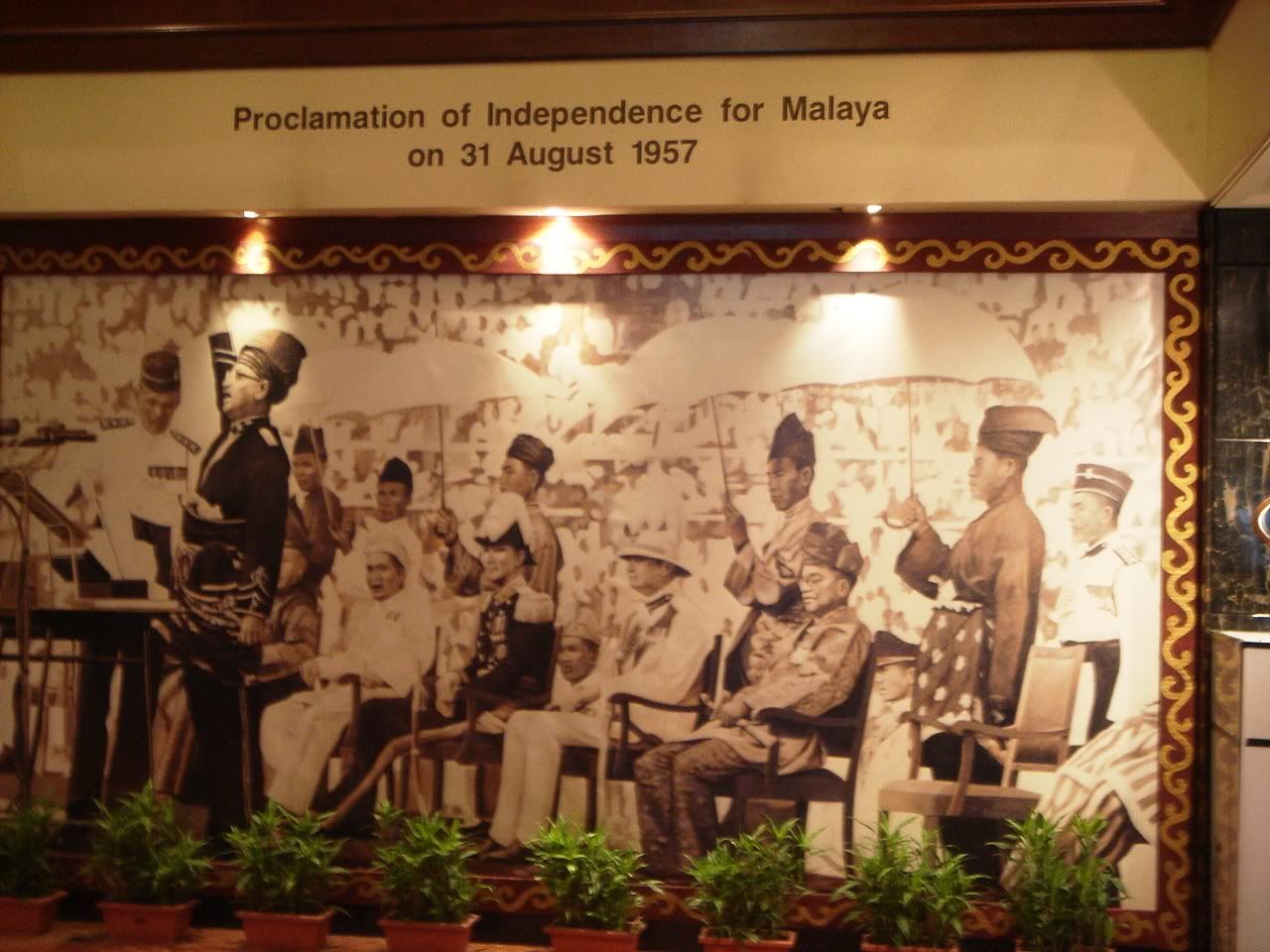 A wall at the lobby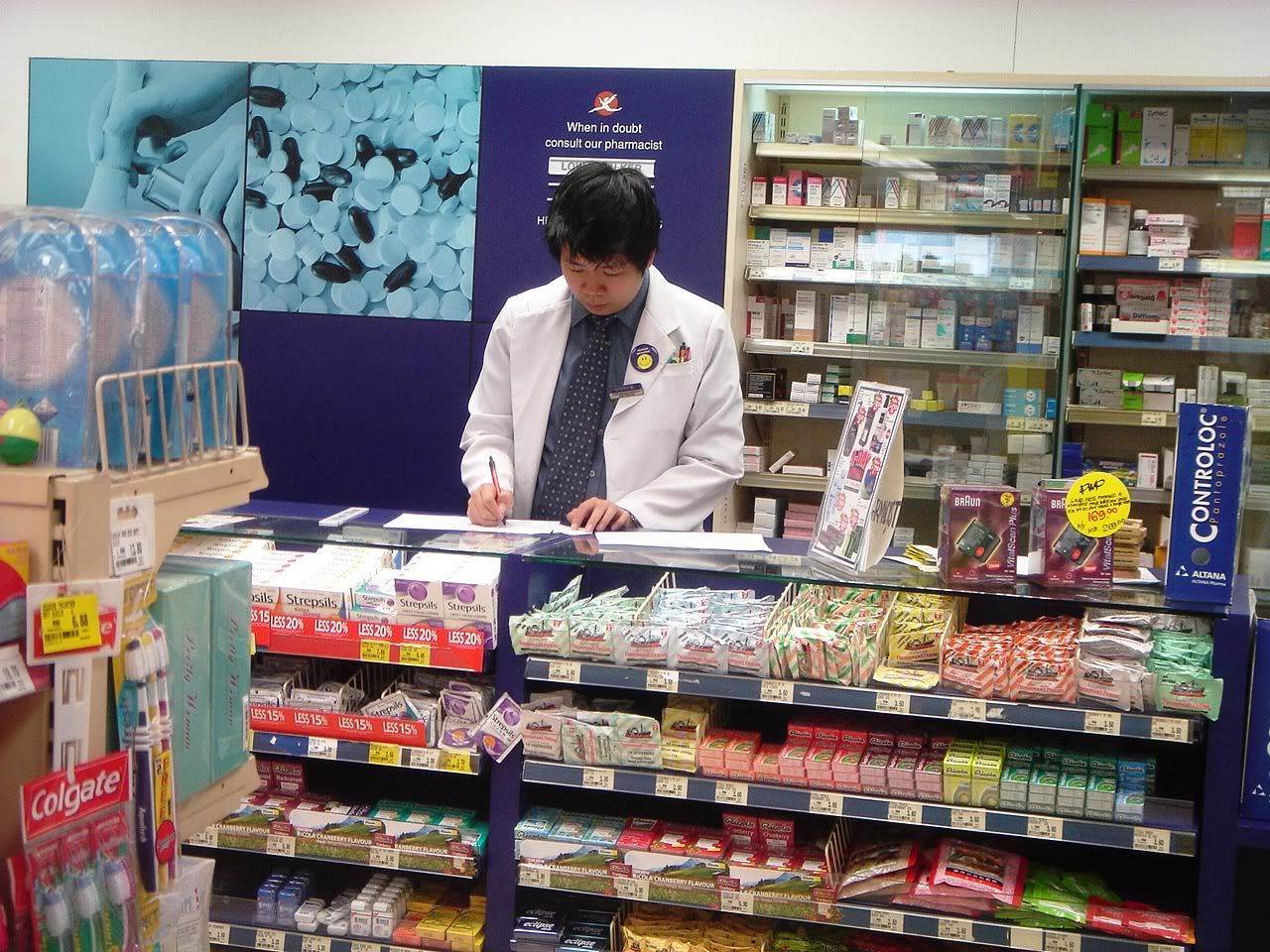 Went to Guardian. I saw this pharmacist. Is he the one Selena was talking about?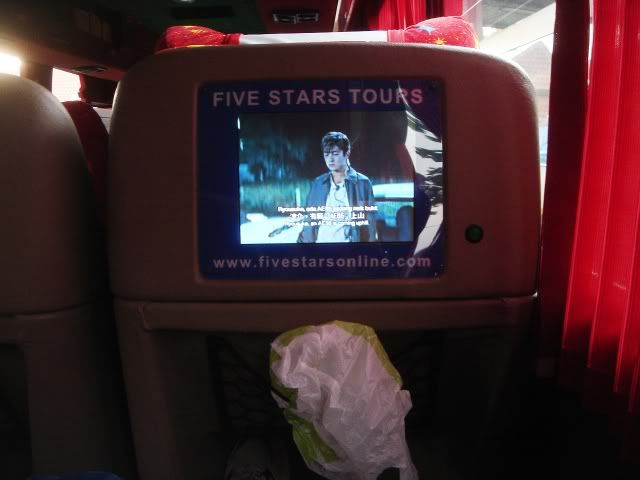 Nice coach back home. I was enjoying cantonese version of Initial D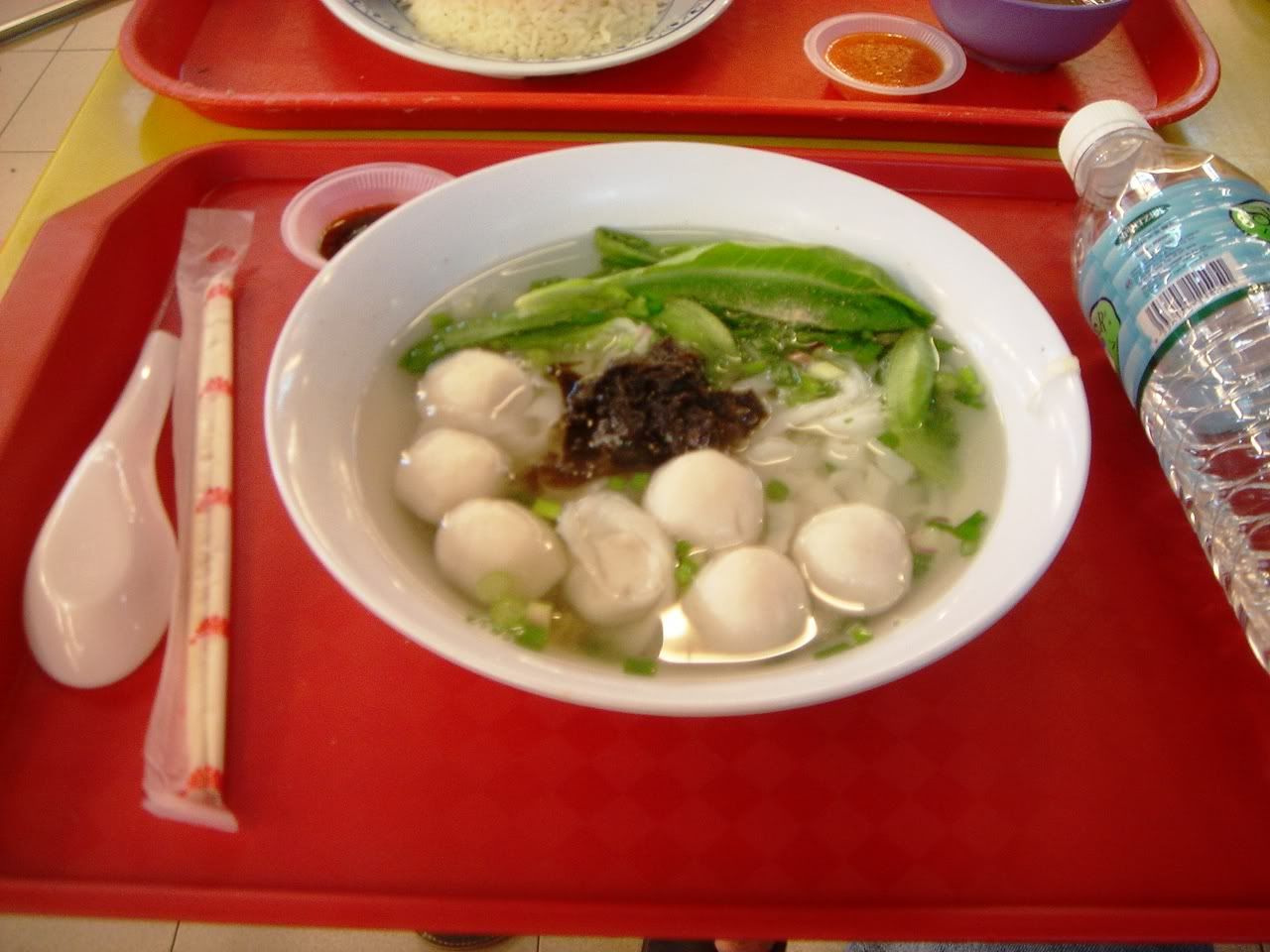 Had this at the stop over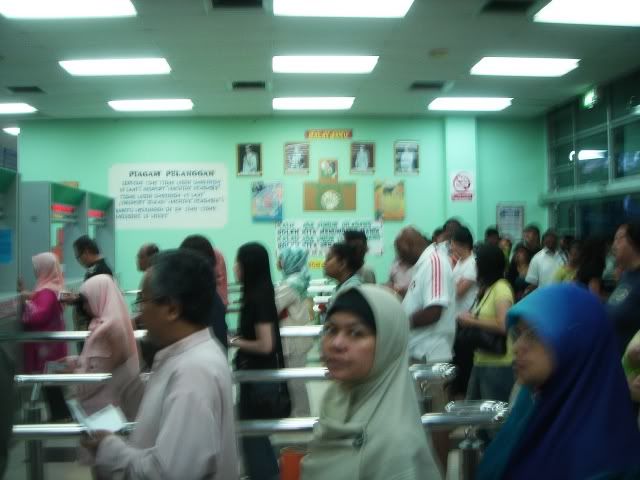 @ the Malaysian Immigration checkpoint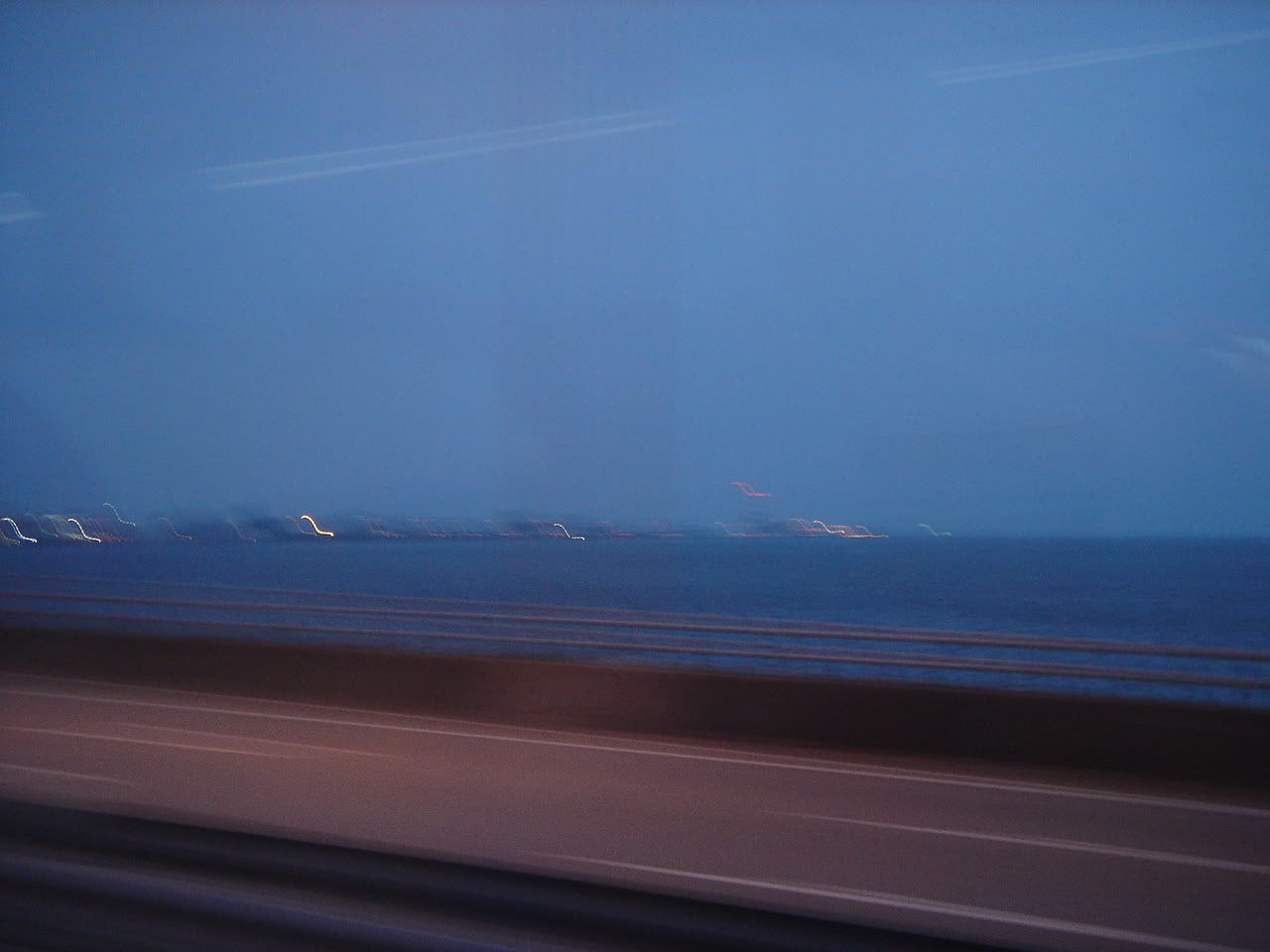 On the Tuas 2nd Link bridge
Home Sweet Home.....