Summary
Since programme "Hello" will be abolished by Blogger in 2007, I'll take this last chance to post pictures with it.. A look back 2006, how I had changed over the course of 12 months.. Heh heh..
January
Bored n blur way to start 2006?
The 1st time i tried on the German jersey at Suntec Adidas.
@ Holland Village NYDC with my team mates.. Jessica was back in SG then..
The first day of Chinese New Year..
2nd Day, with my niece, the newest addition to the family
3rd Day, relatives visiting my house.. It was my 21st birthday too.. Here with my team mates
February
My besties Zheng Rong & Daniel treating me to a wonderful post-birthday meal at Marche Suntec
A little work out @ Bedok Reservoir after my physiotherapy
Looking like a bad boy @ Lesley's birthday party
One of the last few days in camp.. This is my nemesis!! Samuel the Man Utd fan
Great short hair i had on the day i passed my driving test
March
@ team mate Alvin's birthday party
After a run on the treadmill at the rehab centre in SGH
This is how i look when i had insufficient sleep n still had to drive
Me @ Phuket Patong beach with my army mates.. It as our last "milestone" together b4 we ORD
@ Seletar Reservoir with Su Feng, Lesley n You Wei
I don't look happy? One of the first few days to work on the train
With Burt at Pasir Ris' Fishermen Village.. We had our post-ORD gathering.. The Merc belongs to Stephen
Me n Kian Wai at Poh Siang's birthday dinner at Siglap
@ work in the Pharmacy
April
Nothing much, went jogging at Pasir Ris beach
May
After my hair cut n i decided to retire the spiky hair style i had in the Army
Slacking under the sun @ East Coast Park
My first pic with future gf MQ
My only birthday cake only came in May, from MQ
Me @ TM Golden Village with Zheng Rong & Daniel for my last movie of year 2006, X-MEN III
Boring @ work
Me & Adrian @ the Pharmacy BBQ
Strawberry cakes are my favourite
June
Me n MQ @ Andersen's Ice-cream on our 14th day together
My camp nemesis Samuel with me. My platoon had a meal gathering @ Lau Pat Sat
Me with pharmacy student on attachment, Cannie
With MQ @ Kaijing's birthdy party.. Ah, i remember this Jolin hairstyle of hers..
July
@ Jocelin's birthday party
@ JC classmate Andy's birthday party
Me waiting outside the clinic in SGH. Having the last assessment on my left knee||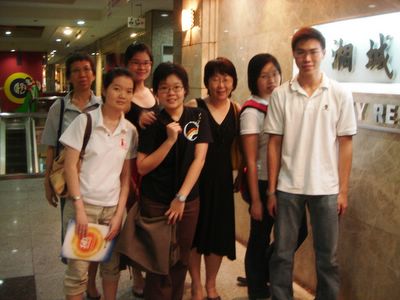 Had a meal with my colleagues, treated by our job agents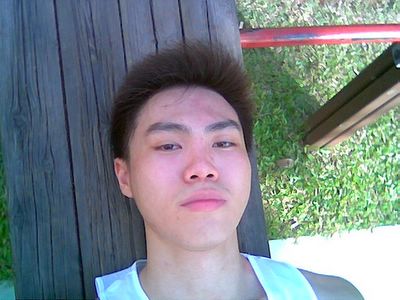 This was how terrible i looked after running 5km
Out with MQ & family.. Having a brithday celebration for my niece @ Royal Hotel
July ended with me visiting KL with MQ.. I was trying on the top from Timberland

August
The only pic for August.. Me n MQ on the bridge at Kallang Basin
September
Nephew Elton bought a new desktop n i as there to help set it up.. N i grabbed darling Parco for a shot. He didn't look happy...
@ Changi Airport sending Su Feng off to Scotland..
A surprise dinner for MQ on her birthday
October
Out celebrating our 4th month.. We went to The Cathay @ Dhoby Ghaut.. I tried on the Liverpool jersey for the first time
Me & Zheng Rong at Daniel's birthday party
November
November was mugging month.. These are my JC classmates @ Adeline's birthday party
December
Mugging month was finally over.. This was after the last exam paper.. It's me with the 407
Jessica came back again.. Haha.. We had a mini gathering
End of 2006.. She has been the story of the year..