It's Chinese Take Out Time
I Love Chinese
Name: WaiZai
Location: Singapore
An ordinary guy hoping to live life to the fullest. Awaiting the bigger things in life.
Bring on the Dim Sum
We Fumble With Chopsticks
We Like Chinese Too
Chinese Cuisine
Blogskins.com
Liverpool FC
SoccerNet
Aviation
Automotive


Adventures With Chopsticks

<

Fortunes Can Be Funny

Fortune Cookies

Take Out Boxes
Back on 20th May
Heh, finally, my first post in more than a week. My PC is down. Apparently, both the power supply unit n graphics card are spoilt. I've changed the power supply unit but is still undecided on which graphics card to get. Should I go for the S$100+ GeForce FX5200/5500 or the more powerful but very expensive GeForce 6600GT? Heck.. I still don't know. So yeah, I'll take this chance to take a break from my computer n the internet. Won't be back again till 20th May. Lots of pictures will put put up by then. Ok, that's all folks. See u guys again on the 20th May 2006.
Tag-Board replies:
To WHO: Yeah man, i'll be switching over to printer one starting 2nd May. Hoho, hope I'll have a good time there.
To Sam: Ah, easy la.. To get a new blogskin, juz go to www.blogskin.com There's a wide range of nice skins there. Copy n paste them onto the "template" of your blog n it'll be done.
To Gyan: Hey Mr Bollywood!! How's life in Nepal man.. Hmm, go to www.youtube.com n there will be lots of videos in their database. They will provide the html code of the video for u to copy n paste onto your blog post. In order to have your own video, u'll have to open an account for youtube.com which is free n easy. After opening the account, u can upload your own videos n put it into ur blog.
To ryn: Yo Miss Fabregas!! Arsenal is really great to have progressed all the way to the finals. I hope they can emulate what Liverpool did last season. Jens Lehmann deserves to be the new Number One for Germany this coming World Cup. 17th May will be the night. Barcelona won't be easy, but they're conquerable!!
Ferrari Back to its Glory
Weekend is here finally. I'm totally exhausted. Been having only 45minutes of lunch break for this week instead of the usual one hour. The extra 15minutes is good enough for me to catch a little nap on a chair. Heh, call me a pig if u want, I'm used to it.
Was very busy at work today. Perhaps we were too free yesterday that we made up for it today. Haha.. I don't know how many rounds I've turned today at the counter while sorting the medicine.
I think I better go sleep soon. There's still work tomorrow. That's all folks..
Dark clouds destroying the nice sunset today
Wad a waste
Orange
Finally fixed my lego Ferrari today. This was how it looked like after flying off the dashboard when dad made a hard turn
This is how it looks now. Back to its glory. It took me 90minutes to fix the parts back. It won't break so easily now. I had reinforced it with super glue.
At the pharmacy today. There was a brief cut off of electricity due to some electrical work
DaRk~
Went street11 for dinner with mum n sis. This is satay
Kang Kong
N pork ribs

Life without Rasmi
I started off Wednesday full of crap. My overeating the night before eventually gave me a very bad indigestion problem. I woke up feeling very full n felt like puking. Heck.. I've learnt my lesson, I will control myself in future.
Rasmi was gone n there is one less person to crap with in the pharmacy. It seems quieter now without our spastic laughter. I was being assigned to do the medicine sorting. The job was much easier as I don't have to rush to pack the drugs. Heh..
In the Champions League, both Arsenal n Barcelona won 1-0 in their respective semi-final matches. Will these two teams eventually meet in the Final match? I hope so, but we'll have to see what happens next week in the 2nd leg. Nothing is for sure. Both AC Milan n Villareal stand a good chance in overcoming the 1-0 deficit.
I read a very sad article on Wednesday in The Straits Times.
--------------------
JC student kills himself, convinced his private parts were too small

Suicide highlights importance of sex education in schools, says coroner
By Stephanie Yap

HE WAS a second-year student at a top junior college, a member of the school volleyball team, a 'cheerful and energetic' boy who was doing well enough in his studies to take Special Papers.

Yet on March 3 this year, the 18-year-old jumped to his death from a Bedok housing block, because he was convinced his private parts were too small.

Delivering a verdict of suicide yesterday, State Coroner Tan Boon Heng was sufficiently concerned by this 'tragedy of misinformation' to recommend that the case be forwarded to the Ministry of Education (MOE).

'The importance of sex education to our young people in schools cannot be over- emphasised,' he wrote.

Getting help
FOR help, you can contact:


Samaritans of Singapore: 1800-221-4444


Seniors Helpline: 1800-555-5555


SOS Befrienders E-mail Service: pat@samaritans.org.sg


Singapore Association for Mental Health hotline: 1800-283-7019; www.samhealth.org.sg


Family Service Centre: 1800-838-0100


Care Corner Mandarin Counselling Centre: 1800-353-5800


Touchline (Touch Youth Service): 1800-377-2252


Institute of Mental Health Community Addictions Management Programme: 6389-2387/89; camp@imh.com.sg


Credit Counselling Singapore: 1800-225-5227, Monday to Friday, 9am to 6pm


Tinkle Friend: Children can call 1800-274-4788 on weekdays

'The case study is useful for relevant MOE officers to appreciate the problem of the severity of misinformation even among the best and brightest in our schools.'

The boy, who cannot be named, had confided in his mother in October last year that he was worried his private parts were too small.

She took him to a neighbourhood clinic, where the doctor told him his penis was of a normal size for an Asian man, and prescribed him multivitamins.

Despite strong emotional support from his girlfriend and his mother, he remained convinced he had a problem. He also had a history of being stressed over schoolwork.

In January this year, he told his mother that his life was 'boring and meaningless' and that the only thing stopping him from suicide was his family's love.

On March 3, after his usual volleyball practice, he took a bus from school to the Bedok interchange, but did not take his usual connecting bus home. When his sister sent him a text message at around 7pm to ask if he was coming home for dinner, he replied that he would eat out.

The next and final message she received from him was at 8pm, telling her and their mother to take care.

They realised something was wrong, but he repeatedly failed to answer his phone.

He jumped from a housing block near the Bedok bus interchange at around 8.30pm.

He was semi-conscious when he was taken to Changi General Hospital, but was pronounced dead at 10.40pm from multiple injuries.

In his suicide note, written in a notebook he had bought 40 minutes before his death, he apologised to his girlfriend and his family for killing himself.

'He said it was not due to the stress of his examination, but it was more about his physical development...He still knew there was something wrong with his body parts,' the investigation report said.

In his judgment, State Coroner Tan said the boy's death showed that even intelligent young people can be victims of misinformation.

'While we are the beneficiaries of this Internet age that hails an era of information and knowledge enriching our lives, the less-informed also become victims to junk information and worse, untruths,' he said.

'The deceased was so tormented by his unfounded (belief in his) inadequacy that it drove him to end his life.'

The case highlighted the importance of sexuality education, both in and out of school, he said.

'It may have helped if the deceased had the benefit of counselling now widely available. If parents are aware of their children being tormented in this way, they should seek professional help lest such tragic deaths should happen again.'

Sex education, usually termed sexuality education, usually takes the form of a short series of lessons.

One secondary school teacher with five years' experience told The Straits Times that at his school, sex education covers three periods a week for three weeks.

Students write reflection logs on topics like boy-girl relationships, different levels of intimacy, as well as legal issues.

However, he said teaching students how to be comfortable with their physical and sexual development is not in the syllabus.

'But this is something that should be looked into because it is definitely part of the students' development,' he said.
--------------------
Why must he jump off just because he perceives he has small penis? What's going on in his mind? Being a JC student, he should have known better that a man is not being judged just by the length of the organ. Even the support of his GIRLFRIEND n mum did little to help. Perhaps he has gone nuts studying too much. A totally unbelievable reason to commit suicide. Being a student with very good results, I suspect he's a perfectionist. If that's the case, then I think a lot of men are going to kill themselves.
I pity his parents. 18yrs of love n hard work bringing him up, n he just ended his life like that. How selfish.
Raining everyday...
My besties n my pink IC!! Haha.. It was the 1st time we met up after THREE of us finally ORD. Soldiers no more, we're back. Pic taken at Simpang Bedok when we were having supper
This is Sapphire.. She was wearing this white blouse that has to be "wrapped" around her body. I think it's unique, but i think she looks like a yummy delicious popiah to me.. Haha..
Slackers
Slackers' corner. Mini gathering

A teacher that cooks well
Ah.. Juz came back from supper with my great buddies Zheng Rong n Daniel at Simpang Bedok. Damn full now n I think I can't go straight to sleep in such a condition. Such a pig. I had dinner at 8.45pm n finished it at 9pm. Then i ate again with them at 10pm. Shucks.. I'm going to suffer indigestion again. My stomach tells me I'm full, but my eyes simply can't resist the temptation.
Two big events today. It was Rasmi's last day at work today. Her school term is starting soon at Ngee Ann Polytechnic. No one to call me T-rex n making fun of me again. Hai.. The time we spent joking n laughing like some insane people was really fun n memorable. Time really flies. It was only four weeks, but I felt like close friends with her. Now T-rex is going to be less energetic when King Kong is gone. Haha.. RoaR!!
I met Peishan for the first time in reality today. Hehe, we only saw each other through photos of ourselves on the net previously. Hmm.. She looks better in reality n her single eyelids are very funny. Haha, oops, she's gonna kill me if she sees this. She cooked for me n one of her friend working at IRAS. Chicken rice was what she offered me, n I must say it was really good, especially the fragran rice. It was a pity I can't finish the rice, too much for my stomach to contain it. There were cookies too, n most of all, my favourite soya bean milk. This girl can really cook well. She even said she can cook corn soup!! Wahaha.. She makes soya bean milk n corn soup, two of my super favourites, seems like a fairy tale huh? I thought I would never find a girl who can do this, but the "discovery" of Peishan proved me wrong. Haha.. I'm thoroughly impress with her culinary skills, n of cos, very touched. Heh, she's the first girl that cooked a full meal for me. *thumbs up* I was in so much awe that I didn't know what to say to her but kept on eating n eating. N her chinese language is power! Haha, no wonder she's a chinese teacher. I felt so weird talking to someone so superior in the language eventhough I'm a chinese myself.
Remember me saying that if there's any girl that can cook corn soup n lotus root soup for me n I'll make her my wife? I told her about it n she kept on laughing, saying that her cousins, aunties n grandma can be my wife. Haha.. What I mean is someone my age who can do that la.. Peishan really felt like a fairy tale come true... A teacher that cooks well, fantastic~
The food Peishan brought over
There's even cookies
Hahaha
Chicken rice..
Her self made soya bean milk... She's pro.. My fav drink some more...
The chicken she marinated over night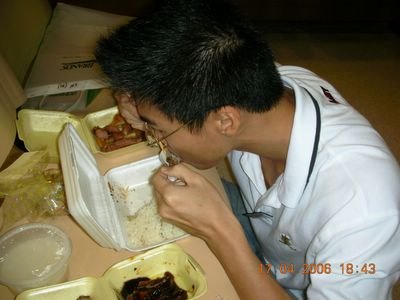 The glutton me juz kept eating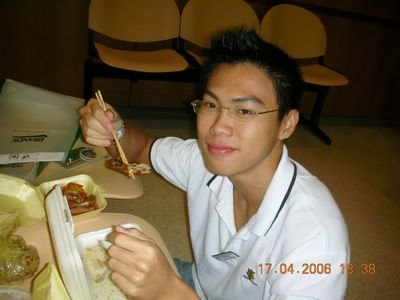 Ok, head up for awhile..
Peishan wif her cookies
--
The doggie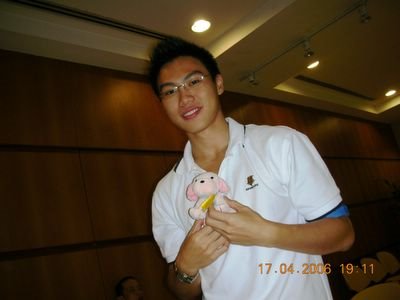 She made me pose wif the doggie too.. Argh.. Like so gay..
This is Rasmi..
Selena
Sunshine Makes Me Hot! reads Lilian's t-shirt
Rasmi is being sponsored by so many companies
Who is this auntie? She's Sapphire
Lilian is camera shy
Hmm, Selena pondering over wad to write in Rasmi's farewell card
Yvonne(left) n Sapphire packing the drugs
Selena n Rasmi
The whole pack of empty bottles waiting to be filled up with pills
Lastly, Rasmi n me... Goodbye King Kong~

She took my breath away
I felt lethargic for the whole day. No idea why too, perhaps I exerted myself too much ystd. Only managed to drag myself out of bed at 11am this morning. Fell asleep with the phone in my hand waiting for Peishan to reply my sms. Haha, apparently, she went to slumberland even faster than me n failed to reply when her phone vibrated in her hand. Yet, she dares to call me a pig. Argh..
It was cloudy the whole day n it rained in the evening again. I did nothing much n juz watched a DVD. I was watching "The Myth", acted by Jackie Chan n Kim Hee Seon. Gosh, Hee Seon is really a beauty. Why are Korean girls getting more n more beautiful? She's got eyes that can talk n I love her nose. Her beauty simply took my breath away. I've got goosebumps every time she smiles in the movie. Haha, I can't stop thinking about her now. The new song on my blog is the soundtrack of the movie. The Korean part is sung by Kim Hee Seon.
Heh, I read the papers today n there was this report about cheating wives. Many of them ended up getting beaten after being found out of having an affair by their husbands. Hai.. Sometimes it's very sad to read a report like that. It seems that human can't resist temptations. We're all born like that aren't we? I have come to realize that even when your partner is very nice to u, there's still this very small part of u looking for something in another person that your current partner is lacking. Look at Jude Law n Bill Clinton for good examples. Don't get me wrong, I'm not condoning cheating. To cheat your partner is a sin. Betrayal is the worse thing that can happen in a relationship. In the report, it showed the different ways in which the men n women handle cheating. Women tend to turn their anger inwards, resulting in depression, while men tend to turn their anger outwards resulting in aggression n violence. Well, to me, cheating in a marriage is much worse than cheating in BGR for marriage is a commitment n the vows u made when u signed the paper is not for show. Enough said
It's Monday tomorrow, back to work again. +Good Night+

MTV of the song. Endless Love