It's Chinese Take Out Time
I Love Chinese
Name: WaiZai
Location: Singapore
An ordinary guy hoping to live life to the fullest. Awaiting the bigger things in life.
Bring on the Dim Sum
We Fumble With Chopsticks
We Like Chinese Too
Chinese Cuisine
Blogskins.com
Liverpool FC
SoccerNet
Aviation
Automotive


Adventures With Chopsticks

<

Fortunes Can Be Funny

Fortune Cookies

Take Out Boxes
[Memorium]Wisma Atria Aquarium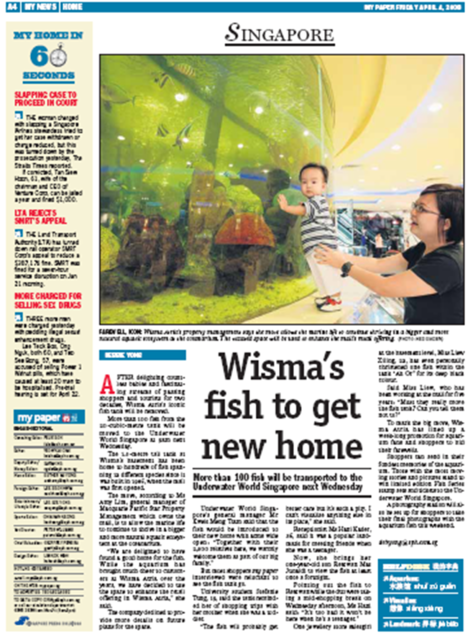 AFTER delighting countless babies and
fascinating streams of passing shoppers and tourists for two decades,
Wisma Atria's iconic fish tank will be removed.
More than 100 fish from the 20-cubic-metre tank will be moved to the
Underwater World Singapore at 9am next Wednesday.

The 1.5-metre tall tank at Wisma's basement has been home to hundreds of fish spanning
12 different species since it was built in 1986, when the mall was first opened.
The move, according to Ms Amy Lim, general manager of Macquarie Pacific Star Property
Management which owns the mall, is to allow the marine life to continue to thrive in a bigger
and more natural aquatic ecosystem at the oceanarium.

"We are delighted to have found a good home for the fish.
While the aquarium has brought much cheer to customers at Wisma Atria over the years,
we have decided to use the space to enhance the retail offering in Wisma Atria," she said.

The company declined to provide more details on future plans for the space.

Underwater World Singapore's general manager Mr Kwek Meng Tiam said that the
fish would be introduced to their new home with arms wideopen:
"Together with their 2,500 relatives here, we warmly welcome them as part of our big family."


But most shoppers my paper interviewed were reluctant to see the fish tank go.
University student Stefanie Tung, 19, said the tank reminded
her of shopping trips with her mother when she was a toddler.
"The fish will probably get, better care but it's such a pity.
I can't visualise anything else in its place," she said.

Receptionist Ms Hani Kader,36, said it was a popular landmark
for meeting friends when she was a teenager.
Now, she brings her one-year-old son Reezwan Mas
Junaidi to view the fish at least once a fortnight.
Pointing out the fish to Reezwan while the duo were taking
a mid-shopping break on Wednesday afternoon, Ms Hani
said: "It's too bad it won't be here when he's a teenager."

One jewellery store salesgirl Ziling, 22, has even personally
christened one fish within the tank "Ah Or" for its deep black
colour.
Said Miss Liew, who has been working at the mall for five
years: "Must they really move the fish tank? Can you tell them not to?"

To mark the big move, Wisma Atria has lined up a
week-long promotion for aquarium fans and shoppers to bid
their farewells.

Shoppers can send in their fondest memories of the aquarium.
Those with the most moving stories and pictures stand to
win limited edition Fish Series stamp sets and tickets to the Underwater
World Singapore.

A photography station will also be set up for shoppers to take their final photographs with the
aquarium fish this weekend.

===============================================

One of my favourite childhood memories. Everytime i go to Orchard Road with my parents at very young age, this will be the only thing i remember, cos it never changes. I remember fascinating over the sharks and will be naive enough to follow it around the cylindrical fish tank hoping it'll gobble up another fish, but I owas left disappointed. I can stand there and look at those fishes for quite a long time too, which kid doesn't? It's the only place you can see a shark & other huge marine fishes for free in Singapore. Sentosa's Underwater World is way too far & expensive during the early years.

It's really sad that it has to go after more than 20yrs. All I have to say is it fell victim to the mall's profit policy. Why use the space for something dat's not profitable and money has to be spent to maintain it? Why not convert it to retail space n earn rental money since space is a premium in Orchard Road? It all boils down to MONEY again.

Nowadays, people do things with MONEY being the first thing in view. Nothing else. I hope I'll be free enough to pop by Orchard Road by next Wednesday to take a picture with it. At least I'll be able to show my own kids next time dat this thing ever existed in Wisma Atria Shopping Centre. Wisma will have no sense of identity after it removes the fish tank. Can you imagine Ngee Ann City removing their huge water fountain at the basement to build more retail outlets?