It's Chinese Take Out Time
I Love Chinese
Name: WaiZai
Location: Singapore
An ordinary guy hoping to live life to the fullest. Awaiting the bigger things in life.
Bring on the Dim Sum
We Fumble With Chopsticks
We Like Chinese Too
Chinese Cuisine
Blogskins.com
Liverpool FC
SoccerNet
Aviation
Automotive


Adventures With Chopsticks

<

Fortunes Can Be Funny

Fortune Cookies

Take Out Boxes
It's getting freaky. It's the third wednesday in a row that an SAF personnel die. Today, a full-time national serviceman, 3rd Sergeant Ong Peng Ghee, passed away at SGH. He was serving as a Section Instructor in the Basic Military Training Centre (BMTC). He joined a few of his colleagues in an informal, self-paced jog around BMTC in Pulau Tekong when he collapsed at around 0845hrs n later died at 1026hrs. What's going on? People in the SAF are collapsing out of no reason, n dying with no warning. I'll hate to read the news again next wednesday. I mean, this time, the 3rd sergeant is someone from my BMT batch. He's the same age as me, n probably has a bright future ahead of him. Dying at 19 is juz so ridiculous, at least not dying in this way. Running has become a fearful training suddenly. Hai.. How i wish i can ORD now..
Stay out for me tonight, to compensate me doing display last sunday. Went for display at Temasek Poly, pretty cool. But i think i look like an alien wearing army uniform in a school. Everyone juz look at me wherever i go as tho they've never seen a soldier before. Saw many different types of people. Hair with all sorts of colour n style, n a great variety of clothes. Haha.. Look more like a fashion show. Some girls even have such thick make up on their face, they look so weird. Saw some of my JC friends n BMT mates, they were there doing display too.
If i were to be a poly student, i think i can't study. Guess i'm too used to uniform. Moreover, with the clothes the girls are wearing, i'll have trouble focusing. Think i'll having a great amount of adaptation to do when i get into NUS. Erratic weather today again. One minute scorching sun, another minute thunderstorm. I booked out with my smart 4 drenched. Display tomorrow again at TP. I'll book in from there straight. Shiok, i can have more sleep tonight at the comfort of my own bed...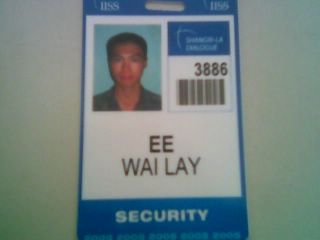 My security pass for International Institute for Strategic Studies (IISS) operation. I wasn't involved, dunno why they made my pass n gif it to me. Another souvenir for me.

FHM of July. Lousy issue, nothing to read, Ase Wang's photos looked so computer edited. Better off reading Men's Health.

Tuesday, 28th June, it would have been 25months together today, if not for the breakup. Hai, guess it was not meant to be. Today take over as standby force, check stores, carry equipment, very busy sia. 10km run in the morning, didn't run, haha.. Went gym last night la, tired liao. For the first time in 3 weeks, we have full strength of the platoon, 21 out of 21. Well, that's becos we can't take off days during standby. I can guarantee that once we hand over standby duties on 12th of july, the whole platoon will be half missing again. Haha, guess i'll take off days like crazy, i had accumulated a lot.

Last night watched desperate housewives. It's ending soon, juz 2 more episodes to end of season. So funny, especially Lynette(Felicity Huffman), when she dressed up as a maid to spice up her sex life. Haha, i couldn't stop laughing, almost waking up some of my bunk mates. Well, she's a real good wife, willing to sacrifice herself for the family. The smell on her clothes, the children's nuisance n stuff, it's hard to find one wife like that nowadays. She's the real housewife. But i won't want my wife like that. It's like wasting her life spending so much time at home. Kids are important, but it's also necessary for them to learn to be independent. Both my parents work for long hours until i'm in sec2 when my mum became semi-retired. I think it's better to learn to be independent as a child. Too much shelter is bad.

Oh, tomorrow got display again. This time it's at Temasek Poly. Hmm, poly students will be interesting to have a look at...



Sunday, so fast.. Woke up very late at 11 plus. First thing to do after breakfast was to send the 2nd rose to her. Hope she won't throw it away.. The sky is so gloomy for the whole day, hardly any sunshine. Practically nothing to do today. So i decided to pay the rental shop a visit. They added a lot new titles since the last time i rented some DVDs. So tempted to rent all of them, but i can only watch so much within 6 hours. In the end, i settled for 3 DVDs. Haha, i muz be crazy, watched 3 movies in a row. My eyes were so dry n tired after i finished everything.
Oh, i even watched the Smallville episode on Friday(recorded). Pretty sad that Clarke Kent didn't fully trust Alicia (the one with teleporting special ability). Well, i can understand that. She once betrayed his trust n harmed Lana. It's hard to get back the trust after one betrayal. What a heart break to watch clarke kent see alicia die becos he didn't trust her enough. Hai, sometimes, giving people a 2nd chance can be really very hard. When u trust a person so much n yet get betrayed in the end, it juz makes u feel like killing that person. Well, Chloe found out his secret. She's a true friend indeed as she didn't freak out after what she saw of clarke. Think it'll be interesting how she cope with it n whether she'll reveal it to clarke. I'll be very eager to watch the rest of this season's Smallville.
Packed my stuff , time to book in tomorrow. June is coming to an end, half the year is gone. 2 more weeks to pay day~ <$$>
HK film, Divergence. Aaron Kwok is superb portraying a police whose gf went missing 10yrs ago. His helplessness n despair were so prefectly acted out.. Worth my 2.50 bucks

Shiok, finally i can wake up when the sky is bright, unlike the past 2 weeks when it's always still dark when i wake up. But still tired, slept damn late last night, yawnz~ Nothing much to do in the day, so clean up my room, n ya, at last changing my bed sheet. Hai, it's been 2 months since i last changed it. Can't bear to do it, cos my dear touched it on the fateful day she broke up with me. I can feel her presence every time i sleep on it. Yeah, i know i sound stupid, but i'm very sentimental. But it's been 2 months, can't leave it like that, or bugs will start infesting my bed, haha.. Evening went to orchard, then holland village for dinner. My canoeing teammate, Jessica, is back from the United States for holiday. The team was down for the gathering. Haha, the last time i saw her was christmas. Time flies, it's been 6 months, but it felt like 6 days. Think the next time she's back for winter break, i'll be clearing my leave n waiting to ORD... She didn't change much tho, but spotting a longer hair this time.
Holland Village is interesting, i know i'm a "swakoo", but it's my first time there. The distance n inaccessibility didn't favour me travelling there. Haha, saw the windmill, n the whole stretch of restaurants. Reminded me of the TV drama series based on Holland V on channel 8. Went to Spizza for dinner, all the Italian stuff, my favourite. Then desert at Swensen's. I even saw UK Shyam, Singapore's fastest man, 100m national record holder (10.37sec). Another person i saw was my secondary schoolmate, Angeline. Wow, she's got a caucasian boyfriend, what a surprise, didn't know she got such power to attract angmoh. Check my links for her blog. Jessica went clubbing in the end while we all headed home. Yawnz.. So tired, it's already 12plus when i got home. Gotta get a rose tomorrow morning, it'll be the second one for her…