It's Chinese Take Out Time
I Love Chinese
Name: WaiZai
Location: Singapore
An ordinary guy hoping to live life to the fullest. Awaiting the bigger things in life.
Bring on the Dim Sum
We Fumble With Chopsticks
We Like Chinese Too
Chinese Cuisine
Blogskins.com
Liverpool FC
SoccerNet
Aviation
Automotive


Adventures With Chopsticks

<

Fortunes Can Be Funny

Fortune Cookies

Take Out Boxes
Past 2 weeks
22nd May, went for short distance cycling..
Finished the stretch of ECP n reached Fort Rd
Heading towards Costa Rhu
Duman High Sch, after rebuilding.. They haf a full track n hostel facilities
N i discovered a new road bridge dat wasn't there the last time i came here..
at the foot of the bridge
on the bridge, over looking the Geylang River
Look of the bridge from afar
Indoor stadium
--
Some kids having their 1-star kayaking course
Kallang Basin, aka Reservoir in the City
Sheares Bridge.. Let's go up there..
The climb up the steep bridge on my bike was quite tedious..
Finally, I've reached the apex, overlooking the Kallang Basin
Descended from the bridge n i reached Bugis
Raffles Hospital
Took a break with a cup of ice cold sugarcane juice
Turning point of my trip, Sim Lim Square
Kallang Station.. No more pictures after this cos I suffered from cramps in both my thighs throughout the remaining distance home..
25th May, helped mum made Rice Dumplings
Glutinous rice, preserved egg, chinese sausage
The fillings of the dumpling
The leaves
End product, enjoying the fruits of our labour
27th May, parents' 25th anniversary
Sea cucumber, mini abalone
Deer meet
Asparagus with scallop
veg with sliced fish
Dessert, longan tofu

Lucky
| Module Code | Module Title | Grade |
| --- | --- | --- |
| CS2103 | Software Engineering | C+ |
| CS3103 | COMPUTER NETWORKS AND PROTOCOLS | D |
| CS3103L | COMPUTER NETWORKS LABORATORY | B- |
| CS3248 | Design of Interactive Media | B+ |
| CS4247 | Image Synthesis and Computer Animation | FAIL |
| RE2901 | GIS for Real Estate | B |
| ST2131 | Probability | C |
Image Synthesis and Computer Animation, wad a nice module title eh? It fucks like hell, giving u endless sleepless nights with thrash programming in C++. Set out this sem to catch up on my lagging Modular Credits, but I'm now back to square one..
After 3yrs in SoC, i realised i'm more of a creative side kinda student. Design is my forte, technical stuffs are my achilles n geography is where I belong. I shd haf been an Arts student.
oh well, I shd be glad to haf only 1 'F' grade, CS3103 was a close shave at 'D' grade.. I still can salvage the situation with my CAP still gd enuff to pass.. I can now focus on my special sem module..
12
12 hours later, I will noe my results that will seal my fate. Won't do well for sure, but I hope I can still salvage the situation...
Special Term in school is so quiet.. This study place is owas very crowded during normal term, but it has now become soul less..
Lonely lunch....

H1N1 has landed
SINGAPORE: Singapore has confirmed its first case of Influenza A (H1N1).

The patient is currently being treated at the Communicable Disease Centre at Tan Tock Seng Hospital and is in stable condition.

The patient is a 22-year-old Singaporean woman who was in New York from May 14-24.

She arrived back in Singapore from New York on SQ25 on 26 May at 6.30am.

She began to develop a cough while onboard.

She passed the thermal scanner uneventfully as she did not have fever then.

Later in the morning, she consulted a GP who decided to send her to TTSH via a 993 ambulance, given her travel history.

She was immediately admitted for testing. Laboratory confirmation of her infection was made by midnight of 26 May.

The patient has been vigilant in monitoring her own condition and had sought immediate medical attention once she realized that she was unwell.

Her attending GP, through his quick response in activating the 993 ambulance for the patient, had also helped to minimize the spread of infection from this case.

The Health Ministry says it has initiated contact tracing of her close contacts. They will be quarantined and provided with antiviral prophylaxis.

Passengers who had travelled in the same flight and were seated in rows 52 to 58 are urged to call the hotline at 1800-333 9999 to enable the MOH to check on their health condition.

The MOH adds that all medical practitioners and healthcare institutions should continue to be vigilant to suspect cases.

Singapore will continue with temperature screening for passengers entering Singapore at all checkpoints (land, sea and air).

All passengers passing through or entering Singapore are given Health Alert Notices on board their flights, advising them to monitor their own health if they have been to affected areas and to seek medical attention immediately if they are not well.

================================================================



Time for me to wear mask when I go out?? Cos i'm super weak when fighting the flu virus.. This woman better have a good reason to travel to highly infected area during this period of time. Thanks for bringing back the virus to share with us. WTF

86 Points
So, the English Premier League ended last night. Nothing exciting, except for the match between Aston Villa and Newcastle at Villa Park. It was a relegation dog fight between 4 teams - Middlesborough, Newcastle, Hull City & Sunderland. It's kinda funny cos 3 northeast English teams were involved, n I was rooting for Newcastle. It'll be a waste if they go down, due to the "talents" they have on the pitch n oso their magnificient 55,000 seater St James' Park homeground. But it has proved once again, u're never too talented to be relegated. It happened to West Ham, n it happened to Leeds. Last night, it happened to Newcastle, going down along with Middlesborough n West Brom. With all 4 teams involved in the fight for survival losing their respective matches, there was no change to their positions.
Newcastle & Middlesborough were in the Premiership for 15 & 11 yrs respectively, n it's kinda sad to see them go. They couldn't blame anyone though, for the football they played whole season was terrible to say the least. Now we'll see how are they gonna manage themselves when they start in the lower tier of English division next season. Boro's notable talents include Stewart Downing, Tuncay Sanli & Alfonso Alves. Newcastle has Michael Owen, Alan Smith, Damien Duff, Steven Taylor, Joey Barton, Ofefami Martins n Mark Viduka. All these players are gonna be sold at cut prices to keep their balance books healthy, cos the lower division doesn't promise lucrative TV rights like the Premiership, so top players with high wages will likely be offloaded.
Moving to the top half of the table, both Tottenham n Fulham lost their matches, which means Fulham will qualify for the Europa League next season, an incredible achievement considering they were almost relegated last season. The usual big four teams of England qualified for the Champions League, with my Liverpool securing 2nd place with 86 points, breaking their previous premiership record of 82 points in 2006.
Seriously, 86 points is good enough to be English Champions, but I guess Man Utd is just too strong this season, finishing on 90 points. 86 points would have been good enuff to win 12 of Liverpool's past 18 English titles. This simply shows how competitive the EPL has become.
Pool won Tottenham 3-1 last night, with Sami Hyypia playing his last match for Liverpool. It was emotional, tears could be seen on him after the final whistle. This marks the end of a remarkable 10years association to the club, winning almost every trophy possible, except for the EPL title. He's a Legend, a great defender, an amazing character. At 35 yrs of age, I thought he would haf hung up his boots, but he was looking for more n signed a 2yr contract with German club Bayer Leverkusen. Good bye Sami, u'll be missed.
video of him after the final whistle
http://www.youtube.com/watch?v=YaO0tubQWd8
Liverpool fans pay their tribute to Sami Hyypia for his excellent 10years contribution
An emotional end to his Liverpool career after the final whistle
Bye Sami, Hope u'll be back one day as coach in Liverpool. I practically grew up watching u play football, from 14 to 24 years old.
Recruit
Recruit dies just after booking out
Sat, May 23, 2009
The Straits Times

By Teh Joo Lin

AN ARMY recruit leaving Pulau Tekong on a ferry on Thursday night after booking out of camp became delirious during the journey to the mainland.

After Mr Liam Kai Zheng, 19, got off the boat at the Singapore Armed Forces' ferry terminal in Changi, he was taken in an ambulance to the Changi General Hospital, where he died nine hours later yesterday morning.

Paramedics had found him unconscious at the foyer of the terminal with an abnormally high pulse rate and temperature. The cause of death is still being determined.

http://news.asiaone.com/News/the%2BStraits%2BTimes/Story/A1Story20090523-143297.html

=============================================

Another one bites the dust. My condolences to the boy's parents. 19yrs of blood n sweat in raising him, taken away from them forever while he's serving National Service. Wad's wrong with our young Singaporean men when quite a number are collapsing n dying so abruptly these days??

I hope this boy's death has nothing to do with wadever "activities" he has to engage juz b4 book out. I for one, experienced pretty bad "activities" b4 when i was serving my term. Sergeants in the BMTC are not the nicest ppl around. If their mood is gd, they let u haf an easy book out. Otherwise, i guess the whole bunk is gonna get fucked up so badly dat u dun even haf the strength to carry ur own bag pack to book out.

They noe after booking out, u'll be free from training, so they make u "pay" for the rest u're gonna get during the weekend when u're out of camp. Yeah, dat's how screwed up their mentality can be.

When I was in my unit during the trainee phase, it was once again hell b4 book out. Standby area, 100 push ups. Then book out. Yeah, it made me physically stronger, but it oso made my vengence stronger. For those who can take it, good. But for those who can't, i saw their faces turn pale n they looked half dead.

Wad i can say is ur life is very much in the hands of the sergeants dat are in charge of u, who are usually young commanders not older than 23yrs of age. If u haf a gd one, then u're lucky. If not, gd luck.

It seems that a lot people are googling for this Loyang crash

Barely 30minutes after my post is up, I've got 4 visitors coming in after googling for the crash
Subaru
I woke up this morning n read the papers. I saw another terrible traffic accident involving a Subaru. Not the WRX, but the Legacy GT this time round, the one with huge double exhaust. Happened in Loyang Avenue, a stretch of road that is long n relatively straight. I've driven on it countless times, n i agree the tendency to speed on this stretch of road is VERY high. Eventhough the speed limit is 70km/h, a car can easily travel at 100km/h on it without much problem.
=================================================
May 22, 2009
Loyang Avenue accident

3 burnt alive in crash


The Subaru car they were in was headed towards Changi Village around 9pm when the accident occurred. -- ST PHOTOS: CHEW SENG KIM

THREE people were burnt alive when the car they were travelling in crashed along Loyang Avenue last night and burst into a giant fireball.

No details about the victims were available, but police said they were killed on the spot.

The Subaru car they were in was headed towards Changi Village around 9pm when the accident occurred.

Police said it skidded off the road and into a tree along the road divider before going up in flames.

Singapore Civil Defence Force officers, who arrived on the scene shortly after police were called, took 15 minutes to put out the blaze.

They then discovered the charred bodies of the three victims. Paramedics later pronounced them dead.

Witnesses said the blaze was so big that it could be seen from several traffic light stops away.

Said one, Madam Rohana Kahar, 37, who was headed to her home in Pasir Ris at the time: 'The flames reached the height of a tree. I also heard several explosions.'

Police are investigating.
The Subaru car they were in was headed towards Changi Village around 9pm when the accident occurred
Police said it skidded off the road and into a tree along the road divider before going up in flames.
Singapore Civil Defence Force officers, who arrived on the scene shortly after police were called, took 15 minutes to put out the blaze.
They then discovered the charred bodies of the three victims. Paramedics later pronounced them dead.
Witnesses said the blaze was so big that it could be seen from several traffic light stops away.
video of burning car
http://www.youtube.com/watch?v=tAzwSopudpw
=================================================
Just a few days ago, I was watching the news on channel 8 reporting a WRX splitting into half after crashing into a tree. But the driver is lucky enough to be alive even after the horrific crash..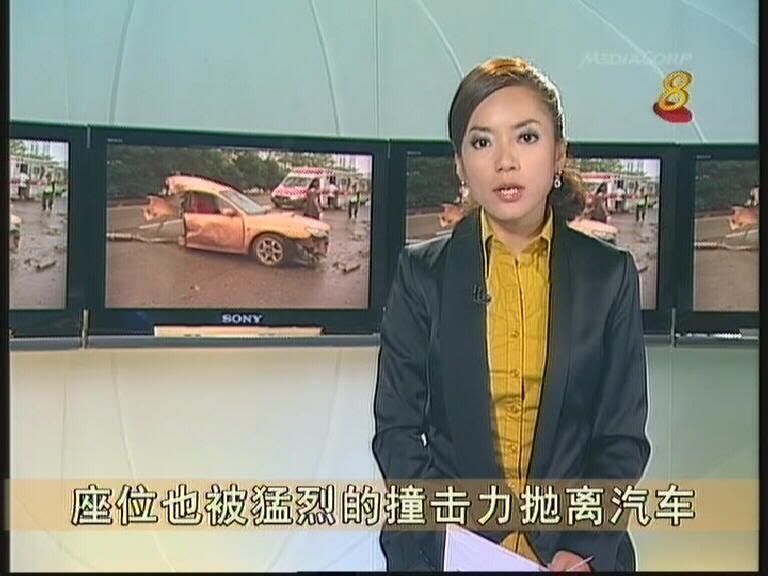 Report
1/2 WRX.. It's amazing the exhaust is still in one piece
Where's the backseat?
There it is
U're one lucky driver
=================================================
The WRX n Legacy GT of the Subaru brand are both performance cars. With so much horsepower in ur hands, it's very tempting to unleash it. I understand, cos I was sometimes guilty of it even with my uncle-ish Nissan, not helped by tha fact dat it's a manual transmission.
I would like to appeal to all to drive resposibly, just like wad old Uncle Sam said to Peter, "With great power comes great responsibilities". The Legacy case is really tragic, n I seriously hoped they died instantly after the crash rather than being burnt alive trapped inside the car. Below is the link to a cat being burnt alive in a metal cage, just to show u all how horrific it is to be burnt alive. Not suitable for below 16yrs of age.
http://www.charonboat.com/item/177
The WRX
The Legacy GT
UPDATE:
May 23, 2009
LOYANG CRASH


Driver a business owner


Remains of his two female passengers yet to be identified

THE charred remains of the driver who was trapped with two passengers in the burning wreck of his car were identified by his wife at the mortuary on Friday morning.

Mr Richard Constantine Pereira, 44, was a businessman involved in air and sea cargo freight.

His body was so badly burnt in the Thursday night crash in Changi that relatives had to identify the body with the help of his personal belongings.

But the equally-charred bodies of two female passengers also found trapped in the Subaru Legacy remain unidentified.

One of them is believed to be a 22-year-old Filipino woman. The relationship between the two women and Mr Pereira is unknown.

A friend of Mr Pereira, who was at the mortuary, said he believed that Mr Pereira was headed towards a chalet in the Changi Village area for a gathering when the crash happened at about 9.15pm.

Mr Pereira is believed to have lost control of his car, which veered to the right before mounting the central divider and barrelling into a tree.

The car became engulfed in a massive ball of flames that streaked 4m high into the sky. Debris such as glass shards from the car's windscreen were strewn at least 20m away.

Singapore Civil Defence Force rescuers took hours to remove their remains from the car.

Mr Pereira is listed as the director of a company called Victtory Remn. It is a small outfit involved in transportation, air and sea freight and has its registered address in Peninsula Plaza in North Bridge Road.