It's Chinese Take Out Time
I Love Chinese
Name: WaiZai
Location: Singapore
An ordinary guy hoping to live life to the fullest. Awaiting the bigger things in life.
Bring on the Dim Sum
We Fumble With Chopsticks
We Like Chinese Too
Chinese Cuisine
Blogskins.com
Liverpool FC
SoccerNet
Aviation
Automotive


Adventures With Chopsticks

<

Fortunes Can Be Funny

Fortune Cookies

Take Out Boxes
March Babies
Met up with frens ystd night to celebrate the birthdays of the March babies. Poh Siang, Kian Wai & Alvin were the babies. But apparently, Alvin was so busy dat he couldn't make it for the gathering.
We went somewhere near Kembangan to eat tze char.. This is chicken
La La
Tofu
Nice steamed fish
Kailan
this stupid cockroach spoilt our dinner
Kian Wai
Poh Siang
Lesley
Burp~
We went to Su Feng's place after dinner to get the car for a spin!! Nice Toyota Camry, the ah pek car.. haha
The lady driver with a 2.0L engine. Dun play play
The ah pek dash board
the huge side mirror
We went to airport~
reaching.....
the new T3 carpark
hmm...
long long way down
Poh Siang called this "natural lighting"
Glass is a prominent feature in T3
the shopping area
Secret Recipe
Lesley went hysterical at Candy Empire
Fountain
Mini LCD in the glass lift
The main hall
This is T3's infamous super reflective ground tiles
The ghost of Su Feng
--
Huge floor space
Huge space to store the trolleys eh??
See the queue for departure?? This is the the Mas Selamat effect
Wanted to eat at Earle Swensen's for dessert, but it was closed at 10.30pm
N so we went to Katong's Hong Kong cafe for dessert with Poh Siang treating us~! I ate the yummy durian pudding..

Bloody weather
Seriously, I have no idea why is the weather like that. It'll all nice n sunny in the 1st half of the day, then heavy downpour in late noon, then it'll be hot n shiny again in the evening. This stupid transition between cold rain and hot sun everyday has caused me to feel like crap in addition to the leaving and entering cold lecture halls/tutorial rooms. Now I finally felt sickish after so many of my friends fell sick for the past 2 weeks.
I hope the weather will turn for the better. It's time i drink more water and perhaps sweat it out a little since I don't remember when was the last time I had a good sweat. Some pictures below from the past 2 weeks
I went Honda showroom n bought the Honda Civic Type-R, Burnt a $20k hole in my pocket for downpayment. Yeah, in my dreams.
Was on a train the other day n saw some kid eat on the train, with the mother watching
This fat kid need a good spanking, n the mother needs to be abolished from the MRT system. Ban her from the MRT for life!
Horrendous child education
Taken ystd in school at biz canteen. Some students in olden time costume singing around to attract attention on their play to be held at UCC this weekend
One of the actresses is "Jin Feng" from the local ch8 drama "The Golden Path". She looks the same in reality as compared to onscreen

Creative Technology
SINGAPORE - March 24, 2008
- Creative Technology Ltd., a worldwide leader in digital entertainment products, today announced that the Company has signed a Memorandum of Understanding (MOU) with a buyer for the proposed sale and leaseback of the Creative Resource building, which houses the corporate headquarters of the Company and its subsidiaries in Singapore.
The sale price for this proposed transaction is S$250 million (US$180 million), with a leaseback of the whole building for a period of five years with an option for additional periods of three and two years.
The proposed sale and leaseback transaction is conditional upon and subject to certain conditions, including but not limited to, satisfactory completion of legal and building due diligence by the purchaser, the Company's shareholders' approval of the transaction, and applicable regulatory approvals.
The proposed sale of the property constitutes a major transaction under Rule 1006 of the Singapore Exchange Securities Trading Limited Listing Manual and accordingly is subject to shareholders' approval at an Extraordinary General Meeting of the Company (EGM) to be convened at a later date. A circular to the Company's shareholders, together with notice of the EGM, will be dispatched to shareholders in due course. The circular will contain more details of the proposed transaction.
The proposed transaction is expected to be completed by the end of June 2008.
Creative expects to make a gain on sale of the property of about S$200 million (US$144 million) from this transaction. In accordance with US GAAP, this amount will be treated as a deferred gain and will be amortised and recognised in the Company's Income Statements over the lease term of five years.
==========================================================
I don't know why Creative made such a move. Others say Mr Sim is having financial problem that he has to sell the building to offset the loss incurred during the mp3 war with Apple. Well, I hope this is just a smart business sense move rather than a desperate cashflow move. Anybody who's in business course would care to comment on Mr Sim's move? Seriously, Creative is the only company from Singapore that has worldwide recognition, I wouldn't want to see it collapse. Their computer speakers and sounds cards are the best around. Just a count and I can already see i have 3 Creative products on my computer desk.
The other best product by Singapore is Trek thumbdrive. Haven't heard of it?? They're the one who hold the patent for thumbdrive. If u're still unaware, thumbdrive originated from Singapore. Companies like SanDisk, Toshiba and Imation has to pay Trek fees in order to make thumbdrives to be sold to consumers.
Continuing where he left off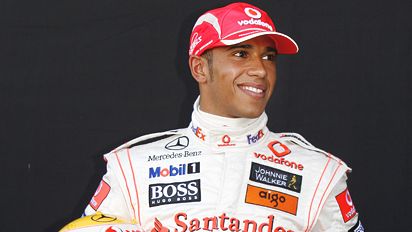 There he is, King Lewis, as he's known. He stormed to his first Grand Prix victory of the 2008 season at Melbourne's season opener. Joining him on the podium were Nick Heidfeld(BMW) at second & Lewis' good mate Nico Rosberg(Williams) at third. From the TV, the weather over at the race track do look damn hot and tough. The race was never lacking in drama right from the start.
The first turn saw a car crashed out while Fillipe Massa(Ferrari) spun out of control. The following 58 laps saw dramatic crashes, over taking as well as retirements. 22 cars started from the grid, but only 8 managed to cross the finishing line. The safety car came out a few times and Kimmi Raikkonen(Ferrari) actually did a few "stunts" to entertain the crowd. I've lost count of how many times he went off track but recovering juz enough to rejoin the race. He eventually retired as his car had taken enough of shit from him. My Ferrari team for once didn't finish the Melbourne race for BOTH drivers. What a disappointment.
But it was a fantastic race by Lewis Hamilton as he dominated the race right from the start at pole position. He's back on fire after losing the Championship last season to Ferrari's Kimmi Raikkonen by juz a single point. Well, I guess it'll be harder to stop him this season as McLaren seems to have the fastest car n he has also gained much experience from 2007.
Season 2008 has seen lots of changes. The most significant of all was the abolishment of Traction Control(TC). When I started watching F1 in 1999, traction control was not allowed in F1 rules. To my astonishment, it actually got legalized by F1 in 2001~!! I wasn't happy of cos. I mean, wad's the point of driving with so much help from a computer? To those who has no idea what traction control is, go google. It almost singlehandedly took away the skills of drivers like my idol Michael Schumacher. The great Michael was laughing about it then, n I couldn't agree more with him.
Driving an F1 car is all about skills n concentration, lasting the full 50 odd laps in each race and avoid crashing/burning. TC totally took away the unpredictability of the sports and made the drivers' job so much easier that F1's TV rating took a serious dive in the 2003/2004 season, not helped by Michael's total dominance during that time. TC is something like driving an Automatic Transmission car rather than a Manual one. Who the hell race with an Auto car? It's seriously stupid. Auto cars are for lazy "handicap" people on the road, not for racing drivers. I don't drive an auto car, it takes away the joy of driving.
Imagine my delight when they finally banned TC after 8 years and we can see what effects it had on the race at Melbourne today. Kimmi Raikkonen & Fillipe Massa of team Ferrari were good examples. Both spun out of control at corners when both would have escaped unscathed if TC was still allowed in their cars. That's the power of TC. When humans get over reliant on computers, they eventually become stupid n will definitely end up as morons.
I don't want to end up becoming a moron, so I'll never buy an auto car.
Wednesday, March 12, 2008
I don't think anybody was surprised to read about the findings of the survey that revealed that 64 per cent of NUS students have sex at least once a week. Frankly I was surprised the figure wasn't any higher. And I was surprised that the media has been treating this piece of survey like it's sensational news. Because everyone knows that all this testosterone-driven hanky-panky has been going on for many years at the hostels. I mean, seriously! What do you think goes on when you put a whole bunch of strong, virile, young people together under the same roof? Prayer sessions? Studying??

Let's not kid ourselves. We all remember being 20, curious and bored, don't we? Who am I to come down hard on the students? So what if they sometimes resort to making out in the bathrooms? In fact, I have fond memories of making out in weird places when I was much younger, although I never did in toilets due to my slight OCD (as mentioned in my previous blog). Let's see, there's the basement stairwell at Pacific Plaza, a certain "hidden" bench at Kent Ridge Park, in a parked car at Mount Faber...

Okay I must add that my "making out' here isn't actual sex. It's just making out. Which brings me to the point that yes, young people these days are certainly more daring, gung-ho and liberal. And they just keep getting more and more so. But it isn't their fault. Blame it on the media. They're just victims of all the glorified crap that the media throws at us. And of course I'm not going to pretend that these students are all angels. A few of them are just plain tarts, sleeping their way through the student and teacher population, and the rest of the population outside the school. I personally know of a few like that.

In fact, I know of a certain famous person who once boasted that back when she was in NUS, she once slept with a lecturer just to get good grades! And this certain person was a student there more than a decade ago! (See? It's been going on for years!) And I know of a male friend of mine who's in his mid thirties who was invited a couple of years ago by a young nubile NUS hottie to her hostel room for a shag. He naturally did not turn the invite down. Oh, I've got more scandalous stories my dears but I don't really want to cause a heart attack in conservatives reading this blog.

And for the sake of them conservatives, let's come up with ways to stop the incorrigible behaviour. Get NUS to ban sex in hostels. Infiltrate the campus with a huge cheesy abstinence campaign. Impose strict curfews. Hire chaperones to prowl the corridors at all times. Install CCTVs in all campus toilets. Erm...any other ideas? Because really, nothing can be done to stop two consenting adults from copulating. It's in our basic nature to be drawn to each other sexually. If a person has great discipline or a calling to be celibate that stems from a faith, good for him/her. But if they don't, you can't forbid them to have sex. It's their business and right in this free country of ours.

However, what needs to be done is educating them on safe sex and instilling a social and academic responsibility into their conscience, as in there are dire consequences of sex if not undertaken responsibly. I can name a few: Unwanted pregnancies, sexually transmitted diseases, bad grades, broken hearts, etc.

Finally, I'll end this blog with a quote taken from the bible: "Let him who is without sin cast the first stone".

Enough said.

SOURCE



64%?? That's kinda high i think.. Are u trying to say of the people i see everyday in school, more than half of them have sex at least once a week? This is really interesting. Haha, cos i'll never know whether the girl sitting beside me in the shuttle bus or lecture hall juz had a hot session in the hostel room b4 rushing off to class. I've never lived in NUS hostels b4, so I'm not really sure of wad's going on inside there. Wad I'm sure of is young people at our age surely are HOT BLOODED. With the immense stress due to school work, it acts as a catalyst to destress/unwind
by having sex. Imagine studying ur ass off in ur room, den suddenly this hottie neighbour juz pop by ur room in minimal sleepwear, haha, I cannot imagine wad will happen next if there's a mutual attraction between the two. How abt a quickie b4 going back to the books?
Ok, dat's juz a stupid story conjured up by me. Perhaps it's time to call my good buddy Daniel out for a meal in school n dig some stories from him since he stays in hostel?? I'm owas very curious when it comes to these scandalous news. Who's not?
Weekend
Shit happened during the past weekend. Nevertheless, I took some pictures for fun.
Went Lavendar S21 Food Court to eat the famous wanton noodles n Saturday
Busy Busy
Cut throat price of $3.50 for a fucking small plate. Nothing much special. This shall be the last time i eat from this stall
Some desserts
Headed over to IT Show @ Suntec
Left for home after taking this pic. It was a misadventure
Sunday was dark/rainy/gloomy.. I went to the beach n etched my surname on the beach
English VS Chinese