Continuing where he left off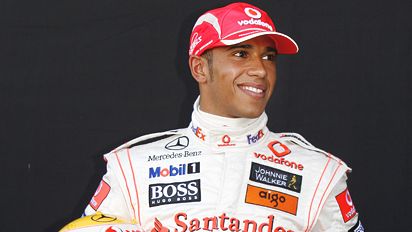 There he is, King Lewis, as he's known. He stormed to his first Grand Prix victory of the 2008 season at Melbourne's season opener. Joining him on the podium were Nick Heidfeld(BMW) at second & Lewis' good mate Nico Rosberg(Williams) at third. From the TV, the weather over at the race track do look damn hot and tough. The race was never lacking in drama right from the start.
The first turn saw a car crashed out while Fillipe Massa(Ferrari) spun out of control. The following 58 laps saw dramatic crashes, over taking as well as retirements. 22 cars started from the grid, but only 8 managed to cross the finishing line. The safety car came out a few times and Kimmi Raikkonen(Ferrari) actually did a few "stunts" to entertain the crowd. I've lost count of how many times he went off track but recovering juz enough to rejoin the race. He eventually retired as his car had taken enough of shit from him. My Ferrari team for once didn't finish the Melbourne race for BOTH drivers. What a disappointment.
But it was a fantastic race by Lewis Hamilton as he dominated the race right from the start at pole position. He's back on fire after losing the Championship last season to Ferrari's Kimmi Raikkonen by juz a single point. Well, I guess it'll be harder to stop him this season as McLaren seems to have the fastest car n he has also gained much experience from 2007.
Season 2008 has seen lots of changes. The most significant of all was the abolishment of Traction Control(TC). When I started watching F1 in 1999, traction control was not allowed in F1 rules. To my astonishment, it actually got legalized by F1 in 2001~!! I wasn't happy of cos. I mean, wad's the point of driving with so much help from a computer? To those who has no idea what traction control is, go google. It almost singlehandedly took away the skills of drivers like my idol Michael Schumacher. The great Michael was laughing about it then, n I couldn't agree more with him.
Driving an F1 car is all about skills n concentration, lasting the full 50 odd laps in each race and avoid crashing/burning. TC totally took away the unpredictability of the sports and made the drivers' job so much easier that F1's TV rating took a serious dive in the 2003/2004 season, not helped by Michael's total dominance during that time. TC is something like driving an Automatic Transmission car rather than a Manual one. Who the hell race with an Auto car? It's seriously stupid. Auto cars are for lazy "handicap" people on the road, not for racing drivers. I don't drive an auto car, it takes away the joy of driving.
Imagine my delight when they finally banned TC after 8 years and we can see what effects it had on the race at Melbourne today. Kimmi Raikkonen & Fillipe Massa of team Ferrari were good examples. Both spun out of control at corners when both would have escaped unscathed if TC was still allowed in their cars. That's the power of TC. When humans get over reliant on computers, they eventually become stupid n will definitely end up as morons.
I don't want to end up becoming a moron, so I'll never buy an auto car.