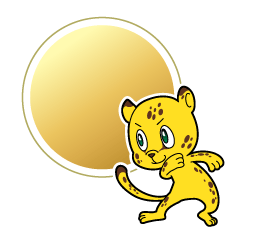 Gold Cheetah is shy and delicate.
You don't like to talk in front of lots of people at meetings and are not good at presenting at conferences.
Because of this temperament, you have the atmosphere of grandness.
You are very competitive, and have a strong sense of justice.
If things are unreasonable, you may even stand up against the authority.
You have a sharp sensitivity on ability to analyze things and originality.
However, this strong analysis sense may be used to criticize others, and therefore have a double side.
You should use your sense to go over yourself.
You wouldn't waste anything to make your ideals come true.
But your self-consciousness is so strong; you can not forgive those who come barging into your life.
You won't try to cooperate with others by disregarding your wishes, so you should be careful not to be too hardheaded.
You tend to encounter many changes, like repeatedly moving house or changing jobs.
You may get caught up in troubles at work or with personal relations.
You are likely to succeed socially.
But if you be too dogmatic, that opportunity and luck will reduce.
If you can show that you are a confident person, you have a great potential of becoming successful as an entrepreneur.
THIS IS SO ACCURATE!!!!
Try this @ http://world.doubutsu-uranai.com/index.html