This is Jenny with Mr Gerrard at the Adidas store
Ok, EPL has started n my weekends are finally back to life. It's a yr of thorough uncertainty in Liverpool's future, notably the terrible American owners' refusal to sell the club w/o a substantial profit, Rafa Benitez's departure after finishing a lowly 7th position n the various stars dat didn't commit their future at Liverpool.
There was some hope when a few buyers were interested in buying over LFC, but till today, nothing has materialised. Roy Hodgson is now the new manager but i still see Rafa's style of play in the team. This man has a tough job to do. First he has to reassure the stars, then rebuild the team n bring back the confidence, lastly to get Liverpool back to the top four. That's quite a daunting list of tasks.
The first thing he did after being appointed as manager was to persuade the stars to stay, n I'm happy dat Torres, Gerrard, Kuyt n the rest agreed to stay n rebuild the team. However, I'm kinda disappointed dat Aquilani is being loaned back to Italy's Juventus with an option to buy at the end of the season. LFC fans will never know how good he really is.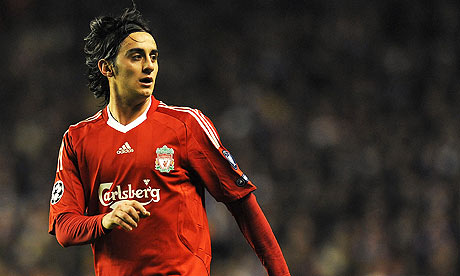 £17 Million signing stated he wun be heading back to Liverpool after his loan deal completes
Next, we lost Javier Mascherano to Barcelona for a cut price
€
21 million. He could have been easily worth
€
9 million more had he not whined n acted like a kid. It seems dat LFC is going downhill so early into the season.
His last game was against Arsenal in the season opener. At least he played well.
Even the season opener was a mini disaster. Arsenal visited Anfield without Fabregas n RVP; great chance to inflict a defeat on them. Sadly, debutant Joe Cole got sent off in the first half n juz when I tot we gonna nick a win, Reina scored an own goal in the final minute of normal time. Bad luck? i think so...
Joe Cole receiving his marching orders on his debut. His first red card in his professional career
Next EPL match against Man City was painful. We lost 3 goals n had no reply. Terrible terrible performance. I shudder to think wad Chelsea can do to us when we play against them. How to challenge top four when u get thrashed this way??
Man City 3-0 Liverpool
The last game before the international break was against WBA, a newly promoted team. Match played at Anfield n many anticipated a thrashing game considering how Chelsea tore WBA apart in their own homeground by winning 6-0. But once again, Liverpool choked, n had to rely on a 65th minute Torres volley to win the game 1-0; an uninspiring victory.
Torres' clinical volley strike against WBA
In the midst of these EPL games, Liverpool managed to get into the group stage of the Europa League, something which I think Roy Hodgson is not gonna focus on judging by his team selections during the playoff matches. LFC is in Group K along with
Steaua Bucureşti
,
Napoli
n
Utrecht
. They're not the usual big names we see in Champions League but they're potential banana skin matches.
Liverpool's next match is against Birmingham at St Andrew's Stadium. I'm not having high hopes for this since we nv had good outings on this ground. I dun wish to see Pool play ultra defensive football again, it's time we come out to play real English football.
2 weeks later, it's gonna be against Man United at Old Trafford. Dunno wad to say, dunno wad to think. I dun dare to hope n I dun dare to dream. Taking a step at a time n see how things unfold.
It was one of the best days in my life being a Liverpool fan